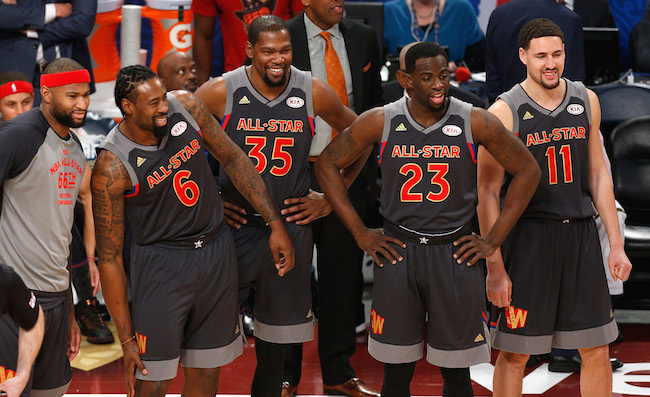 The NBA introduced a new All-Star Game format last year, in which a pair of captains drafted their teams based on which players were voted to the game by fans. It created some fun rosters that wouldn't have been possible if it followed the standard East vs. West format, but some people, including LeBron James, were bummed out that the draft wasn't televised.
Some of the picks were obvious, like Kevin Durant going No. 1 to team LeBron and Steph Curry using his first pick on Giannis Antetokounmpo. The final two picks made sense as well. The problem was that basically everyone, save for Curry and Adam Silver, wanted to see the dang thing televised.
Now that we're into the 2018 season, the NBA is gearing up for the 2019 All-Star Game. According to Marc Stein and Kevin Draper of the New York Times, one thing the league has decided to do is make the All-Star draft a televised event. The draft was described by "playground-style" by the Times, and according to Stein and Draper, there are even projected dates for the event.

Via the New York Times:
A firm date for the televised draft has not yet been established, but Jan. 30 or Jan. 31 have emerged as two potential targets for a TNT broadcast, according to the people, who were not authorized to discuss the plans publicly. The schedule availability of the two captains, once they are identified through fan balloting, is among the variables needed to lock in the broadcast specifics.
Silver had said in the past that he believed this was going to end up being the case, but it's fun to get some type of indication it will end up happening. While there are surely more details that need to be figured out before it becomes official, at the very least, this is great news for any team that is going to go up against Russell Westbrook between the draft and the game.