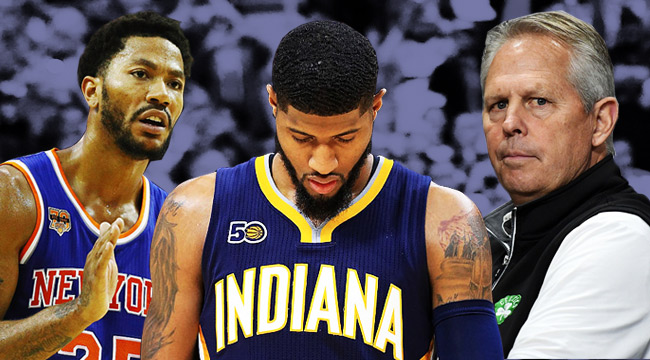 This trade deadline was kind of disappointing. There were winners and losers, as always, but Thursday saw no huge deals.
Coming into Thursday, it seemed like someone was going to make a move that would make ripples across the league. Instead, we got a number of moves that were just fine. The most noteworthy moves – DeMarcus Cousins going to New Orleans, Serge Ibaka going to Toronto, and Kyle Korver going to Cleveland – all occurred days or weeks prior to deadline day.
Instead, the two stories on Thursday were that several teams made solid moves to bolster their rosters as currently constructed (Nerlens Noel to Dallas, P.J. Tucker to Toronto, Taj Gibson to Oklahoma City) and that a number of rumored deals didn't go through. We decided to take a look at some of the biggest rumored deals that didn't happen and how they can impact the league over the immediate future.
Jimmy Butler and Paul George Stay Put
These two guys seemed like the crown jewels of the 2017 trade deadline once Cousins got traded to the Pelicans. At one time or another, it looked like one of them would be on the move to a team like Boston (who we'll get to in a second) or Atlanta.
Butler seemed like he would be the guy who was most likely to move if Chicago – which currently has the 7-seed in the Eastern Conference with a 28-29 record – was going to to blow it all up. Instead, the Bulls decided to keep their best player and move Gibson, Doug McDermott, and a second-round pick to Oklahoma City for Cameron Payne, Anthony Morrow, and Joffrey Lauvergne.
It's slightly perplexing that Chicago decided to trade Gibson and McDermott for such a light haul, especially because a move like this kind of seems like something a team on the verge of a rebuild would do. Of course, to really kick off a rebuild, Butler would have been sent out of town. This didn't happen, so we'll have to wait until the offseason to see what the Bulls want to do with their franchise player. Who knows what would have happened if the Celtics included Jae Crowder in a Butler deal, though.
The George news was a little more surprising. His name was thrown around as a player New Orleans wanted to put next to Anthony Davis, but prior to that, we didn't hear much else until deadline day. From there, both the Lakers and the Celtics made pushes to acquire his services, but neither were able to get the job done. While George wasn't exactly stoked with how everything went down on Thursday, he is still a Pacer.
There is a belief that George, a native of Los Angeles County, is simply waiting until he can opt out of his contract before the 2018-19 season so he can join the Lakers. One reporter has gone as far as to say he is "hell-bent" on doing this. If this is true, George is going to be a far more interesting trade piece next season, as you'd assume that they'll want to get something back for him.
Until then, George is the star of the sixth-place team in the Eastern Conference. Save for a ton of speculation about George, the Pacers were quiet at the deadline, so the same team that went into the All-Star break will emerge on the other side. If Indiana can improve on its abysmal road record – the team is 20-10 at home and 9-18 on the road – it could potentially climb up the standings in the East.
Boston Stays Put
Danny Ainge has made it to a point in his life where he has been in the front office of one NBA team for more than a decade, and in that time, he has built a team that won an NBA Championship. Obviously, Ainge knows what it takes to compete in the NBA. Also obviously, he must think that either:
This roster, as currently constructed, can compete for a championship, OR
It's better to save the assets they have accrued either in the hopes of developing their young players/draft picks into a championship-caliber team or pieces to go out and acquire a star
With players like George and Butler on the table – guys who have reached their potential and are legitimate superstars by basically any definition of the term – it seems rather risky to take this approach to not push all their chips into the center. Of course, Ainge has had more success than most front office executives, so he knows what works and what does not, but the question remains about whether this current group of Celtics players/draft picks can get to the level of a title contender.
It is plausible that Ainge is trying to bide his time until, say, 2020-21, when both Kevin Love and Kyrie Irving are free agents/could leave Cleveland and LeBron James will be 36. But it's still a risk to sit back and wait for your time to break through instead of controlling your own destiny, especially because Isaiah Thomas will be 31 and Al Horford will be 34 by that time in this hypothetical scenario.
And let's be clear: these concerns are all for naught if the Celtics either sign someone big in free agency or use these aforementioned assets to acquire someone big by next year's trade deadline. But for now, they certainly exist.
Knicks Trade Derrick Rose to Minnesota for Ricky Rubio
According to reports, this deal became the purest trade in the world, one player goes to one team in exchange for another player. That's it. Tom Thibodeau could get the point guard who played MVP-caliber basketball for him in Chicago, while the Knicks could get a pass-first point guard who's under contract until 2019.
Really, it seemed like a good trade for both sides and that Minnesota and New York were willing to make the swap. That's why it was a surprise when news came down that the deal was off because the Timberwolves pulled out of negotiations.
It's especially surprising because Minnesota reportedly approached the Knicks earlier this week about acquiring Rose, so you'd think that they would be the side who were in this deal until the very end. Instead, Rose is still a Knick and Rubio is still a member of the Timberwolves. We always seem to watch one team get cold feet on deadline day when a deal is there for the taking. This year, the T'Wolves are that team.
Jahlil Okafor is still in Philly despite weeks of speculation
Somehow, the big trade that happened on deadline day involving a Philadelphia big man freed up more time for Jahlil Okafor.
Coming into Thursday, it was widely believed that Okafor was going to be sent… somewhere. Several teams reportedly expressed interest in acquiring the services of the 21-year-old with a wide array of low post moves. In fact, David Aldridge of NBA.com went as far as to essentially guarantee that Okafor was going to move.
Instead, the Sixers decided to make a trade seemingly out of left field that sent Noel to Dallas in exchange for Justin Anderson, Andrew Bogut (who will be bought out), and a first-round pick that will probably turn into a pair of second-round picks. The Sixers probably had to keep one of Okafor and Noel due to Joel Embiid's checkered past with injuries, it's just a surprise that they chose to keep Okafor.
We'll revisit this in a few months, because it's possible that Okafor gets moved during the offseason. But for now, it's not a stretch to say that the biggest surprise of deadline day is that Okafor is still a Sixer.
Cleveland wasn't able to trade for a point guard, but…
… it does seem like they are on the verge of acquiring Deron Williams. Still, prior to Williams getting waived by the Mavericks, it looked like Cleveland's pursuit of a point guard on the trade market was going to come up empty.
This was despite the Cavaliers setting their eyes on Houston guard Patrick Beverley as the guy to run the offense when Irving and James need a break. According to reports, Cleveland was willing to split with Iman Shumpert if it meant they'd get the fiery Rockets guard.
The good news for Cavaliers fans is that they didn't need to do this, and as long as Williams does end up joining the team, they'd get a starting-caliber point guard without having to give up a rotation player like Shumpert. If so, Cleveland's inability to get someone through a trade may be a good thing. With J.R. Smith expected to return before the postseason, the Cavalier backcourt will be scary deep heading into the race for a championship.
The Kings couldn't completely blow everything up
Oh, Kings. The immediate assumption after the team moved Cousins to the Pelicans was that they'd get rid of essentially every veteran with trade value. The big names that popped up: Arron Afflalo, Ben McLemore, and Darren Collison.
Instead, this happened:
We wrote that the Kings are the worst organization in sports. This was before the team decided to hold onto three players that they really don't need if the plan is to blow everything up. I assume this is the plan, because they traded Cousins for Buddy Hield and some draft picks.
This team is a mess. They kicked off a rebuild when they moved Cousins, then they stopped trying to rebuild. In retrospect, this isn't a huge surprise, because it's the Sacramento Kings, but it's still kind of disappointing.