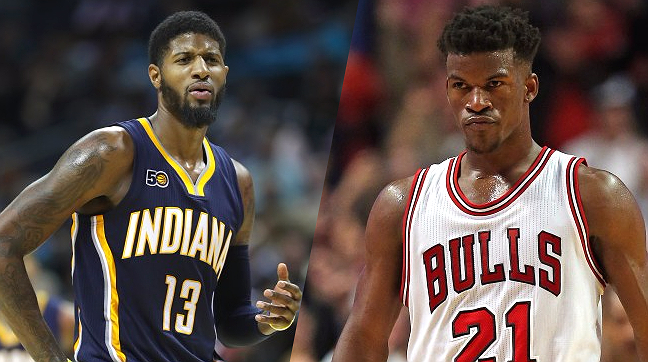 The NBA trade deadline looms large on Thursday afternoon and as we move ever closer to the 3 p.m. deadline, the basketball world awaits news that another big star has changed teams.
With DeMarcus Cousins having been traded from Sacramento to New Orleans, there aren't too many All-Star caliber players left on the market, but there are plenty of rumors swirling around the NBA right now, and even if no more big stars change teams, we should see plenty of activity on Thursday.
Here is the latest on what we know about all of the biggest trade rumors, starting with the Chicago Bulls and their plans with Jimmy Butler.
The Bulls will need an amazing offer to move Jimmy Butler
After the Cousins trade, all eyes moved to Jimmy Butler as the All-Star most likely to be moved by Thursday's trade deadline. The Celtics appear to be the most likely destination, as they are a contender in need of another star on the wing and also have numerous draft assets (including the Nets first-round pick this year) to offer should the Bulls reset and go the rebuild route.
It was reported on Wednesday that the biggest hang-up on the Celtics side of things was their desire to keep Jae Crowder. The latest report on the Bulls side comes from K.C. Johnson of the Chicago Tribune, who says the Bulls aren't planning to move Butler, but would consider a significant offer, much like the one discussed ahead of the 2016 NBA Draft with the Celtics, if it were to come across their desk.
The Bulls have told teams that have inquired about Butler — including, according to a source, the 76ers — that they have no plans to trade him. Of course, one blockbuster offer could change that stance. And the Celtics are loaded with assets. Most league observers expect the teams to at least have dialogue Thursday after engaging in serious talks centered on Butler last June.

At that time, the Bulls exchanged proposals seeking four assets: Jae Crowder, either Marcus Smart or Avery Bradley and the Nos. 3 and 16 picks in the 2016 draft. It would take a similarly large haul for the Bulls to reconsider their current stance on Butler.
This, of course, is something coming from the Bulls camp, so of course they're going to insist they don't want to move Butler and that it will take a massive deal to pry him away from them. You don't want to ever trade from a position of weakness with a superstar, because that's how you end up with what the Kings got for DeMarcus Cousins. If any Butler talks get serious, expect it to be right at the 3 p.m. ET deadline when both the Bulls and Celtics (or Sixers or someone else) start to feel pressure to make a move.
A Paul George trade seems highly unlikely
On Wednesday, we heard rumors coming out of Indianapolis that the Pacers were at least having cursory talks to determine the value of their star small forward. However, those reports note that the Pacers are still torn about their future direction and would like to add help rather than break up their team (Sixers center Jahlil Okafor has been linked to Indy). The most solid rumor that's come out involving George comes from ESPN's Ramona Shelbourne, who reports the Lakers have made a call to gauge George's availability.
However, that's the most advanced any talks have gone. According to Shelbourne, nothing went beyond "initial expression of interest," which would seem to indicate that the Lakers and others have either balked at what the Pacers have been asking (as reported by Basketball Insiders' Steve Kyler) or have been flat out told he's not available right now. Other teams outside of L.A. looking to land George are finding the price high and are reportedly concerned about him leaving in free agency in a year anyways.
With George's contract not up until 2018, the Pacers may be just checking where his value is now, and if this trade deadline and offseason don't go according to plan, look to move him over the summer or at next year's deadline.

Jahlil Okafor is expected to be moved and wants to go back home
Sixers center Jahlil Okafor continues to be actively shopped by Philadelphia, and the Bulls are his desired landing spot. The Pelicans are no longer in the running and he's been connected to rumors with the Pacers, but the Chicago native would like to go home, according to ESPN's Marc Stein.
The problem for Okafor is that the Sixers reportedly would like a first-round pick and a player in return for him, while the Bulls are more keen on unloading Nikola Mirotic rather than their pick.
The Knicks still want Ricky Rubio
On Wednesday night's Facebook Live show, The Vertical's Adrian Wojnarowski said the Knicks did not have any active Derrick Rose talks because teams felt they were going to just give him away. That means the rumored talks involving the Wolves and a Thibodeau reunion were no longer ongoing, but on Thursday morning he reported that the Knicks were still trying to find a way to get Wolves point guard Ricky Rubio.
Meanwhile, the Wolves are putting pressure on the Knicks to make a deal by shopping Rubio elsewhere.
The Bulls might trade everyone
It would appear as though the Chicago Bulls will be the team everyone watches come deadline time. The Bulls are linked to Jimmy Butler talks, Jahlil Okafor talks involving Nikola Mirotic and apparently Taj Gibson and Doug McDermott could also be on the move.
As for destinations for those players, McDermott appears to simply be "available" while Stein reports the Thunder are pursuing Gibson in an effort to bolster their frontcourt rotation next to Steven Adams.
The Suns are trying to make moves but struggling to find trade partners
The poor Suns are having trouble finding a dance partner on Thursday. According to Stein, Phoenix wants to unload Brandon Knight, Tyson Chandler and P.J. Tucker with Tucker reportedly getting the most nibbles on the market, but they're still holding out hopes for a first-round pick.
As for Knight and Chandler, the market for Phoenix's vets doesn't appear to be much of anything right now.
According to USA Today's Sam Amick, the reason they can't move Knight is because their original asking price was too high for most suitors.
Sacramento might not be done dealing
The Kings aren't done making moves to reset their roster and kickstart a rebuilding effort after trading DeMarcus Cousins, according to ESPN's Chris Haynes. The Kings are expected to try and move veteran shooting guard Aaron Afflalo before the deadline, likely looking for more future assets.