In the wake of his mid-season appointment as coach of the Sacramento Kings, George Karl fanned a low flame that's burned bright ever since by suggesting that his team might trade franchise cornerstone DeMarcus Cousins.
"I've had some great players and I've never had one player that I have said is untradeable," he told CSN Bay Area's Bill Herenda last April. "You always got to be ready for the possibility of a great trade that could come your way."
Karl isn't crazy.
Before taking over with the Kings, he coached stars like Carmelo Anthony, Ray Allen, and Gary Payton. Cousins isn't on the level of those luminaries quite yet, and certainly wasn't toward the tail end of last season. The notion that Sacramento would consider trading him if the right deal came along was especially understandable considering the manner in which his lumbering style clashed with Karl's uptempo coaching ethos.
No matter for logic, though. Cousins took that perfectly reasonable soundbite personally and some media members were quick to chastise the veteran coach for his supposedly hot-button remarks, a combination of factors that led to the offseason friction that still plagues Sacramento today.
But ask yourself this: What player in the NBA is truly untradeable?

Cousins, for all his estimable talents, wasn't then and isn't now. Those who might be are extremely rare, and hold a special place in their organization's hierarchy that is the result of on-court performance, off-court persona, and a well-earned expectation of lasting overall positive impact.
When you read reports of teams "taking calls" on a player before Thursday's trade deadline, basically, don't overreact. As The Vertical scribe and former Brooklyn Nets front office man Bobby Marks noted on Twitter earlier this week, "Every player is talked about over the next few days."
Well, every player except these 10 "untouchables."

The Global Icons
The first player on our list of legitimate untouchables needs no explanation. Curry is a runaway for a second consecutive MVP, the face of Bay Area sports, and the best player on what could be the best team in NBA history. There isn't a single even semi-realistic deal that would make Golden State Warriors general manager Bob Myers think twice about hanging onto basketball's most valuable commodity for as long as possible – despite the specter of his upcoming free agency in the summer of 2017.
He's no longer close to the game's unquestioned best player. He's dealing with nagging back and knee issues that are likely more debilitating than he admits. And he's 31 years old and likely to sign one-year contracts with a player option every summer for the foreseeable future. But come on. James is the Cleveland Cavaliers in both body and spirit. Tyronn Lue's team would crumble without him, and wine and gold followers across the country would revolt if the very prospect of dealing the four-time MVP was broached. LeBron isn't going anywhere. Ever.
The Living Legends
Bryant is retiring after this season and his contract is worth $25 million. He's never shown an ability or willingness to cede any offensive control whatsoever, and is a constant injury concern. Then there's the fact that Bryant, at a fragile 37 years old, needs rest to be his best – and that his best may not be what a contending team wants or needs. Regardless of his loyalty to the purple and gold and vice versa, there's just no place for Kobe's final two months of professional basketball other than with the Lakers in Los Angeles.
The five-time champion represents everything for the San Antonio Spurs that Bryant does for the Lakers, with one additional caveat: He's still an immensely impactful player. Duncan is the signal caller and back-line protector of basketball's best defense, and has enough skill and knack to remain an extremely effective post-up option when the Spurs call his number. He took a massive discount last July to remain in San Antonio for two more years, too. We couldn't imagine Timmy wearing any jersey that wasn't black and silver, and thankfully, we definitely, definitely won't have to.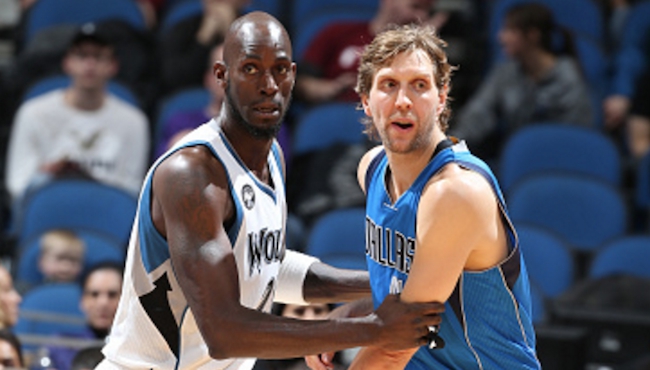 Nowitzki is the Dallas Mavericks' Duncan, an aging wonder who is so aligned with his organization that it's difficult to figure out where the individual begins and the collective ends. The future Hall of Famer still bends defenses better than any other big man in basketball, and is a smart enough positional defender to compensate for a decided lack of fluidity and overall effectiveness in space. There will be a time not far off when Dallas' roster doesn't contain the best player in franchise history, but Nowitzki's absence certainly won't be the result of a trade. Either way, we shudder at facing that depressingly imminent future.
Garnett's career has been far more winding than those of his contemporaries on this list. He's played for three teams over his record-tying 21-year career, and his league-wide relevance began waning sooner than Bryant's Duncan's, and Nowitzki's. Nevertheless, the Minnesota Timberwolves legend will undoubtedly finish his career where it all began. He's more overall leader than player at this point, a role that suits him better in Minny than anywhere else. Plus, the 39-year-old has ambitions of buying the team once his playing days are finally over, an idea originally stemming from discussions with the late Flip Saunders – the beloved mentor who brought him back to the Timberwolves almost one year ago. Garnett's value and personal goals are wholly unique and exclusive to Minnesota. Other teams may want him to play for them, basically, but it's safe to say he doesn't want to suit up for them.
The Franchise Cornerstones
After Leonard's solid yet unspectacular rookie season, Gregg Popovich raised eyebrows by calling him the future "face of the Spurs." Almost four years later, it's tough to fathom anyone ever doubting the prescience of basketball's best coach – and even more difficult to imagine Leonard playing for any team other than San Antonio. Just what kind of potential trade package would make RC Buford answer a call at the deadline he knew was concerning the reigning Defensive Player of the Year? Leonard, remember is hardly just a one-way star; he's become one of the most efficient, versatile offensive players in all of basketball this season. And at 24 years old, he's in the first season of a five-year contract that will keep him with the Spurs through 2018-19 at a very reasonable price as the salary cap skyrockets past $100 million. San Antonio might not trade him for literally any player in basketball.
Here's the only player on this list who will never and has never fit the traditional mold of a superstar. But that doesn't matter to the Warriors. Green isn't just the defending champions' emotional heartbeat; he's also the incredibly versatile two-way force that unlocks the remarkably rare capabilities presented by basketball's most talented and versatile roster. We're not of the opinion that Green's meteoric rise is mostly a product of his historically great squad. For all those who disagree, though, that notion only further supports one that his value to Golden State would be superior to that of any other team. Just what, then, could the defending champions possibly receive that would make them even think about trading him? Coupled with Green's new, cheapo five-year contract and his notorious Bay Area fame, that reality makes him virtually untouchable – no matter your assessment of his game.
The Limitless Rookies
The following rookies have averaged at least 17 points 10 rebounds, and 1.5 blocks per game with a PER of better than 23.0 since the league officially began counting blocks: David Robinson and Towns. Not Duncan, not Shaquille O'Neal, and not Hakeem Olajuwon. That's the kind of exclusive company the Timberwolves big man keeps, and it somehow doesn't come close to explaining the scope of his absolutely mouth-watering future – or even his All-Star level present. At 7-feet and a swelling 250 pounds, Towns protects the rim and scores inside like a center; moves in space with and without the ball like a forward; and shoots three-pointers and doles-out dimes like a guard. There just isn't much the 20-year-old can't do on the court right now, which is exactly why it's so frightening to think about what he'll be capable of in his prime. Oh, and Minnesota – which happens to possess another franchise-level building block in Andrew Wiggins – is likely to control his contract through 2023-24. If the Warriors called and offered the presumptive two-time MVP for the presumptive Rookie of the Year, would the Timberwolves say yes? That the answer even warrants hesitation is indicative of Towns' absolutely limitless ceiling, not to mention the reality of Minnesota keeping him as far away from the trading block as possible.
Towns is better than Porzingis right now, and there's reason to believe he will be going forward, too. But the 7'3 Latvian has inspired New York Knicks fans the way no other player donning blue and orange has since Patrick Ewing. He's a sensation barely halfway through his rookie season, earning new fans in droves with each soaring put-back dunk, splashed three-pointer, and out-of-nowhere block. Every team in the NBA would want to hang onto a player of Porzingis' unicorn abilities for as long as possible. And like the icons and legends listed above mean more to their clubs than others, so does Porzingis to the Knicks. He represents the type of basketball hope and promise in New York City that hasn't been felt in nearly two decades. Even better? There's a good chance Porzingis delivers on it down the line, too.