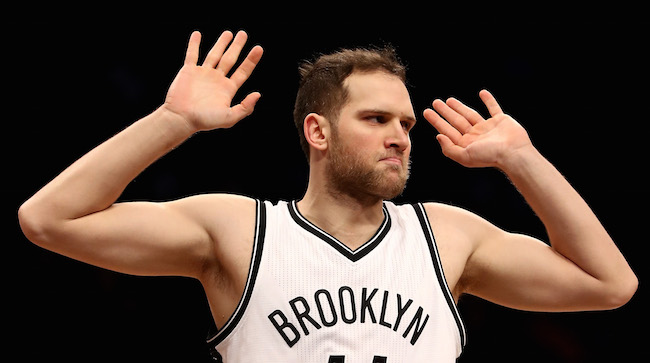 The Washington Wizards came into the All-Star break as one of the NBA's hottest teams, charging into the third spot in the Eastern Conference on a 9-1 run, but the Wizards weren't content to stand pat ahead of Thursday's trade deadline.
According to The Vertical's Adrian Wojnarowski, the Wizards have sent a first-round pick, Andrew Nicholson and Marcus Thornton to the Nets in exchange for small forward Bojan Bogdanovic and forward Chris McCullough.

This seems like a move that makes sense for both teams. The Wizards add a much needed bench shooter in Bogdanovic, who, while a sieve on defense, shoots over 35 percent from three as a small forward and provides wing depth alongside Kelly Oubre Jr. and Otto Porter Jr. Only Porter, Bradley Beal and Markieff Morris are shooting better from three-point range than Bogdanovic this season on more than 2.5 attempts per game, so he should fill a spacing need for Washington.
The Nets get a coveted first-round draft pick that will likely fall in the 20s, giving them two after their first-round pick will be taken in a swap by the Boston Celtics (or someone else should the Celtics trade it for a star Thursday). Brooklyn, which falls well under the cap floor, can eat salary while working to build assets after being drained by the previous front office regime.
While not a blockbuster deal by any stretch, this is a move that would seem to benefit both parties, with the Wizards getting better depth in the short term during their playoff push and the Nets getting a much needed first-round draft pick.