For much of the young NBA season, there have been complaints on social media that there hasn't been enough discussion about some of the best things happening on the court. To an extent, those complaints may right. As such, we wanted to make sure we had a place to highlight the best performances from the last week in the NBA, and thus we get This Week In Greatness, a column meant to highlight the best things we saw the previous Monday to Sunday in the Association.
This past week we finally had a national TV doubleheader deliver in the form of two high-quality, competitive games as Lakers-Bucks and Rockets-Clippers lived up to expectations on Thursday night. In the early game, Giannis Antetokounmpo put on a show, out-dueling LeBron James and Anthony Davis with 34 points, 11 rebounds, and seven assists in a 111-104 win. Davis was spectacular with 36 and 10, while James put forth a 21-point triple-double — albeit with some uncharacteristic miscues in key spots. It was the game we hoped we'd see as a potential NBA Finals preview, and even included some spice, courtesy of Giannis.
In the nightcap that followed, the Rockets and Clippers kept up that same level of play in a 122-117 Houston road win that proved their duo of Russell Westbrook and James Harden could keep them competitive with the league's best. The assumption is that the Rockets are going to make some kind of move at the deadline to bolster their rotation with more depth, but the real question in Houston has been whether Westbrook, in particular, can hold up his end of the bargain and be a more efficient scorer when teams force the ball out of Harden's hands.
Against the Clippers, he did that in a 40-point outing that was the best of his first season in Houston, and while his 13-of-31 shooting wasn't spectacular, he was great at the free throw line (12-of-13) and put tremendous pressure on the Clippers defense attacking downhill. L.A. got big nights from Paul George and Kawhi Leonard, falling just shy of a win, but for the first time since really opening night we got two high level games in a national doubleheader. That is something to celebrate, and it gave us two possible postseason matchups to be excited about going forward.
Here's the rest of the best from the week that was in the NBA:
Players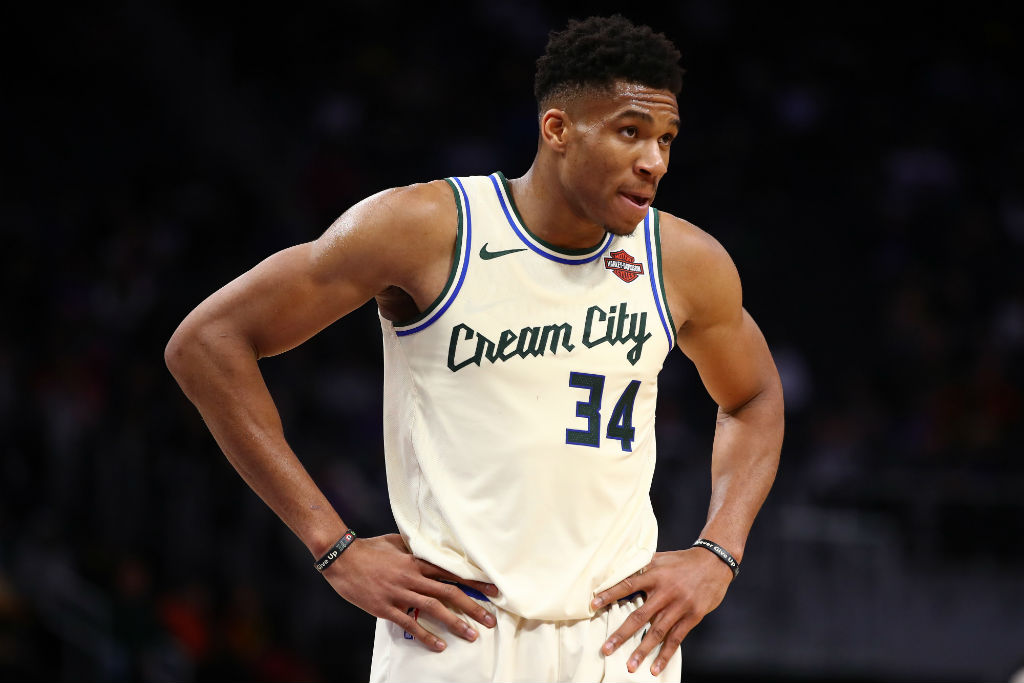 Giannis Antetokounmpo: He averaged 30.5 points, 13.8 boards, and 7.5 assists in 31 minutes per game. He dominated against the Lakers and went 9-of-21 from the three-point line in four games this week. There is, simply put, not a better player in the NBA right now and while it's become the expectation from him, it should not be taken for granted.
Jayson Tatum: Three straight 24-plus point games this week for Tatum, who seems to be headed for an All-Star nod in the East, culminating in a spectacular 39-point performance against Charlotte on Sunday. Tatum has taken on a bigger role this season and made the statistical leap many expected from him last year. The scariest part is, he's shooting it solidly but there's likely room for his three-point shooting to get better.
Trae Young: The Hawks are abysmal right now, but it's not for a lack of effort from Young. The fact that they're hanging around with teams is a testament to what he's doing on the offensive end, and hopefully the return of John Collins from suspension brings some wins back for this Atlanta team. Young averaged 39.7 points and 7.3 assists per game in three losses this week, and while there's some inflation in that from him playing much of the fourth quarter of a blowout loss to the Knicks, there was no such padding against the Jazz and Nets. He's been spectacular and should be a lock to make his first All-Star team, even on a 6-24 squad.
Spencer Dinwiddie: The man keeping the Nets afloat right now is Dinwiddie, who averaged 37 points per game as Brooklyn went 2-1 this week. With Kyrie Irving out, he's been spectacular for the Nets and is a huge reason for them being 16-13, solidly in seventh in the East. His attacking has opened up the Brooklyn offense as he is getting to his spots at near will right now.
Nikola Jokic: The question in Denver has been whether their star big man would round into the form he's shown the past couple years, and this week may be an indication that it's happening. Jokic averaged 19.3 points, 9 assists, and 8.3 rebounds in Denver's three games this week, in which they won all three. The most impressive of those wins was a blowout of the LeBron-less Lakers in L.A. on Sunday, and Jokic seems to be returning to his play-making form. That's huge for a team with dreams of being a title contender, and they now sit second in the West at 20-8.
Harden & Westbrook: The two had nearly identical stat lines this week, combining to average 68 points, 14.3 assists, and 13 rebounds. It's become the expectation for Harden to put up preposterous numbers, but that they're starting to do that at the same time is a good sign as the vision of pairing them back together seems to be yielding the intended results.
Teams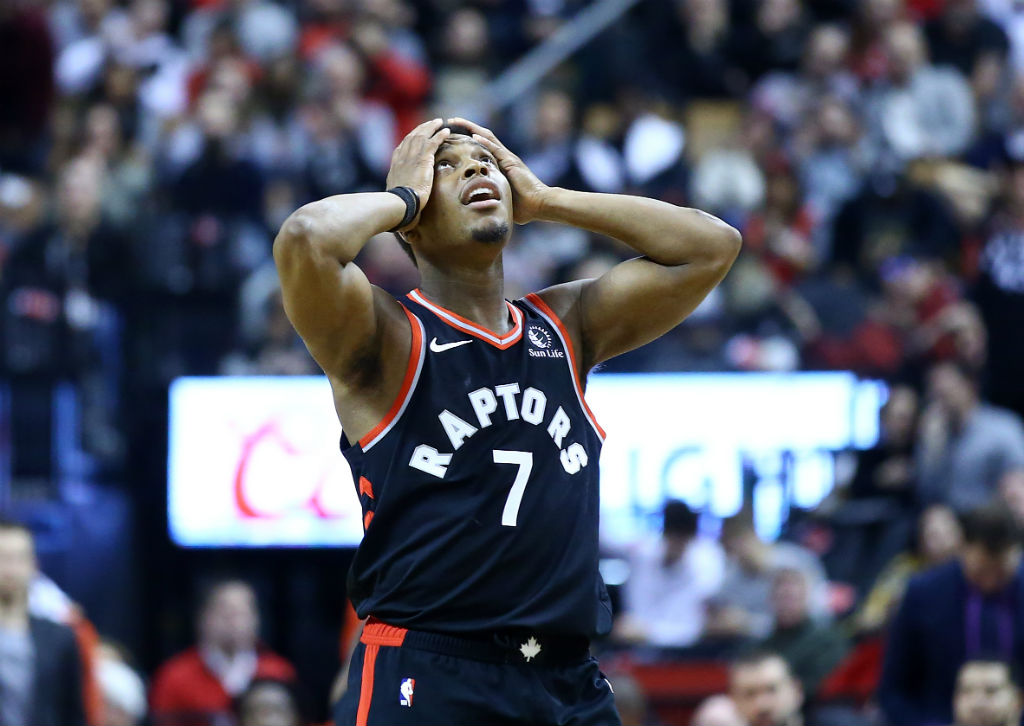 Toronto Raptors: Winning four games in a week will earn you a spot here, especially when you do so battling the injuries this team is. They didn't exactly beat juggernauts, with wins over the Cavs, Pistons, Wizards, and Mavs, but the latter was particularly impressive. Against Dallas on Sunday, Kyle Lowry and company erased a 30-point second half deficit to comeback and win despite absences from Fred VanVleet, Pascal Siakam, and Marc Gasol. Beating mediocre to bad competition is a necessity in the NBA, and snagging a win against a quality Mavs squad in that fashion certainly makes them deserving of ending up here.
Milwaukee Bucks: Their 18-game win streak came to an end at the hands of the Mavs on Monday, but they started a new 3-game streak with wins over the Lakers, Knicks, and Pacers over the weekend. Giannis is the engine, but the team as a whole is firing on all cylinders and has cemented their place as the team to beat in the NBA. George Hill has stepped in for the injured Eric Bledsoe and not let the offense skip a beat, while they're getting All-Star production once again from Khris Middleton, and terrific contributions up and down the roster. They can't answer questions about the playoffs until the postseason arrives, but for now they're proving what a dominant force they can be.
Oklahoma City Thunder: Break up the Thunder. OKC went 4-0 this week, beating the Bulls, Grizzlies, Suns, and Clippers — two of which came in comeback fashion. This is a team that's really fascinating, given the summer they had and the clear future-facing nature of those moves. Still, as constructed currently they are a competitive group and at 15-14 are currently seventh in the West. Chris Paul looks fantastic, Shai Gilgeous-Alexander has continued to impress in his sophomore season, and they'll have a very interesting decision to make over the next month-plus. Contenders will come calling for their veterans, but given the state of the bottom of the West, they might just decide to chase a playoff spot and be content with their treasure trove of assets they already have.
Boston Celtics: Another team that went a perfect 3-0 this week, as they lock down the second spot in the East for now at 20-7 ahead of Toronto and Miami. They're getting high level contributions from their top guys on offense, but maybe more importantly, the defense has somehow managed to be one of the league's best despite a shaky frontcourt. They've been impressive and this week we even got some Tacko Time to close out games.
Utah Jazz: The Jazz also went 3-0 this week, and while it wasn't against the most impressive competition, it's what they desperately need to be doing. We'll learn a lot more about this team this coming week with three very good opponents, but for now a five-game win streak has allowed for some deep breaths in Salt Lake as the sky is no longer falling. The Jazz still have work to do in reaching their ceiling, but taking care of business against the bottom half of the league is what a good team is supposed to do.