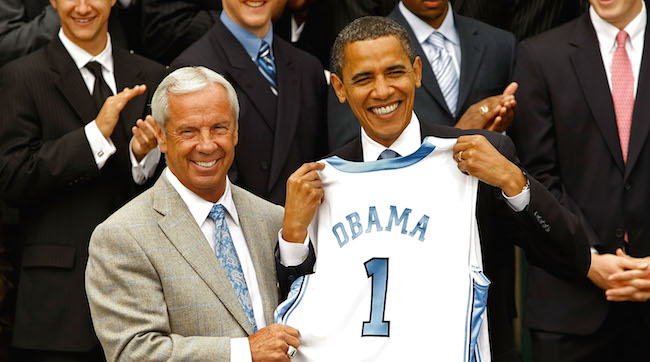 Donald Trump won't be releasing a Presidential NCAA Tournament bracket like Barack Obama did in his eight years in office, but have no fear, our 44th President is continuing his tradition of making his March Madness picks. He released his official bracket predictions on Wednesday.
The first thing that jumps out is the national title game between rivals Duke and North Carolina, with the Tar Heels emerging victorious. Obama is clearly high on the ACC this year, with three of his Elite Eight teams coming out of the Atlantic Coast Conference (Duke, UNC and Notre Dame).
The biggest upsets on Obama's bracket are No. 5 Notre Dame over No. 1 Villanova, No. 7 Michigan over No. 2 Louisville, No. 13 Bucknell over No. 4 West Virginia, and No. 6 Cincinnati over No. 3 UCLA. The rest is mostly chalk with the exceptions of a couple 10-7 upsets in the first round (and Wichita State is favored, so that's not even an upset), but Obama isn't straying too far from favorites in his bracket. Gonzaga and Louisville are the only top-two seeds he has going out before the Elite Eight, and his Final Four prediction is all top-two seeds.
Obama's Duke-Carolina championship game prediction is one that will be seen on plenty of brackets, especially with Duke's play in the ACC Tournament, and is one that would make the folks at CBS very happy about as ratings for the most storied rivalry game in college hoops for the national championship would probably be quite high.