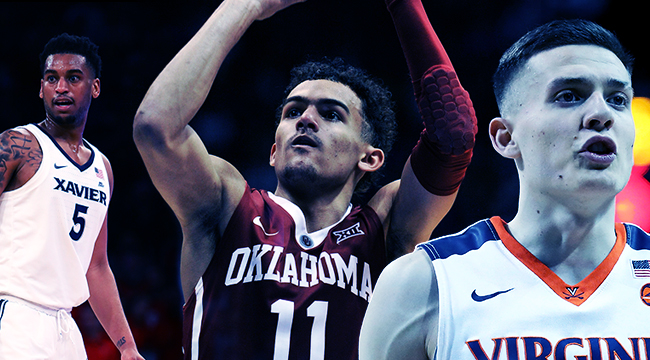 While the 2018 NCAA Tournament has technically already begun, with 16-seed Radford and 11-seed St. Bonaventure each winning their First Four matchups on Tuesday night in Dayton, the first full day of tournament action won't tip-off until Thursday afternoon.
The first weekend of March Madness is always a treat, with 16 games on both Thursday and Friday occupying nearly 12 straight hours of TV time. As we near tip-off in that first game, millions are frantically filling out their brackets and trying to find an edge over their friends, co-workers and strangers in their pools.
While we've given out our picks, potential Cinderellas and NBA prospects to watch, we also wanted to check in with some of the experts that will be covering the action for CBS Sports and Turner over the coming weeks for their thoughts on teams and players to watch in the tournament. We spoke with former college stars and current CBS Sports analysts Wally Szczerbiak and Brendan Haywood (who also does studio work with Turner) about the teams and players they're looking to make some noise over the coming weeks as they get set for CBS Sports' coverage of the tournament.
Haywood has experience from his North Carolina days of what it's like to be a top seed that makes a Final Four run (and sees a first weekend exit), while Szczerbiak helped lead a 10-seed Miami University to the Sweet 16. We asked them what general traits they look for in top teams that indicate they're primed for a deep run (or an early exit) and from double-digit seeds that make them dangerous to pull upset, before getting more into specifics on this year's action.

You were on a team at Miami that was a 10-seed and made it to the Sweet 16, so when you look at those higher seeds, what are the traits you look for in teams that can pull off an upset in the first round or maybe even make a run to the second weekend?
Wally Szczerbiak: Well for the mid-major types, just some teams that if you look at their resume, they've played with some of the power conferences, and they've played tough schedules. They've been in tough games on the road, and they're not afraid of the moment. And they can step up to the plate against some of the quote unquote "power teams."
For me, I loved getting out of conference play because conference play was just all double-teams, triple-teams, everyone knows every play you're running, it's just a … kind of a coaching and a scouting battle. You know, every game is so tough in conference, that when you get out of conference, you just kind of can experience fresh air. You can breathe a little bit.
For me, I was able to go one-on-one a lot, and the teams weren't bringing as many double-teams, so it was like playing free, honestly. So I'm interested to see if that could possibly happen for a guy like Trae Young.
On the flip side, when you're looking at those top seeded teams, what are the things you're looking for out of those teams to give you confidence that they can make a deep tournament run?
Szczerbiak: Teams that even if they don't shoot great that can kill them. And you look at a team like Cincinnati and Villanova and Virginia, now those are teams that when they have off nights, they still find ways to win. Virginia went 17 and 1 in the ACC, in really tough conference with such a tough road in the ACC.
So that seems fairly bulletproof. And that's why I picked them to win the National Championship. Obviously, you want them to have a good road. I think Virginia has a tough road. They're gonna meet up in Sweet 16, mostly likely with, barring something shocking, either Arizona or Kentucky. Those teams look like they're on a collision course on the second round, so to get a team of that caliber with that much talent in the Sweet 16 out of your four or five matchup, it's pretty tough.
You compare that to Villanova, I mean, they've got a cakewalk to the Final Four. Their four or five seeds are Wichita State and West Virginia, which are not nearly playing as well as teams like Kentucky and Arizona. So I think Villanova's got a pretty easy road to the Final Four. And then you look at Kansas. Their top half of the bracket is not that hard until they get to the Elite 8. They're probably gonna meet up with Michigan State or Duke, who has National Championship potential, so that's a tough little road.
And then in Xavier's bracket, I don't think that's the strongest bracket either. I think there are a couple teams that can come out of there, and some of the real powerful teams are out of that bracket, so that bracket's pretty wide open.

From your experience at North Carolina where you had a Final Four run, but also saw early exits and now watching as an analyst, what are the traits you look for in those top seeds to make them either a team you see as one that can make a Final Four run or a team that's vulnerable to a first weekend exit?
Brendan Haywood: Well, what I look for in strong teams, I like to look for teams that have a specific style of play. I like to see that this is a team that can execute that, impose their will. Kind of like a UVA. UVA has a specific style of play. And they can execute that against just about anybody. I also look for strong guard play.
I think in the NCAA Tournament, just in college basketball in general, guards really drive the game even more than big men because a good guard can get his shot at any time. We're seeing guards like Trae Young, Jalen Brunson, are really good guards that can have that ball in their hands at all times, could change the game. So I look at your guard play, your style of play, I also look at your matchups. And a lot of times that can determine who can beat who.
You hear that a lot around the tournament that guard play is key. Having that kind of dynamic player that can take over. Is that a big thing you look for out of teams looking to pull off upsets? Or is there a little more you like to see out of those double digits seeds that are looking to be the Cinderella stories?
Haywood: Well, Cinderella stories happen in all different shapes and forms. Sometimes it's about their guard play. And you have guards that have incredible runs like you saw when Giddy Potts got hot for Middle Tennessee State like a year or two ago. Sometimes it's about just an overall team effort. A team you might say, "Hey, they have good guards, but they have a very diverse big man that can score."
In this year's tournament, a team like that would be Davidson. Davidson plays a unique style. They spread the court. But they have Peyton Aldridge. He averages 22 points per game. He plays inside and outside. And there's gonna be some teams, like a team like Kentucky, if their bigs aren't ready for the skillset that Peyton Aldridge has, they can be taken advantage of and Peyton Aldridge can have a big number and go for a big night.
So I look for the star player that can have the type of performance that we talk about for years to come. But I also look at do you have certain assets like big men that can help you out against some of these big schools. 'Cause a lot of times, that's the difference between a mid major and a major is the height and the depth of the big men.

Who are the guards that, outside of a Trae Young who everyone knows, you're looking for to really make some noise and earn some national spotlight?
Szczerbiak: Kyle Guy and Ty Jerome [at Virginia]. I don't think they're getting enough credit. I think they're the most underrated guard tandem in the country. Those guys can defend. They have good size, and that's one thing I really like. I like tall guards that can create on the offensive end of the floor, and their defense is tremendous, as is evidenced by them being the best defensive team in the country by all the numbers.
So I really like those two guys. They're play-makers, they're shot-makers, and they are one of the reasons why Virginia can score a little bit more. They're not just a defensive team. Those guys can put the ball in the basket also. So those are a couple guys I'm really keeping an eye on.
Villanova's got a great group of guards, with great depth at that position. If you throw in Mikal Bridges, as perimeter guy in that group with his defense and his legs, that's what makes them go. Right now Shai Gilgeous-Alexander's playing really well for Kentucky, so key. And Quade Green, those guys are kinda starting to figure it out. So keep an eye on those two possibly helping Kentucky make a run, although, Kentucky's got a tough road. They'll have to go through Arizona and Virginia if they wanna get to the Final Four, and that's not gonna be no easy task.
When you look at the No. 1 seeds and how everything shook out for them in their brackets, which one of those do you think is most in danger of seeing an early exit?
Haywood: Probably Xavier. You look at their team, I like them. But they don't blow you away from a pure talent standpoint. If Trevon Bluiett's not having a good game, they are very susceptible to taking a loss. Sometimes Xavier isn't the best defensive team in the world too. And you know, in the second round, they could be playing against potentially like a top three pick in Michael Porter Jr. Now, I'm not sure what Michael Porter Jr. we're gonna see. I'm not sure how healthy he is. But that's somebody that should concern you.
Also Kansas. They've struggled to rebound all year long. All year long Kansas has struggled to rebound and they could be playing an NC State team that's not gonna be scared of them. NC State has beaten teams that are just as talented or more talented than Kansas. They've beat Arizona. They beat Duke. They beat Carolina. They beat Clemson. And if you look at the numbers, they've hung 90 points on all those teams. So if you can score 90 against teams like that, you can get into a track and score a bunch of points against Kansas as well. I think NC State right now, having played that ACC schedule, would have no fear of Kansas.
Szczerbiak: Definitely [Xavier]. They had a great season. They have great depth as a team, but they can't beat Villanova, and they've never been able to beat Villanova. They found a way to win the Big East regular season, which is impressive. Villanova went through some injuries, but when Villanova sees them head-to-head, they dominate them. And I feel like that's gonna be the case with some of the big dogs that a lot of people think have the ability to win this tournament.
If they went up against teams like Duke, Michigan State, Virginia, Arizona, even Kentucky, Villanova, I just don't put Xavier quite in the class yet. They haven't proven to me that they can play with those caliber of teams.

What are some of the lower seeds, the double-digit seeds, that you think we could see pulling off an upset and maybe even making a second weekend run?
Szcerbiak: New Mexico State is a big one. They had a couple of good wins over power conference teams early on in the season. I feel like their bracket's kinda laid out well to them. I think they might play Clemson in the first round, and then Auburn, if I remember correctly in the second round, which are two teams that are dealing with some injuries, and not playing as well now, as they were early on in the year. So, that's a team I have my eyes on.
Also San Diego State's been ripping through the Mountain West. I think they're on a nine-game winning streak. They're a really hot basketball team right now that has a ton of talent. They're a double-digit seed and watch out for Oklahoma. Like I said, Trae Young, if he can get his act together and kind of figure out a way to kind of find some freedom, a way for him to get out of all those great venues and great coaches game planning for him, maybe he can get hot and go on a run.
Haywood: Davidson is a team that spreads the court. They create driving angles. They get a lot of good weak side action where they get a lot of back cuts. And they end up getting a lot of easy layups. If Kentucky isn't disciplined, Davidson's the type of team that could upset them.
I think Michigan State needs to pay attention to Bucknell. Bucknell is a team that can play fast. They average 80 points per game. They have a good guard in [Stephen] Brown, he's very good. But the biggest thing is two of their best players play inside. They have two very good post players. They have Zach Thomas who's averaging 20 plus per game and he's an inside-outside, 6'7″ type of big. Then they have Nana Foulland who averages 15 points per game. He does the dirty work inside and he's 6'9″, blocks shots, finishes well around the rim, averages about 15 to 16 points per game. So they have two big men that can actually match up with Michigan State's big men. And they can play tempo. They like to play fast.
So a team like Bucknell, a team like Davidson, Oklahoma's a double digit seed too. So they go up against Rhode Island and Trae Young is one of those guys that can just flat out take over a game. So you always have to watch out for him and what he can do and things of that nature. So there's definitely some double digit seeds that I think have a chance. South Dakota State as well.
Finally, who are your Final Four picks?
Haywood: Virginia, [North] Carolina, Villanova, Michigan State.
Szczerbiak: Virginia, [North] Carolina, Villanova, and Kansas.