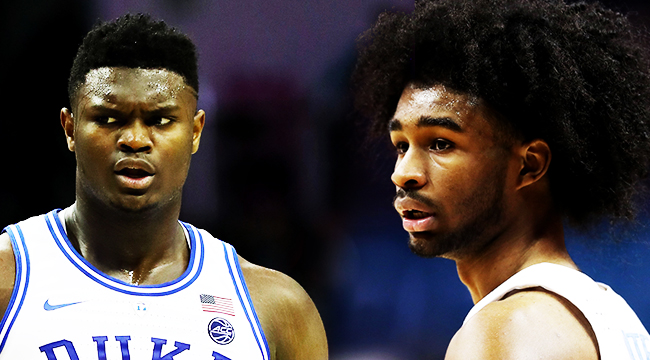 It's the most wonderful time of the year for college basketball fans. March Madness informally gets underway with the First Four games on Tuesday night, and starting on Thursday at noon, the annual tradition that is the NCAA Tournament will get underway. This year's field promises to be as exciting as ever, and to get you ready for the journey, we've picked every game for this year's bracket.
Before you dive in, familiarize yourself with the bracket right here, and check out our primer on which teams should be on opening round upset alert. As for our picks, well, let's dive in.
All winners are in bold.

FIRST ROUND
EAST REGION
1. Duke vs. 16. NC Central/North Dakota State
8. VCU vs. 9. UCF
5. Mississippi State vs. 12. Liberty
4. Virginia Tech vs. 13. St. Louis
6. Maryland vs. 11. Belmont/Temple
3. LSU vs. 14. Yale
7. Louisville vs. 10. Minnesota
2. Michigan State vs. 15. Bradley
We have mostly chalk here, although it's not hard to see the 3 and 5 seeds get into some trouble, while the 4-seed will be a fascinating watch. LSU and Yale should be a track meet, and while the Tigers are better, Lord knows what the vibe will be around that team considering everything happening with head coach Will Wade. Virginia Tech is a legitimate threat to make a run to the second or third weekend, but I will be interested in how they incorporate star guard Justin Robinson, who has missed the last 12 games with a foot injury. Liberty will try to slow Mississippi State way down, and the Caleb Homesley-Scottie James-Lovell Cabbil trio can play, but I'll take the Bulldogs' offensive firepower.
As for the upset I'll pick in this region, while Temple making a run during longtime coach Fran Dunphy's final year would be one hell of a story, give me Belmont's delightful uptempo offense to win that game then pull off a win over Maryland. The Terps are better, but we need an upset in here somewhere, and the Bruins can really score.

MIDWEST REGION
1. North Carolina vs. 16. Iona
8. Utah State vs. 9. Washington
5. Auburn vs. 12. New Mexico State
4. Kansas vs. 13. Northeastern
6. Iowa State vs. 11. Ohio State
3. Houston vs. 14. Georgia State
7. Wofford vs. 10. Seton Hall
2. Kentucky vs. 15. Abilene Christian
Straight chalk here, although I am fascinated in how Ohio State looks now that its best player, Kaleb Wesson, is back from a suspension. Still, Iowa State is awesome — they were the second-best team in the Big 12 on KenPom and Marial Shayok is a baller. Also: Wofford is underseeded, their arsenal of shooters might be the best in America, and you should watch them play basketball against a tough and battle-tested Seton Hall squad, because they're fun as hell.

WEST REGION
1. Gonzaga vs. 16. Fairleigh Dickinson/Prairie View A&M
8. Syracuse vs. 9. Baylor
5. Marquette vs. 12. Murray State
4. Florida State vs. 13. Vermont
6. Buffalo vs. 11. Arizona State/St. John's
3. Texas Tech vs. 14. Northern Kentucky
7. Nevada vs. 10. Florida
2. Michigan vs. 15. Montana
Several quick thoughts: 1. Please, basketball gods, give us Buffalo vs. former Buffalo coach Bobby Hurley and Arizona State; 2. Markus Howard and Ja Morant should just play 1-on-1 for 40 minutes at Rucker Park or something to determine whether Marquette or Murray State moves on; 3. Nevada wins if they can get out and run, Florida wins if they can slow things down and/or if Wolf Pack standout Jordan Caroline is out; 4. Everything about Syracuse-Baylor is not fun, so I flipped a coin.

SOUTH REGION
1. Virginia vs. 16. Gardner-Webb
8. Mississippi vs. 9. Oklahoma
5. Wisconsin vs. 12. Oregon
4. Kansas State vs. 13. UC-Irvine
6. Villanova vs. 11. St. Mary's
3. Purdue vs. 14. Old Dominion
7. Cincinnati vs. 10. Iowa
2. Tennessee vs. 15. Colgate
This region has the potential to get wild. The top-three seeds should all be safe, even if Twitter is going to start firing off the UMBC jokes if Virginia goes down 2-0. From there, it's a mix of insanity. In order: Kansas State could be in serious trouble against a tough UC-Irvine squad if Dean Wade can't play, Wisconsin will have its hands full with a scorching hot Oregon team, St. Mary's just hammered Gonzaga to win the WCC and Villanova is in the midst of a down year, and there may not be a more hit-or-miss team in the country than Iowa, which blew out Michigan and also lost six of eight to close the year.

SECOND ROUND
EAST REGION
1. Duke vs. 9. UCF
4. Virginia Tech vs. 5. Mississippi State
3. LSU vs. 11. Belmont
2. Michigan State vs. 7. Louisville
Forty minutes of Zion Williamson and Tacko Fall, UCF's 7'6 big man, meeting one another at the rim would be a blessing. Beyond that, Virginia Tech and Michigan State are just better than Mississippi State and Louisville. Picking the team that isn't even in the field of 64 yet is admittedly insane, but I just cannot shake the feeling that all the weirdness surrounding LSU catches up to them, and Belmont has the offensive firepower to hit shots en route to a huge upset. Remember this moment when Naz Reid goes for 20 and 17 against either Maryland or Temple.
MIDWEST REGION
1. North Carolina vs. 8. Utah State
4. Kansas vs. 5. Auburn
3. Houston vs. 6. Iowa State
2. Kentucky vs. 7. Wofford
North Carolina and Kentucky are just straight up more talented than both of the mid-major squads they will face, so those are easy enough. Houston-Iowa State would be a dang war — former is 15th in KenPom, while the latter is 16th. It would have legitimate Game of the Tournament potential, and while both teams are excellent, I don't know if I trust the Cyclone defense enough to pick them to win. As for Kansas-Auburn, this has been an awfully weird year in Lawrence, while the SEC Tournament champion Tigers are peaking at the right time and are really, really good. Auburn advances.

WEST REGION
1. Gonzaga vs. 9. Baylor
4. Florida State vs. 5. Marquette
3. Texas Tech vs. 6. Buffalo
2. Michigan vs. 7. Nevada
Gonzaga winning is what's supposed to happen, and they should be able to handle Baylor. In the 4-5 and 3-6 games, well, I am a sucker — in general, but also for undermanned March Madness squads that have one or two players that can get absolutely scorching hot and go shot-for-shot with an opposing team. Marquette has Markus Howard and Buffalo has C.J. Massinburg. While Nevada has Jordan Caroline and Caleb Martin, and they could certainly spark a second weekend run, Michigan is just rock solid.
SOUTH REGION
1. Virginia vs. 9. Oklahoma
4. Kansas State vs. 12. Oregon
3. Purdue vs. 6. Villanova
2. Tennessee vs. 7. Cincinnati
Spoiler alert: Virginia and Tennessee are on a collision course to play one another in the Elite Eight, so keep that in mind for [however many minutes it takes you to get down to the Elite Eight section] from now. Here, expect the Vols to out-talent Cincinnati behind the wonderful Grant Williams-Admiral Schofield duo, while the Hoos' out-execute Oklahoma.
The other two games have the potential to get really, really fun. I have major questions about Purdue if Carsen Edwards gets slowed down, but the good news for the Boilers is that's awfully hard. Villanova's duo of Phil Booth and Eric Paschall are a handful, though, and I can't pick against Jay Wright and the defending champions to bow out before the first weekend. Nova moves on, as does Oregon, largely because picking Kansas State while Dean Wade's health is a question mark is risky. It certainly helps that the Ducks have figured out how to win games post-Bol Bol.

SWEET 16
EAST REGION
1. Duke vs. 4. Virginia Tech
2. Michigan State vs. 11. Belmont
The only time Duke and Virginia Tech played this year was a Feb. 26 matchup in Blacksburg. Zion Williamson did not play, and the Hokies won by five. Expect a healthy Blue Devils squad to be motivated to avenge that, and even though Va. Tech's ability to shoot the ball could be a great equalizer, Duke's talent eventually wins out.
Our other matchup is kind of similar — the Spartans are just way more talented than the Bruins, who have the firepower to hang around but will eventually get got. Michigan State can put the clamps on just about anyone, and ultimately, that leads to Belmont's downfall.
MIDWEST REGION
1. North Carolina vs. 5. Auburn
2. Kentucky vs. 3. Houston
Auburn is feisty enough to give North Carolina headaches for 40 minutes. The Tigers are a tough squad and are fantastic at taking the ball from opponents, topping the nation in defensive turnover percentage. Coby White would have to protect the basketball, and if he can, the Tar Heel offense gets out, runs, and scores the ball on a defense that will let you make shots.
Kelvin Sampson has been a legitimate Coach of the Year contender for the Cougars. Their defense is the stingiest in America, topping the nation in opponent effective field goal percentage, and Corey Davis and Armoni Brooks can score. The issue is Kentucky is really, really good, and can just come at you in waves, especially when transfer big man Reid Travis can suit up. If Houston can keep all of P.J. Washington, Keldon Johnson, and Tyler Herro from hitting shots, they win. They certainly can, I am just skeptical about whether they will.

WEST REGION
1. Gonzaga vs. 5. Marquette
2. Michigan vs. 6. Buffalo
The Golden Eagles' run comes to an end at the hands of the nation's most efficient offense. It helps that the Bulldogs are a solid defensive bunch, too. Markus Howard and co. can keep up with a whole lot of teams in a shootout. Gonzaga, especially with a healthy Killian Tillie, is not one of those teams.
Michigan-Buffalo would be a blast if only because they're so stylistically different — the Bulls want to fly up the court and play at a million miles per hour, while the Wolverines want to slow things all the way down and out-execute you. While Buffalo has been a joy to watch this season, the mix of talent, ability to impose their style on a game, and John Beilein's track record in March give Michigan a leg up.
SOUTH REGION
1. Virginia vs. 12. Oregon
2. Tennessee vs. 6. Villanova
Both Virginia and Oregon want to play slow, meticulous basketball that involves making smart decisions on offense and strangling the opponent on defense. With all due respect to the Ducks, who would put forth one heck of a run to make it this far, the Cavaliers are just better at that. Virginia moves on.
Villanova making it to the second weekend would be impressive, but Tennessee is just too good. The Wildcat defense has been rather vulnerable this season, whereas the Vols are ruthless on offense, especially when Jordan Bone is putting teammates in a position to attack the rim. The good news for Jay Wright's bunch is they're getting to a point where they win titles every other year, so their 2020 tourney run should be fun. The bad news is it's 2019.

ELITE EIGHT
EAST REGION
1. Duke vs. 2. Michigan State
Two top-four teams in KenPom battling for a spot in the Final Four makes all the sense in the world — Duke as the No. 1 overall seed was a given, while Michigan State as the No. 2 seed in their region was a bad decision by the committee. Still, the Mike Krzyzewski-Tom Izzo chess match would be out of this world, with both coaches having squads that ooze talent at their disposal.
The Spartans would certainly throw everything they have at Zion Williamson, and while they might not succeed every time, Nick Wade and Xavier Tillman would both try to be physical with the Blue Devils star. Additionally, watching Cassius Winston cook on offense while getting checked by a pitbull in Duke's Tre Jones would be outrageously fun.
The thing that might end up defining this game is how Duke can score — the Blue Devils are fourth in two-point field goal percentage nationally, while Michigan State is third in two-point field goal percentage defense in America. If Duke can break the Spartan defense and score, they'll win. If not? Well, Sparty dances on. We will ride with the Blue Devils, still.
MIDWEST REGION
1. North Carolina vs. 2. Kentucky
Another potential Game of the Tournament here. The two squads faced off in Chicago in December with Kentucky coming out on top, 80-72. So why pick North Carolina to move on here? Easy: Coby White has been one of the best players in America recently, and in that matchup, the freshman guard looked a whole hell of a lot like a freshman guard. He played 30 minutes, scored eight points on 3-for-10 shooting, doled out two assists, and turned the ball over four times.
It was just a down day for the Heels in general — Luke Maye and Cameron Johnson struggled to impose themselves on the game, while Nassir Little couldn't get anything going off the bench. In a rematch, it's so hard to imagine North Carolina struggling to this extent, as the Tar Heels have been really cooking lately.
To Kentucky's credit, the Wildcats have a boatload of talent and will throw wave after wave of guys at the Tar Heels, and they are good enough at slowing games down to make life awfully hard on North Carolina. Still, expect the run and gun Heels to punch a ticket to the Final Four.

WEST REGION
1. Gonzaga vs. 2. Michigan
The nation's most efficient offense against the nation's second-most efficient defense? Count me in. This would be the ultimate "styles make fights" game — Gonzaga is a fast team that thrives when getting baskets in transition, Michigan is extremely not that. In fact, the Zags just lost to a solid St. Mary's team in the WCC title game because they could not get out in the open floor at all, and Michigan is a better squad than St. Mary's.
Still, this Bulldogs team is really, really good, and one uncharacteristically bad game in their conference tournament shouldn't necessarily serve as a harbinger of things to come. Killian Tillie should be 100 percent back by this point, and even if he's not, Josh Perkins, Zach Norvell, Rui Hachimura, and Brandon Clarke are as dangerous of a four-man group as there is in the sport. The Wolverines put up a serious fight, but their hopes of avenging last year's loss in the national championship game is for naught.
SOUTH REGION
1. Virginia vs. 2. Tennessee
Virginia's arsenal of shooters and guys who make the right decision every time down the floor are national title-worthy — they're the clear-cut No. 1 team in KenPom for a reason. For that reason, you can call this a hunch or a feeling or a completely misguided guess or whatever you want. I really love this UT squad and think they will be physical with the Hoos in an Elite Eight matchup, throwing Tony Bennett's squad off their game.
The Cavaliers have lost three games this season. In one, their 10-point home loss to Duke, UVA fell victim to a torrid (and unconventional) shooting night from deep from the Blue Devils. In the other two, losses to Duke and Florida State, Virginia went a combined 7-for-38 from three. One of those two things need to go right for Tennessee, and I'm a big believer in Admiral Schofield's ability to knock down shots from deep to make that happen. Virginia should win, but we need an upset somewhere, so give me the Vols.

FINAL FOUR
Duke vs. Gonzaga
North Carolina vs. Tennessee
Duke and Gonzaga squared off earlier this season in one of the games of the year. The Bulldogs downed the Blue Devils, 89-87, in the finals of the Maui Invitational, making shot after shot and responding to every Duke punch with a counterpunch of their own. That, also, happened without Killian Tillie on the floor. It's very, very possible that the Zags win this game, but I'm banking on the Blue Devils growing a ton between that game (their sixth of the season) and an appearance in the Final Four. Still, this would be an outstanding, back-and-forth game, one that very well could come down to who has the ball last.
North Carolina and Tennessee didn't play this year, but a matchup between these two teams would be of titan proportions. The Tar Heels are more talented top to bottom, while the Vols have a little bit more experience and will have the best player (and, potentially, the best two players) on the floor in Grant Williams and/or Admiral Schofield. Both offenses are going to score, so this will come down to which defense can get stops when it matters, and I just trust the Tar Heels to do that more than the Volunteers.

NATIONAL CHAMPIONSHIP GAME
Duke vs. North Carolina
It's been surprisingly common to see people pick a Tobacco Road showdown with a championship on the line this year, and we're joining in on the chorus. Each game between the two teams has been memorable to one extent or another this season, and one of two things would happen if they played again: Carolina would hold three wins this season over their bitter rivals, or Duke would even the score on the biggest stage imaginable.
These teams just played an outstanding game in the ACC Tournament — the Blue Devils won, but the Tar Heels just missed a shot at the buzzer that would have given them the win. Both teams would come to play on this stage, and by the time the dust settles, Duke evens the score on the season series because the best player in college basketball does not let them lose. Final score: Duke 81, North Carolina 75 in an instant classic with — who else? — Zion Williamson being named Most Outstanding Player.