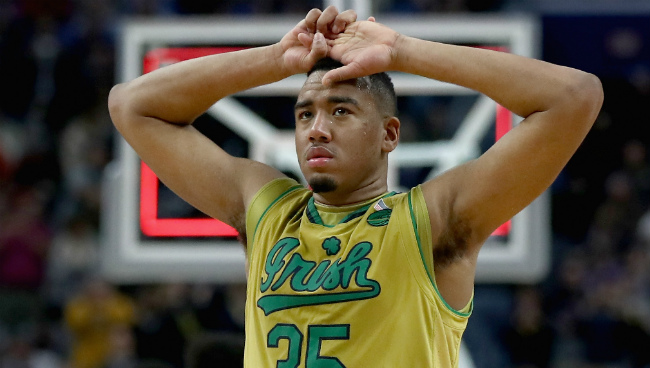 The 2018 NCAA Tournament field is set, and 32 of the 68 teams (including some surprises like Davidson and San Diego State) punched their ticket by winning a conference tournament. Elsewhere, the remaining 36 spots were filled by at-large teams, and while some have no-doubt cases for inclusion, there are always arguments to be made for those on the fringe when Selection Sunday arrives.
This year is no different, and — as it does every year — that creates a conversation of those programs that were "snubbed" from the 68-team field. In this space, we'll explore a few teams that had legitimate arguments (at least to some degree) to be a part of the biggest spectacle in college basketball. Even if some of them also had real reasons to be eliminated, that won't change the conversation where fans are concerned.
With that in mind, let's roll through the snubs, coming at you in alphabetical order.

Baylor
This is a top-35 KenPom team, and that is usually a good place to start. Baylor also has quality wins over Creighton, Kansas and Texas Tech but 14 (yes 14) losses was seemingly tough for the committee to ignore. In fact, the only reason the Bears had a chance at all was the top-to-bottom quality of the Big 12.
Louisville
This is an unfathomably weird resume. The Cardinals didn't lose to a single team outside of the top 100 in the RPI and, even with all of the faults of the RPI as an evaluation tool, the committee uses it. However, Louisville also didn't have a single win over a top-50 RPI team and that is tough to justify. There is something to be said for being a good ACC team that beats teams it is supposed to beat but the non-existence of even one signature victory hurt them.
Marquette
With the state of the current Big East, it would be fairly tough to sneak into the field with a 9-9 conference mark. Marquette has some quality, top-50 wins but none of them will bowl you over and a loss to DePaul earlier in the year stings considerably. This isn't a resume that is particularly impressive, nor brutal, and they are sort of a run-of-the-mill snub.
Middle Tennessee
Middle Tennessee is absolutely one of the best 68 teams in the country but, when a mid-major accumulates seven defeats, it gets very difficult for the committee to justify. Still, the Blue Raiders were considered to be a probable tourney team… until back-to-back losses to Marshall and Southern Miss to end its campaign. That, in conjunction with bracket-busting conference tourney title wins from the likes of San Diego State, painted the ugly picture.
Nebraska
Yes, a 13-5 Big Ten team just missed the NCAA Tournament. Part of that is the conference being (significantly) down and part of it is, well, Nebraska doesn't have many quality wins. The Huskers did thump by Michigan by 20 points back in January but, aside from that, there isn't much going on. It is easy to understand arguments on both sides but, by the end, few expected Nebraska to make the field, as odd as that sounds.

Notre Dame
Of all the resumes on this list, Notre Dame has the most intricate. The Fighting Irish have the injury to Bonzie Colson and, without the team's best player, Notre Dame lost nine games. When Colson was available, there is no question that Notre Dame is tournament-worthy but, when it comes to this kind of calculation, you never know what the committee will do. Notre Dame's KenPom rating is good. Its RPI is not. Apparently, the RPI and total body of work won out in this case and that left the Irish on the outside.
Oklahoma State
Much like other snubs from this list, the Big 12's brutality could have cost Oklahoma State a bid. The Cowboys finished with 13 losses and while the team did not have a single "bad" loss all year, its RPI finished at 91 and KenPom was only marginally kinder to the tune of a No. 56 overall ranking entering Sunday. A birds-eye view won't make it seem like Oklahoma State was even in consideration but they were actually pretty good.
Penn State
The Nittany Lions are probably the final team on this list but only a handful of teams in the KenPom era have missed the field while sitting within the top 30 in that particular advanced metric. Penn State's resume, in conjunction with the Big Ten weirdness, is pretty weak otherwise but you can bet that those who want increased usage of predictive tools will cite this particular squad for reference.
St. Mary's
The Gaels are a top-30 KenPom team and any objective follower of college basketball likely believes that they should be included among the top 68 teams in the nation. With that said, St. Mary's didn't do itself any favors with non-conference scheduling and, as a result, its best wins are against BYU (twice), New Mexico State and Gonzaga. The Gonzaga win is, obviously, very impressive but it was accompanied by a loss in the rematch and an early exit in the WCC Tournament could have cost this team a bid.
USC
For a portion of Saturday's Pac-12 title game, it looked as if USC was going to burst another team's bubble with an auto bid but then, well, Deandre Ayton happened. As a result, USC's at-large resume had to be evaluated and it isn't as impressive as you would think. The Trojans have only two top-50 wins and they come against Middle Tennessee and New Mexico State. Combine that with a sub-150 loss, at home, to Princeton and it becomes really easy to see what the committee was doing with this particular omission.