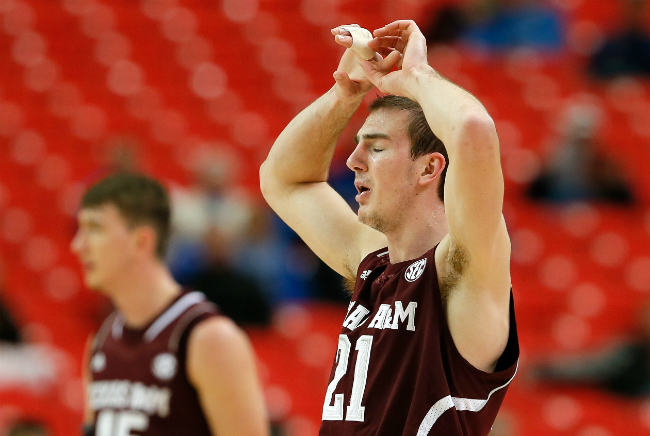 The Bubble Watch is back and better than ever (or about as good as it usually is). Thursday's slate of games is packed with interesting matchups, but if you're a connoisseur of living dangerously and of teams that just didn't do enough to sleep easy this week, this is the place for you.
As we're not typically a fan of repeating ourselves, the teams in play yesterday that we already wrote about are excluded from conversation. They all did enough to move on and keep their bubble hopes alive or potentially lock up a spot, so feel free to keep an eye on them again today. Those teams were NC State, Miami, Texas and Stanford.
Here are watch throughout the day Thursday.
Auburn (13-19, 4-14 SEC) vs. Texas A&M (20-10, 11-7 SEC)
SEC Tournament Second Round, 3 p.m. ET, SEC Network
As of right now, it seems as though the Aggies are on the outside looking in when it comes to an NCAA tournament bid. Their best nonconference is either Sam Houston State or Arizona State, they closed the year out on a two-game losing streak, and their best wins overall are either a season sweep of LSU or a win over Florida. If you're keeping score at home, that's not a great start.
That being said, there isn't really a bad loss on this schedule, even if Texas A&M wasn't able to pull out wins against any of the good teams they played (like Dayton or Baylor). The Aggies would look a lot better if they could have pulled out a win over Arkansas, Ole Miss or Georgia along the way. Or if they managed to not lose both games to Alabama.
So essentially the SEC tournament is time for Texas A&M to shock some folks or ultimately lock up a high NIT seed.
Middle Tennessee State (17-15, 9-9 C-USA) vs. Old Dominion (24-6, 13-5 C-USA)
C-USA Tournament Quarterfinal, 3:30 p.m. ET
Oh, the curious case of the Monarchs. There are some really good wins here, including out of conference victories over Richmond, LSU, VCU and Georgia State.
That being said, the rest of Conference USA (outside of Louisiana Tech) really didn't help Old Dominion out this year. Only La Tech and UTEP are currently ranked in the KenPom top 100, and the Monarchs' losses to Western Kentucky, Middle Tennessee, UAB and UTSA all look really bad right now even if they are merely conference losses.
Old Dominion closed out the year on a six-game winning streak and could certainly make things interesting if they aren't able to grab the conference's autobid, but chances are unless other bubble teams sabotage themselves and the Monarchs' lose by a point in the C-USA title game, they might not be too pleased on Selection Sunday. Old Dominion needs to take care of business this week.
USC (12-19, 3-15 Pac-12) vs. UCLA (19-12, 11-7 Pac-12)
Pac-12 Tournament Quarterfinal, 5:30 p.m. ET, Pac-12 Network
UCLA played a bunch of really good teams this year, including Oklahoma, North Carolina, Gonzaga and Kentucky. The problem? The Bruins didn't beat any of them.
The best wins by far on this schedule are the Utah win at the end of January, the home win over Oregon and the season sweep of Stanford. Other than that, it's a whole lot of nothing for a team that really is a lot more talented than a 19-12 record would suggest.
It's becoming a common refrain among these bubble teams, but UCLA needs to help itself out – a lot – in the Pac-12 tournament. A quick exit would kill any hopes of an NCAA bid for good.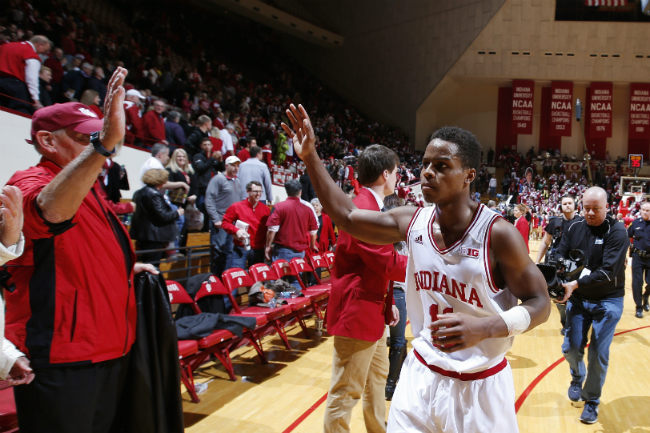 Northwestern (15-16, 6-12 Big Ten) vs. Indiana (19-12, 9-9 Big Ten)
Big Ten Tournament Second Round, 6:30 p.m. ET, ESPN2
Crean Watch is on. And a loss to Northwestern would be just about the worst thing for the Indiana coach and his Hoosiers. Luckily for Indiana, as compared to a bunch of other bubble squads, there are actually some very solid wins here.
Indiana beat SMU and Butler, a Pitt win doesn't hurt, and there are also wins over Ohio State, Maryland and Illinois. The issue is that the Hoosiers collapsed big time down the stretch, dropping eight of their last 12 games and five of their last seven.
The committee still factors in how you're playing at the end of the year, and right now Indiana just isn't playing very good basketball. They're going to have to do a lot in a short amount of time to change that.
Tennessee (15-15, 7-11 SEC) vs. Vanderbilt (19-12, 9-9 SEC)
SEC Tournament Second Round, 7:00 p.m. ET, SEC Network
For as cold as Indiana has been, Vanderbilt has been equally as hot. The Commodores had a seven-game losing streak through the month of January but completely turned their season around after a Feb. 3 win over Florida.
Vanderbilt went 8-2 in its final 10 games, including wins over South Carolina and Ole Miss. There's also that Purdue win earlier in the year, and a victory over Yale doesn't look half bad either.
All that being said, the 'Dores are also probably in need of a big week, and they'll have to make their case in Nashville on the floor. Beating Tennessee on Thursday is a must.