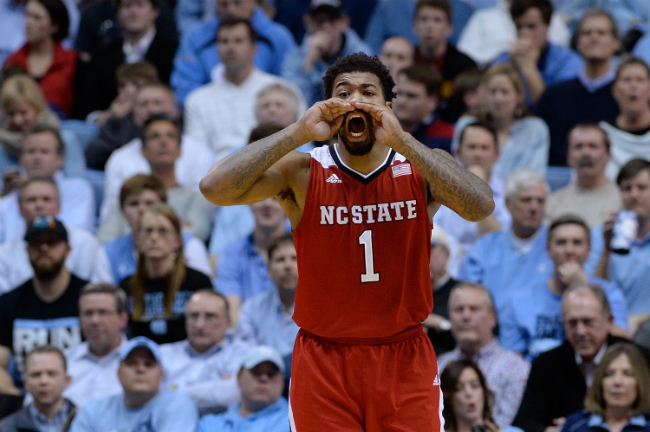 This is the week when a majority of the population decides to start caring about college basketball. I'm not here to shame you for that. I'm here to help. Everyone gets busy, and the winter is always tough.
I'll admit it: it's very tempting to pick up college basketball for a month before packing it back in the garage and telling yourself you'll get into it all the time later on, like someone who gets a beer brewing kit as a gift (and it's a really nice gift), but they just can't bring themselves to find a Saturday to make it happen. It's just so much work, and you can get beer anywhere.
That said, I certainly don't want you to feel like you're lost. And that's why I've compiled the four games today you absolutely, positively need to pay attention to if you're a fan of a team on the bubble or are someone who wants to hit the ground running this week.
Pittsburgh (19-13, 8-10 ACC) vs. NC State (19-12, 10-8 ACC)
ACC Tournament Second Round, 7 p.m. ET, ESPN2
All things being equal, it really seems like NC State should be safe. The Wolfpack boast wins over Richmond, Boise State, Tennessee and Louisiana Tech in the non-conference slate, have a winning record in the always tough ACC and pulled out wins over Duke, Louisville and North Carolina in the process.
This isn't the time to be messing around, though, and a loss to Pittsburgh in State's opening round game at the ACC tournament wouldn't be a good look for a team potentially on the bubble with so many other teams trying to help their case over the course of the week.
The Wolfpack have an elite scorer in Trevor Lacey, an Alabama transfer who is almost at his best when the shot clock is running down and his team needs a bucket. They also have a scoring option in wing Ralston Turner (another Alabama native and a transfer from LSU) and a nice defensive presence in BeeJay Anya.
If NC State can get extra production out of point guard Anthony "Cat" Barber or either of the Martin Twins (Cody and Caleb), the Wolfpack should be able to handle the Panthers. That might just be the problem: in the past when NC State should be handling teams, that's precisely when the Wolfpack decide to go and screw everything up.
Virginia Tech (11-21, 2-16 ACC) vs. Miami (20-11, 10-8 ACC)
ACC Tournament Second Round 9 p.m. ET, ESPN2
A big part of Miami's chances this week hinge on the health of do-it-all guard Angel Rodriguez, who is questionable for the game against the Hokies. It might not matter against Virginia Tech, as Buzz Williams' team is one of the youngest in the nation and has gone through all sorts of growing pains in the former Marquette coach's first year in Blacksburg.
Miami jumped out to a 14-5 record this season and seemed to be a lock for the NCAA tournament earlier in the year, especially following that win over Duke in Cameron Indoor. Then the bottom dropped out a bit, with four losses in five games, including bad losses to Georgia Tech and Wake Forest. The 'Canes picked it up down the stretch, winning five of their least seven, but outside of that Duke win and a good result over NC State, the resumé doesn't quite stand out right now.
Miami needs a lot of help from teams around it on the bubble, and it absolutely cannot afford to lose to the Hokies on Wednesday. A one-and-done result in the ACC tournament would likely knock them out of contention to make the field on Sunday for good.
Texas Tech (13-18, 3-15 Big 12) vs. Texas (19-12, 8-10 Big 12)
Big 12 Tournament First Round, 9:30 p.m. ET, ESPNU
The advanced stats love Texas, and the Longhorns are sitting at No. 20 in the KenPom ratings heading into their game against the Red Raiders on Wednesday. There are some things to like here, including that non-con win over Iowa, that great defense, and a pair of solid wins over West Virginia and Baylor.
Computers aren't picking the field, and even though Rick Barnes' club plays in such stacked conference and didn't really lose any games it shouldn't have lost, Texas didn't exactly wow throughout the year.
The Longhorns dropped four of six heading into the conference tournament, but did end the year on a two-game winning streak. Plus with talented players like Myles Turner, Isaiah Taylor, Jonathan Holmes and Javan Felix, Texas isn't exactly a team anyone would want to draw in the NCAA tournament in the first round.
The mission is simple for the Longhorns: beat Texas Tech and they're probably a lock. Fall apart against the Red Raiders, and things might get a little dicey.
Washington (16-14, 5-13 Pac-12) vs. Stanford (18-12, 9-9 Pac-12)
Pac-12 Tournament First Record, 11:30 p.m. ET, Pac-12 Network
The Cardinal are the team most in need of solid conference tournament performance out of the four in action on Wednesday. Even with the head-to-head win over Texas, Stanford just doesn't have the body of work that the Longhorns have and play in a conference that – outside of Arizona and Utah – just doesn't stack up to the Big 12.
This isn't to say that Stanford can't make a run at it. This is a chance for the Cardinal to grab a couple big wins in a row and hope that teams around them falter. Between Chasson Randle, Stefan Nastic, Rosco Allen and Anthony Brown, there's plenty of veteran leadership to potentially push for a couple wins in a row.
And what Stanford desperately needs is another signature win. A slate of Texas, Wofford, Connecticut and nothing else just isn't enough, and closing the year out on a three-game slide doesn't help matters.
At this point Stanford probably isn't even on the bubble, but that doesn't mean the Cardinal can't play their way onto it.