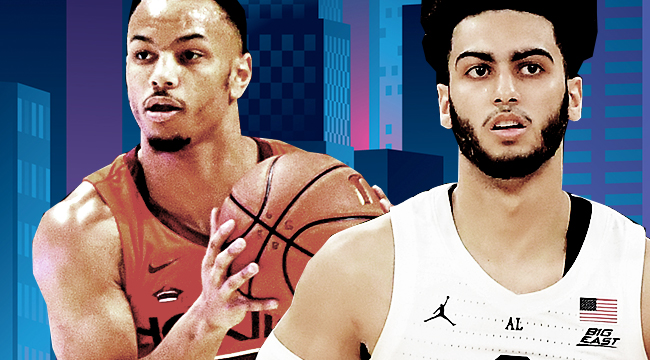 The NCAA Tournament always provides drama and the 2019 edition will be no different. The big guns are involved, from Zion Williamson and Duke to programs like North Carolina and Kentucky, and there will be plenty of attention paid to the top seeds, particularly if those programs make a run to the second weekend and beyond.
However, part of the fun with March Madness is digging deeper into some other storylines and, in this space, we will do just that. There are a few more high-profile items in the mix but, in general, we want to provide some useful information to file away throughout the opening weekend and here are 10 things to keep in mind, coming to you in chronological order.
What should we expect from LSU without Will Wade?
LSU is probably over-seeded, with or without their head coach. The Tigers went 4-1 in overtime games this season, demonstrating good fortune, and LSU has a KenPom rating (No. 17) befitting of a No. 4 or 5 seed rather than a team on the No. 3 line. Of course, that isn't the fault of the SEC regular season champs but it is also fair to wonder a bit about how the team might fare in a tournament setting.
Make no mistake, LSU has more talent than Yale, but the Tigers are projected as a single-digit favorite, which isn't the norm in a 3/14 match-up. The absence of Will Wade might not hinder the team in this particular spot, especially if they can build a lead and work from there, but LSU is going to need to escape a close-fought battle at some point and not having a program's leader at the helm isn't ideal.

Can Auburn keep it going?
Remember when we said LSU was over-seeded? Well, here's an example of a team that is under-seeded. Auburn is better in the computers than LSU and the Tigers are a No. 5 seed with a relatively difficult opening round game against New Mexico State. Of course, it has to be noted that LSU won the SEC regular season title, which explains (at least in part) the disparity, but Auburn is playing lights-out basketball at the moment.
Teams like Kentucky and Tennessee are drawing more attention and you can see why given their collective pedigree. Auburn has won eight games in a row en route to winning the SEC Tournament and Bruce Pearl's squad has quite a bit of talent to work with at the highest levels. The knock on the Tigers in recent times has been a lack of consistency and Auburn plays fast, which can lead to a bit of weirdness. Still, this is a Final Four-caliber roster if things break right and we'll see which Auburn team shows up.
Kansas isn't Kansas this time around
The Jayhawks are a blue blood in every sense of the word, and every March, Kansas is a popular pick to win it all. Usually, that is a thoroughly defensible choice but, in 2019, it really isn't.
Frankly, Kansas is over-seeded as a No. 4, particularly when you remember that some of the team's profile was assembled when Udoka Azubuike and Lagerald Vick were prominently involved. Those two players are no longer in the mix for this season and, since opening 10-0, Kansas has been quite pedestrian. Are they still more talented than their first round opponent in Northeastern? Absolutely. Is Dedric Lawson a big-time player? No doubt.
Still, Kansas could lose to Northeastern, and no one should be shocked if it happens.
The "other" big-time guard
Ja Morant is awesome. The Murray State guard averaged 24 and 10 this season on the way to becoming a top-three NBA Draft pick, and he is the biggest reason the Racers are in the NCAA Tournament field. With that said, he's not the only big-time guard playing in the first-round game, as Markus Howard is a tremendous college basketball player in his own right.
The 5'11 junior averaged 25 points, four rebounds and four assists per game and, like Morant, he was Marquette's offensive engine all the way through. Howard had 36 percent usage this season, the fifth-highest mark in America, and he did so with nearly 60 percent true shooting. Sure, Howard has weaknesses that come with being 5'11 but, in a game that will be dominated by Morant buzz, I'm not sure Marquette doesn't have the best college player on the floor in the opener.

Remember Nevada?
In early January, Nevada was 14-0 and there was legitimate buzz that an undefeated season was in play. Then, the veteran team flopped in epic fashion during a 27-point loss to New Mexico and, essentially, Nevada faded from the public consciousness.
Some of that lack of shine was deserved, as the Wolf Pack weren't as good as they were supposed to be. Still, this is a club that made a second-weekend run in 2018 and Eric Musselman deploys a number of notable veterans (including the Martin twins and Jordan Caroline) that are capable of doing it again. Nevada's first-round match-up against Florida won't draw a ton of headlines but, when Nevada plays their best, they can play with just about anyone and you can't say that about every No. 7 seed.
The reigning champs may bow out early
Villanova won the Big East title again. No one was stunned when that happened because, well, Jay Wright is very good at his job and the Wildcats often win big within their conference. What that result did do, though, was mask the fact that Villanova isn't VILLANOVA this season.
Their conference tourney run included an overtime win over an anonymous Xavier team and it wasn't as if Villanova breezed past Seton Hall in the final. Overall, the Wildcats are No. 26 at KenPom and, as recently as late February, this team lost three straight games in pretty ugly fashion.
Want more evidence that skepticism is warranted? KenPom pegs Villanova as a one-point favorite in the first round against a solid St. Mary's team and, while Vegas sees more of a cushion, that is a game that the Wildcats could easily lose. As a rule in recent years, this program either makes an exceptionally deep run or they bow out early. The smart money might be on the reigning champs exiting stage right with haste.
Wither Dean Wade
If you're a die-hard college basketball fan, you probably know the name of Dean Wade. Kansas State's 6'10 senior forward has appeared in 126 games during a lengthy and productive career and, while he isn't a superstar, Wade is a thoroughly important piece to the Wildcats. Through the prism of the team's opening match-up against UC-Irvine, however, Wade is doubtful to play as a result of injury and an already difficult match-up for Bruce Weber's team is now all the more brutal.
Wade is his team's most efficient shooter by a wide margin and, without him, Kansas State's pedestrian offense could be in serious trouble. The Wildcats can fall back on a legitimately elite defense to keep things manageable against a No. 13 seed in UC-Irvine but, at the same time, the underdog boasts the nation's best two-point defense and things won't be easy for Kansas State. Are they still favored to hold serve against a team ranked No. 74 in KenPom? Yes, but not as comfortably as you might assume.

It's not going to happen again
Okay, this isn't really under-the-radar. Virginia lost to UMBC one year ago and that performance dominated the conversation for much of the NCAA Tournament's opening weekend. This time around, the Cavaliers are the No. 1 team according to the metrics and, unlike 2018, Tony Bennett's team is actually at full strength with De'Andre Hunter available and ready to go.
Their first round match-up against Gardner-Webb will receive out-sized attention, simply because of what happened last season. It is undoubtedly true that Virginia can be more vulnerable than a typically dominant No. 1 seed because of their tempo but, in 2019, Virginia isn't going to lose in round one and this is a team that could cut down the nets in Minneapolis.
Iowa State is terrifying
When Iowa State is good, they are very good. The Cyclones showed their upside in running through the Big 12 field on the way to the conference title and, prior to that, Steve Prohm's team beat both Texas Tech and Kansas State on the road.
When things aren't good for Iowa State, they could lose to just about anyone. For reference, ISU lost to Arizona (on a neutral) and Iowa (by 14) in non-conference before submitting home losses to both Baylor and TCU in league play. In fact, the 'Clones lost six of their last eight regular season games to throw everyone off the scent prior to their Big 12 tourney run.
Which team appears in the tournament? Well, that is anyone's guess. The first-round tilt against Ohio State is one that shouldn't scare Iowa State fans too much but, at the same time, we'll probably know in a hurry whether this team full of pro prospects has the juice to make a deep run.
Justin Robinson is back
When Justin Robinson went down in late January, Virginia Tech was 17-3. Since then, the Hokies are just 7-4 and, even with a win over Duke (sans Zion Williamson) on the resume during that time period, it is safe to say that Buzz Williams' team wasn't quite the same without its dynamic guard.
The 6'2 senior is on track to play when Virginia Tech squares off with Saint Louis, though, and it will be very interesting to see how he fares. Robinson pairs beautifully with Nickeil Alexander-Walker when both are at full strength and, even with that 11-game sample of relatively uninspiring play, Virginia Tech sits at No. 11 in KenPom over the full season.
Can the Hokies win the national title? Maybe not, but this is a squad with Final Four potential if and when Robinson is healthy and fully integrated. That's a heck of a variable.