The opening weekend of the 2018 NCAA Tournament was bonkers in virtually every way, and as a result, the setup of the Sweet 16 is both strange and highly intriguing. There are blue blood like Duke and Kentucky, traditional powers like Michigan and Villanova, tremendous mid-majors like Loyola-Chicago and Nevada, and even an extremely dangerous double-digit seed from the Power 5 in Syracuse.
If trends hold, things will be wild in the tournament's four regions during the second weekend. Of course, there is a possibility that chalk (finally) reigns after four days of chaos. Regardless, there is fun basketball to observe, and in this space, our charge is to prepare you for the action on a region-by-region basis.
Let's roll through the match-ups with some predictions and everything you need to know.

South Region
Best Team: Kentucky
Three of the six worst KenPom teams remaining are in the South, which makes this an easy decision. To be fair, Kentucky only ranks at No. 17 and wouldn't be the best team in any other remaining region, but John Calipari's team has buckets of talent once again, and they are coming into their own as a group.
Kentucky has won nine of ten after a four-game losing streak and they are really dangerous. It helps to have most of the best players in the region, too.
Best Player: Shai Gilgeous-Alexander (PG/SG, Kentucky)
There are quality players at the mid-major level and that is definitely true of both Nevada and Loyola-Chicago. For me, though, Gilgeous-Alexander is a cut above and that translates into a realistic projection as a top-15 guy in the upcoming NBA Draft.
Gilgeous-Alexander doesn't play like a freshman and brings versatility, size, scoring acumen and vision to the table for a team that needs someone to put everyone in place. He's a fantastic prospect but he's also a great college player.
Best NBA Prospect: Kevin Knox (SF/PF, Kentucky)
Gilgeous-Alexander would be an appropriate pick here but, even with a hard charge from the freshman guard, Knox ranks ahead in a lot of mock draft scenarios. He is a tremendous athlete capable of playing both forward spots and, even with less than stellar performance earlier in this tournament, Knox is a potential lottery pick on a team filled with five-star talents.
Most Dangerous Sleeper: Loyola-Chicago
The Ramblers are undefeated in February and March. Unlike Nevada, there was no lull at the end of the year, and even with the Wolfpack entering as a (small) Vegas favorite in the Sweet 16, we lean toward Loyola-Chicago for depth and steadiness. Nevada's lack of a bench is going to be a problem at some point, and while this may sound weird, the Ramblers would be a better match-up against Kentucky.
Who Wins the Region? Kentucky
Because this Kentucky squad isn't a traditionally dominant version, the door is certainly open, even with some off-the-radar programs in the mix. Still, it would be a little wild to actually pick against the team with the best talent, statistics and what is sure to be a home-court advantage in Atlanta.

West Region
Best Team: Michigan
Michigan hasn't lost a basketball since Feb. 6. The entire "left side" of the bracket is decimated but the Wolverines were a trendy Final Four pick for a reason. They are the best defensive team remaining in the field (at least by KenPom's numbers), and with John Beilein at the helm, they are capable of running clean, coherent offense that executes when it matters.
On one hand, the Wolverines should've been bounced by Houston. On the other, we saw Michigan's upside in the Big Ten Tournament. When that team shows up, it is capable of a Final Four run.
Best Player: Mo Wagner (C, Michigan)
This is a wide open field and there isn't anything approaching a dominant player to point to as a result. Wagner hasn't been great in the tournament, but prior to that, he was easily the best player on a top-15 team. There are plenty of guys with more NBA upside but, if you need to win one college basketball game in the 2018 NCAA Tournament, Wagner is the pick.
Best NBA Prospect: Robert Williams (C/PF, Texas A&M)
Williams was a disappointment in many ways this season but, right on cue, he is turning it on in March. It helps that there isn't another definite first round pick in this region (Gonzaga's Killian Tillie may be the closest) but Williams flashed some of his obscene physicality against North Carolina and he makes a play or two per game that will make your jaw drop.
Most Dangerous Sleeper: Texas A+M
The Aggies were awesome early in the year before battling injury and ineffectiveness for much of the middle portion of the campaign. Then Texas A+M absolutely annihilated North Carolina and reminded everyone of their true upside. It would be aggressive to pick them to emerge in San Antonio, but if everything continues to click, look out.
Who Wins the Region? Gonzaga
It would be only a minor "upset" if Gonzaga beat Michigan in an Elite 8 battle, partially because that isn't the best match-up for the Wolverines. Part of this pick is an avoidance of complete and utter chalk, but the Zags have been slept on all season long and this is a legitimate top-10 quality team.

East Region
Best Team: Villanova
Being No. 1 at KenPom says quite a bit and this isn't a close call, even in the region that boasts the cleanest bracket. Part of that is Purdue being at less than 100 percent for health reasons, but even if Boilermakers were firing on all cylinders, Villanova would be the choice. They have the best offense in the country, enough defensive talent to live in the top tier of the sport and a title-winning coach to put it all over the top.
Best Player: Jalen Brunson (PG, Villanova)
As you'll see momentarily, Brunson isn't even the best NBA prospect on his own team but the veteran point guard is a legitimate National Player of the Year candidate for a reason. He is the ultimate steady hand at the point guard position, and while Brunson doesn't necessarily bring the type of explosive upside of a traditional NPOY front-runner, he is the perfect picture of a leader on KenPom's No. 1 team.
Best NBA Prospect: Mikal Bridges (SF, Villanova)
Bridges is widely seen as a lottery pick and he is rising as a result of his previous NCAA Tournament performance. As a 3-and-D prospect, it is easy to see Bridges' path to NBA relevance, and given the way he has flashed more offensive creation, there might be upside beyond the normal template of a pure, high-end role player. Texas Tech's Zhaire Smith is a serious prospect in his own right but this really isn't up for debate. Right now, it's Bridges then everyone else.
Most Dangerous Sleeper: Texas Tech
The Red Raiders boast a top-five defense, a certified killer in Keenan Evans and NBA-level talent with Smith. That is a nice starting place, and if anything, Texas Tech is probably too good quite to qualify as a sleeper. They do fit the bill of a team being overlooked, though, and Purdue being short-handed without Isaac Haas pushes us even further in this direction. It wouldn't be a shock to see Texas Tech in San Antonio.
Who Wins the Region? Villanova
Villanova's performance against Alabama was a reminder that they are unguardable when things are rolling. Beyond that, the Wildcats have a combination of veteran know-how and NBA-ready talent that is tantalizing in March and, even if they have a bad shooting night, Villanova has multiple ways to beat opponents with efficient offense. Picking against them would just be getting too cute.

Midwest Region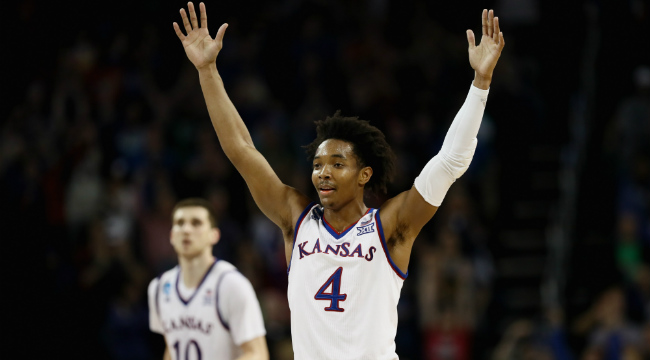 Best Team: Duke
It definitely feels weird to anoint the No. 2 seed as the best in a region that still has a No. 1 seed to fall back on, but Duke is simply more talented than Kansas. The Blue Devils have a significant edge in KenPom (No. 3 overall, versus No. 9 for Kansas) and, since transitioning to zone defense on a regular basis, Duke has been outstanding.
With that said, Duke does sport losses to Boston College, NC State and St. John's this season, and as we've seen, virtually any team can be toppled in the NCAA Tournament. Still, Coach K's bunch ranks within the top eight in the country on both sides of the ball and that is lights-out.
Best Player: Devonte Graham (PG, Kansas)
This will be a controversial one, and in short, Graham has a lower ceiling (and a less hopeful NBA future) than Marvin Bagley III. Kansas absolutely relies on Graham just as much, or potentially more, than Duke relies on Bagley, though, and the team's fate flows directly with how the lead guard is functioning.
It can't be overstated just how nice it is to have a veteran, two-way guard at the helm in big NCAA Tournament moments, and if Kansas doesn't have the absolute safest option remaining in the field, Graham is on the (very) short list. From a fame and NBA potential standpoint, Bagley dwarfs Graham but there is a real argument to be made here.
Best NBA Prospect: Marvin Bagley III (PF/C, Duke)
If we're being honest, there was a little cheating going on with the previous category in an effort to avoid placing Bagley in both spots. He easily has the highest ceiling of any college player in this region, and frankly, his NBA prospects are only approached by teammate (and fellow big man) Wendell Carter Jr.
Bagley has a legitimate claim as a top-five candidate for National Player of the Year and he has been insanely productive. Moreover, he is a freak athlete that should translate well to the next level and, even if there are peripheral concerns about his defense and outside shooting, it would be a stunner if Bagley fell outside the top five in June.
Most Dangerous Sleeper: Syracuse
Because Kansas doesn't qualify as a sleeper, the best choice is … Syracuse? No. 5 seed Clemson is simply a better basketball team but Syracuse's style of play is definitely more conducive to NCAA Tournament success, if only by increasing variance with slow pace and a defense that takes opponents time to adjust.
Going against the Orange is the fact that Duke will be well prepared to combat the 2-3 zone in the Regional Semifinal but if Syracuse advanced to the Elite Eight, they'd be feeling dangerous against either Kansas or Clemson with a Final Four bid on the line.
Who Wins the Region? Duke
It isn't as if Kansas would be a significant underdog against Duke on a neutral floor but the Blue Devils just bring so much more upside to the table. In fact, it would be easily argued that Duke's best is better than any other team in the country, and even with a real chance to look silly, picking Duke to reach San Antonio is the only way to go.