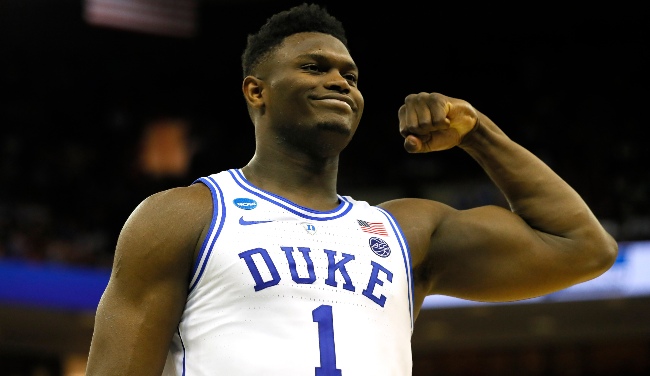 Getting to the first Sunday of March Madness is a bittersweet feeling. There's a sense of relief in knowing you just watched a zillion hours of college basketball and now get to take a break, and it's fun knowing the march towards determining a champion will continue on unabated. Having said that, having to wait another 51 weeks to do this all again — an excruciating trip around the sun until the next NCAA Tournament opening weekend — is just brutal.
Still, we're here, and we might as well embrace the eight-game slate on deck for Sunday. Let's walk through what we can expect to see over the 12 hours or so that we'll all collectively enjoy some college hoops, shall we?
Game of the Day: No. 3 Texas Tech v. No. 6 Buffalo (6:10 pm ET, TNT)
This might be my favorite game of the second round. In one corner, the Big 12 champion Red Raiders will rely on perhaps the nation's best defense and the brilliance of Jared Culver to move on. In the other, the MAC champion Bulls will try to turn this into a track meet, unleashing their arsenal of weapons on offense with the hopes everything clicking en route to a Sweet 16 berth.
It might sound like a bit of an oversimplification, but if Buffalo gets one more bucket than Texas Tech gets stops, they win. If the Red Raiders can get one stop when it matters the most, they win. The other end of the floor will be fascinating — Tech is a fine, not great, offensive team, while Buffalo gets after it on defense — but I cannot wait to watch these teams fight when the Bulls have the ball.
Ten spots separate these two teams on KenPom — TTU is No. 9, UB is No. 19 — and it's rare that we get a pair of teams of that caliber playing one another this early in the tournament. It's going to be a good one.
Watch these games, too
No. 12 Oregon vs. No. 13 UC-Irvine (9:40 pm ET, TBS): According to KenPom, the Anteaters are the No. 66 team in America, making them the worst team left in the field. Betting against them knowing this is still unwise — they can really defend and have a pair of big shot makers in Max Hazzard and Evan Leonard, both of whom showed out against Kansas State. Conversely, Oregon has been playing great basketball lately, especially on the defensive end of the floor. This should be a bit of a slugfest, but it has the potential to be a blast.
No. 1 Duke vs. No. 9 UCF (5:150 pm ET, CBS): [Checks to make sure Zion Williamson is playing] Ok Zion's playing so watch this, especially because if he tries to dunk on UCF's Tacko Fall, well, I don't know what would happen but it would make me jump off of my sofa regardless.
Upset alert
No. 4 Virginia Tech vs. No. 12 Liberty (7:10 pm ET, TBS): It's a bit hard to see Virginia Tech losing, because the Hokies are a really good basketball team — they sit at No. 11 in KenPom and have the potential to improve as Justin Robinson gets back into the swing of things. There is some potential for chaos here, though, due to Liberty's ability to hit shots. They sit at 10th nationally in effective field goal percentage — one spot behind, you guessed it, Virginia Tech — and play at a slow enough pace that you never have to worry about the Flames not working for a good look.
Ultimately, the Hokies should win this, and it might be by a pretty comfortable margin. But the longer Liberty hangs around, the more dangerous they'll be, and the more likely this ends up being an upset.
Could get interesting
No. 2 Tennessee vs. No. 10 Iowa (12:10 pm ET, CBS): Tennessee did not look convincing in its opening round win over Colgate, largely because the Vols struggled to keep Raider guard Jordan Burns in check from deep. If they cannot do that against Iowa's Jordan Bohannon or Joe Wieskamp, this will get weird. Iowa's defense isn't great and Tennessee is a better team overall, so it should win, but don't be surprised if you catch yourself flipping this one on at some point.
No. 3 Houston vs. No. 11 Ohio State (8:40 pm ET, TNT): Houston is a better team than Ohio State, but this is going to be one extremely slow basketball game and if Buckeye big man Kaleb Wesson can impose himself down low, this could get fun. Still, with the Cougars' ultra-stingy defense, it's hard to see Ohio State get much of anything going, even if Chris Holtmann is a really good coach who will have his team ready to go.
Meh
No. 1 North Carolina vs. No. 9 Washington (2:40 pm ET, CBS): The Huskies can really, really guard, but should the Tar Heels speed this game up, I'm not sure Washington will have the offensive firepower to stick around. Coby White will have to protect the ball against the best team in America in steal percentage, but North Carolina keeps dancing.
No. 1 Virginia vs. No. 9 Oklahoma (7:45 pm ET, truTV): After getting over the apparent mental hurdle that was the 1-16 game, look for Virginia to come out and play loose against Oklahoma. This will be the usual, slow game you expect out of the Cavaliers, one in which they execute to perfection en route to a boring win.