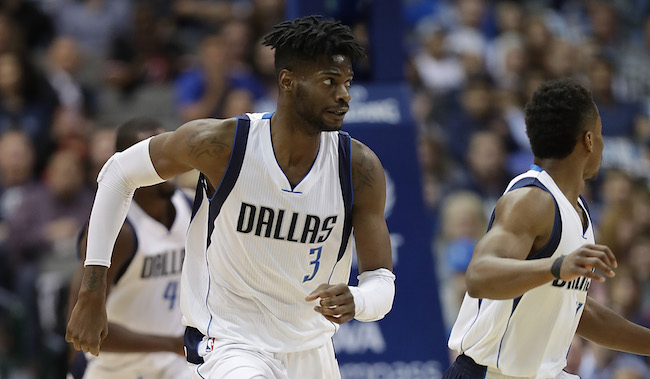 Friday night's Mavericks-Lakers game in Los Angeles won't stand out on the schedule, as it features teams with a combined record of 41-74. However, for fans of those two teams, it will be intriguing for the potential returns of a pair of young players.
The Lakers are expected to have Lonzo Ball back in the lineup on Friday, as announced by Big Baller Brand on Thursday despite the Lakers refusing to officially announce him as a go. Ball has missed 15 games with a sprained left MCL, and L.A., being that it doesn't have its own pick, is currently in the business of trying to win as much as possible and develop their young core.
The Mavs, on the other hand, are admittedly tanking but will get a little bit of depth back soon in the form of Nerlens Noel. The center has been a strange story this season, signing a qualifying offer after failing to land a big contract in restricted free agency, and has since appeared in just 18 games due to coaches decisions and a thumb injury that required surgery. Noel may also make his return on Friday, although that isn't set in stone either.

Noel will need to have a strong close to his season in order to recoup some of the big money he lost out on last summer, and being healthy and in the lineup would be a start. He found himself in the dog house early in the season, but hopefully with the Mavs not looking for wins they will be more willing to let him put his skills on display.