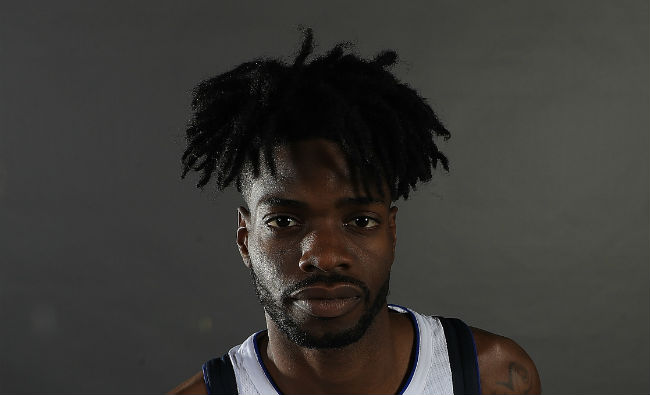 Nerlens Noel was the only member of the Dallas Mavericks roster not to reach the court on Saturday afternoon. He was also the only Mav to get a hot dog in the press box at the half.
Noel was spotted sneaking into the media area at the half of Mavericks/Clippers in Dallas on Saturday. But what was he doing up there? Grabbing game notes? Maybe doing an interview at the break?
No, he was hungry.
ESPN's Tim MacMahon reported that Noel grabbed a hot dog from the media spread and he snapped a picture to prove it.
Noel was asked about the hot dog after the game and he admitted he grabbed one because he "needed some energy for the second half."
As Cato indicated, Noel did not play in the 108-82 win. It's been a weird season for Noel, who started the year with a lengthy contract standoff with Dallas. He's disappointed the team since, and though he was seen as an important part of their future, he hasn't seen the floor much recently.
So what's the problem? Newy Scruggs, a reporter in Dallas, says that "Noel is not known as being a hard worker."
Dude is in his own world. I'm told he doesn't have a sense of hard play and that's not going to fly with a head coach like Rick Carlisle who had to cut his teeth as a NBA player.

Until Noel shows a better work ethic other players will get minutes. I just think we will see Noel traded.
Getting a hot dog during a game will probably not improve that reputation any, but it is a pretty amazing thing for an athlete to do.
Rick Carlisle didn't seem too enthused about the move after the game, though he did try to joke the situation away.
It's a non-answer in a lot of ways and he didn't condemn him for doing it, but still. It's clear Noel is in the doghouse in Dallas, and getting a snack during a game isn't going to help.