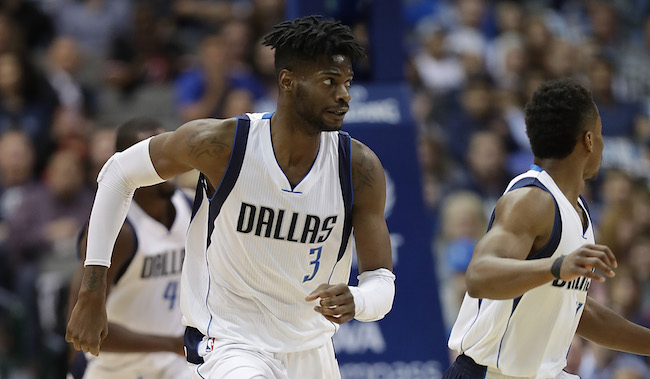 Nerlens Noel is no longer the best NBA free agent on the market, as the Mavs' top restricted free agent has signed his $4.1 million qualifying offer after failing to receive a decent long-term contract offer from Dallas or elsewhere.
Noel fired his previous agent and signed with Rich Paul of Klutch Sports recently, whose most famous client is LeBron James, and the two have quickly made a power move. By signing his qualifying offer, Noel will play one more year in Dallas and bank on being able to find a better deal on the open market in 2018 as an unrestricted free agent than he found this summer.
This was an especially tough summer for restricted free agents, and Noel felt that more than any as he was hoping to get close to a max offer and never saw anything near that from Dallas or any other team. The Mavs now find themselves in a tricky spot, having traded for Noel last year at the deadline and could only have him for one full season. Every team plays hardball in restricted free agency, but in this case, it could come back to bite them as Noel, after consulting with Rich Paul, has decided to take the small, one-year qualifying offer and become a top free agent next summer.

As ESPN's Chris Haynes reported in his tweet, the alleged $17.5 million a year offer that Noel turned down was not a real offer, however, ESPN colleague Adrian Wojnarowski reported Noel turned down a 4-year, $70 million offer at the start of free agency.
For those wondering who has sources where, it doesn't take a rocket scientist to figure out which sides benefit the most from each of those reports. Noel will remain with the Mavs for now, but after this summer and not getting what he felt was a reasonable offer from Dallas, you have to wonder if there's any way for the Mavs to save face over the next season and be in the running to sign him long-term in 2018.