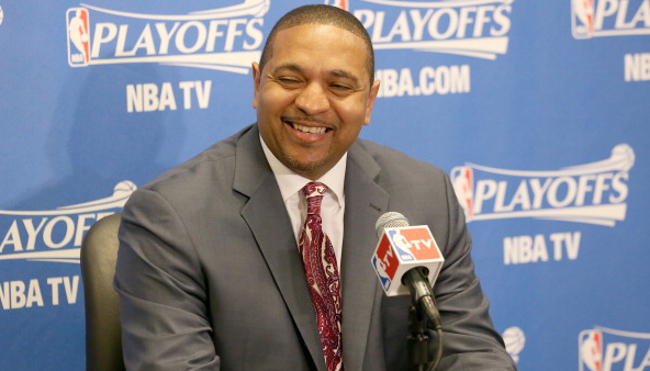 The New York Knicks always manage to keep things interesting, for better or worse. When it comes to their current head coaching vacancy, the team is absolutely making that the case. We already know that New York will bring in former Grizzlies coach David Fizdale for an interview, and now, we have learned that the organization has reached out to a trio of really interesting potential candidates.
According to Frank Isola of the New York Daily News, the Knicks did something that many assumed would happen by reaching out to representatives for Mark Jackson. But the Knicks also made a more interesting overture, as Isola reports the team got in touch with representatives for former head coach Jeff Van Gundy, along with Raptors 905 coach Jerry Stackhouse.
According to a source close to talks, Van Gundy and Jackson join a growing list of head coaching candidates that the Knicks have officially reached out to. That list includes former Memphis Grizzlies head coach David Fizdale, who revealed Friday that he will interview with the Knicks next week. Also, a Jerry Stackhouse, who coached Toronto's G-League affiliate, has been contacted and could have an interview date confirmed by Monday.

Jackson has been tied to the Knicks job for some time, even before the team officially moved on from Jeff Hornacek. He has a little head coaching experience, as he led the Golden State Warriors to a 121-109 record from 2011-14, and is currently an analyst for ESPN. He's joined in the booth by Van Gundy, who of course coached the team from 1995-2002. Between his time on the bench in New York and Houston, Van Gundy has a 430-318 record as a coach.
As for Stackhouse, he spent some time as an assistant coach for the Toronto Raptors before becoming the head coach of their G League squad. He was named the then-D-League Coach of the Year last season as he led Raptors 905 to a title, and this year, Stackhouse got the team back to the championship before falling to the Austin Spurs.
The Knicks are making it clear that they're trying to hire a big name to replace Hornacek. Time will tell if they can achieve that goal, but they seem to be off to as good of a start as you can be when you're in the midst of a coaching search.
(Via New York Daily News)