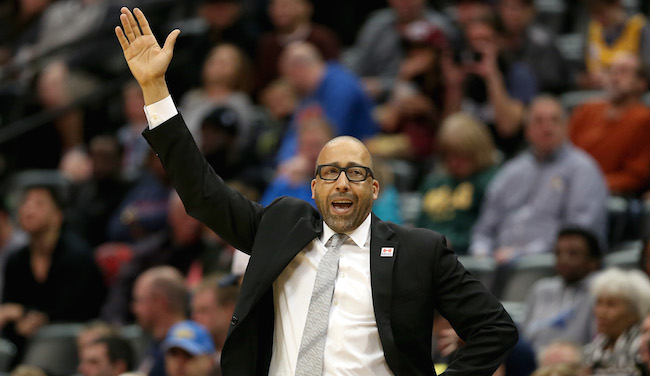 The New York Knicks were linked to just about every coaching candidate possible over the past few weeks after they fired Jeff Hornacek. Everyone from Mark Jackson to Mike Budenholzer to Mike Woodson was rumored to get an interview with the Knicks, and earlier this week, it started to sound like a decision would come soon.
On Thursday, that decision was made and former Grizzlies coach David Fizdale was reported as New York's next coach, inking a four-year deal with the Knicks. The hire was widely praised by those around the NBA, as Fizdale is a wildly popular coach and many thought he didn't get a fair shake in Memphis.
Fans and the media weren't the only ones pleased with the Knicks' hire. A number of Knicks players and Fizdale's former players took to Twitter to voice their excitement about the new era of Knicks basketball they are about to enter. Joining the chorus of Fizdale's future players was Dwyane Wade, who spent plenty of time with Fizdale when the pair were in Miami.
https://twitter.com/DwyaneWade/status/992171052317970432

The most prominent player missing from this group is Kristaps Porzingis, who is back in Latvia rehabbing from his ACL surgery and spending the start of his offseason back home. Porzingis is the top priority of the Knicks and, subsequently, for Fizdale and he's wasting no time trying to make a connection with his young star as ESPN's Adrian Wojnarowski reports he will be flying to Latvia soon to meet with Porzingis and ensure they're on the same page.
Considering his downfall in Memphis was tension with star center Marc Gasol, it's wise of Fizdale to try and build a strong foundation with Porzingis to start his tenure in New York.