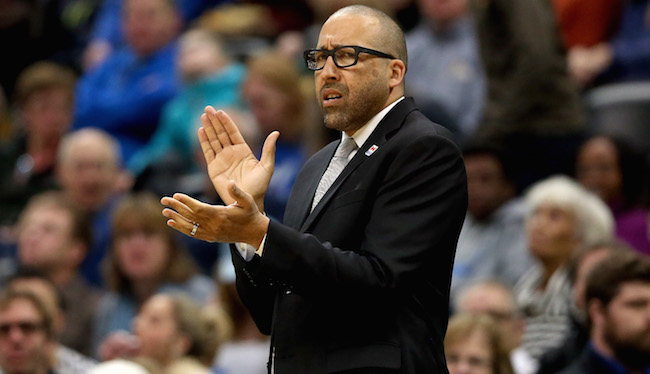 The New York Knicks have found their next head coach. Three weeks after the team decided to part ways with Jeff Hornacek at the end of the 2017-18 campaign, New York will reportedly hire former Memphis head coach David Fizdale to man the sidelines in Manhattan. The two sides had been linked for some time, and on Wednesday, Shams Charania of Yahoo Sports reported that Fizdale had "gained serious traction" for the job.
Ultimately, that ended up being a prescient tweet, as the Knicks made the decision to hire Fizdale on Thursday. The news was announced by Adrian Wojnarowski of ESPN.

Wojnarowski also reported the length of Fizdale's deal with the Knicks, tweeting that hell get a four-year deal in New York.
Getting Fizdale is quite the win for the Knicks, as the former Grizzlies coach was viewed as a candidate for seemingly every job opening in the league. Fizdale was fired by Memphis earlier this year amid reports of tension with Marc Gasol and what looked to be (and ended up being) a lost season for the franchise.

Still, Fizdale's firing was met with disapproval from around the league, as the 42 year old has already earned the respect of players and coaches alike. He has a pair of rings from his time as an assistant in Miami, and led Memphis to a 43-39 record during his only full season in charge.
Time will tell if Fizdale ends up leading the franchise to the postseason, which it has not made since 2012-13, but the Knicks certainly deserve credit for securing the services of the hottest coaching free agent on the market.