With the No. 4 pick on Thursday night, Kristaps Porzingis became the New York Knicks' newest first round selection. The bad news is that fans hated the pick. The good news is that the fate of the 7-foot-1 Latvian cannot be any worse than every single draft miss they've had in the last 30 years. And there have been a lot of misses. Since a Jamaican center from Georgetown named Patrick Ewing uplifted the franchise after being selected in 1985, they've been unable to piece together young talent, more often opting to trade future promise for declining veterans.
And that formula has yielded exactly zero championships in four decades. The now lowly Knickerbockers were, for a decade, serious contenders to win it all, but for Michael Jordan, Hakeem Olajuwon and the Spurs stomped on their silly hopes. Save for a few brushes with Eastern Conference glory, the redundant sense of failure and myopia has been a pox on the Garden, sickening fans and the league alike.
Since the 2000s, Knicks management in the James Dolan fiefdom has been a comedy of errors. The eccentric owner has swapped GMs almost as frequently as draft picks, and relied on the shady counsel of former-legend-current-sleaze Isiah Thomas.
Here's a look back at the most notorious Knicks blunders of the last 30 years, and a study of severe ineptitude.
1986 – Kenny Walker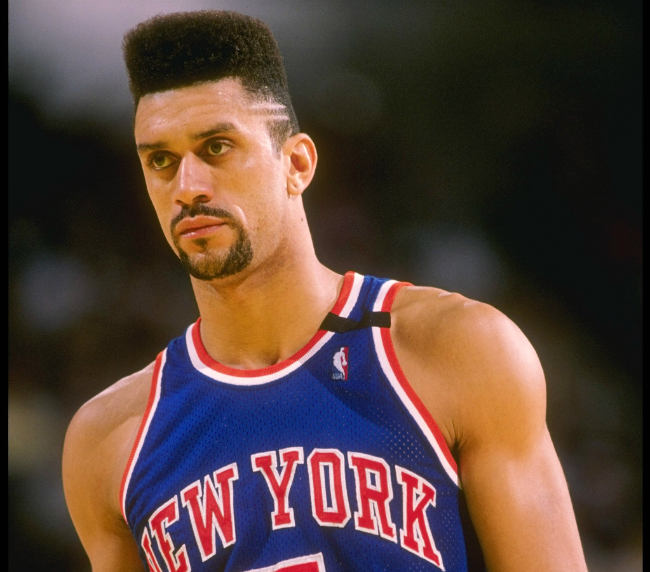 Kenny Walker had the unenviable duty of following the Knicks' marquee draft pick of the previous year, Patrick Ewing. While Ewing tore up the league with his defensive prowess, he couldn't patrol the perimeter like an athletic forward or guard, so it became their mission to supply him with that help. But Walker wasn't it. He played for five years in a coaching carousel and then dropped out of the league with only a Slam Dunk Trophy to his name. Better luck next draft!
1987 – Ron Moore
Ron Moore exists in the shadows of Knicks history as a pick who was traded within the season he was drafted. He played three NBA seasons for three teams. His modest NBA career is a footnote on most NBA player article stubs. Moore grew up in the East New York section of Brooklyn where he now volunteers for the Man Up program, guiding students from the area.
1988 – Greg Butler
Wikipedia sums it up best:
"In his NBA career, Butler played in 55 games and scored a total of 76 points. Butler wasn't long for the NBA, but he did play in Portugal for the Ovarense Aerosoles club where there were no photos available to document his worldly success."
1989 – Brian Quinnett
Brian Quinnett played a blushingly brief stint with the Knickerbockers in '89 before heading to the Mavs in '91, and then to Spain. YouTube highlights for Quinnett are pending. Actually, above is one of Scottie Pippen owning his shot on the glass.
1990 – Jerrod Mustaf
Jerrod Mustaf played briefly in the NBA as a backup center, spelling Patrick Ewing for one season in limited minutes. He operated as a sports agent for Eurobasket after his playing career ended. He was also the sports ambassador to the nation of Gambia. So there's that.
1997 – John Thomas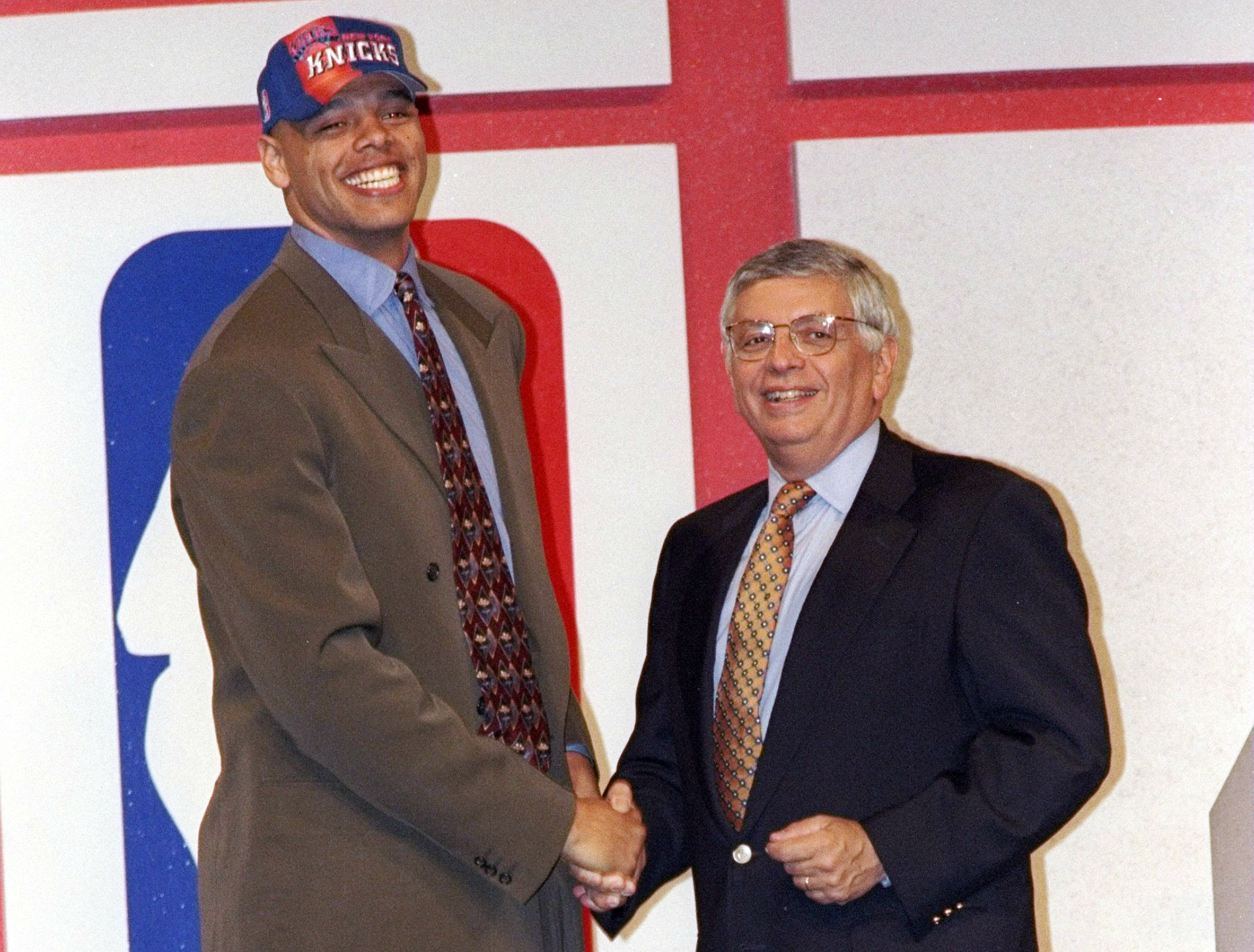 Drafted to the NBA in 1997, John Thomas was one of several rangy forwards who piqued league interest that year, when players like Tracy McGrady, Keith Van Horn and Ron Mercer enticed execs with the miraculous ability to both shoot and dribble. Even though that's become the norm, GMs had to reel their tongues back into their mouths when they saw any combination of a small forward and a power forward in '97. He played for six NBA teams in five spotty seasons. There's your stretch-four of the future.
1998 – DeMarco Johnson
As the No. 38 pick in 1998, DeMarco Johnson had only a blip in the NBA before leading an impressive 11-year career for various teams in the Euroleague, Israel and Puerto Rico. He won honors at every pro level except the NBA, and now serves as the assistant basketball coach at Hampton University.
1999 – Frédéric Weis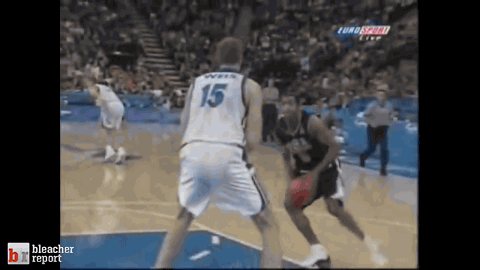 Frédéric Weis is mostly infamous as the highest profile poster victim in history. As the recipient of Vince Carter's most vicious dunk, Weis was unable to recover from the shameful event or show his face in the NBA after becoming the basis for one of the best basketball memes on the Internet.
He was also drafted over Ron Artest/Metta World Peace that year, an enigmatic figure who nonetheless rose to become one of the best two-way players in the NBA for five years and an elite defender for 10.
2000 – Donnell Harvey
Donnell Harvey was never a big-time player in the NBA, but he was able to crack the bench rotation for the Mavs, Nuggets, Magic, Suns and Nets during his stints with them. Harvey was a capable scorer and rebounder, as his extended career showed, once averaging about 25 points a game and 17 rebounds in the Chinese Basketball Association. The clip above reveals he was a really cool dunk artist, too.
2001 – Michael Wright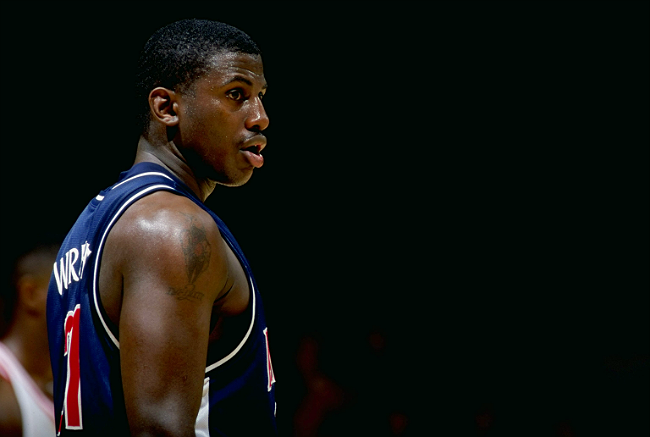 Wright was part of the University of Arizona core that included Richard Jefferson and Luke Walton. He declared early for the NBA, which proved to be a mistake, despite great college performances in the Pac-10. He went to the same high school that basketball legend Kevin Garnett attended and continues to play professionally in Turkey. He did not play a minute for the team that drafted him.
2003 – Michael Sweetney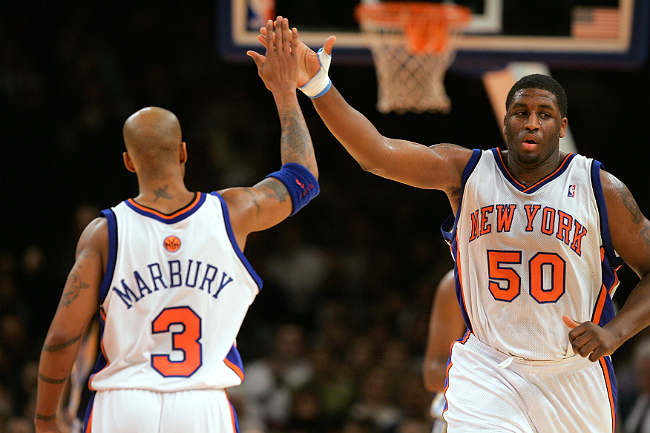 Michael Sweetney had one thing in common with Patrick Ewing: He attended Georgetown University. That may have been enough of an indicator to Knicks brass that he was ready to dominate in the NBA, but the undersized center-forward could never find his way in the league. Sweetney sputtered through weight management problems as a Knick before flaming out of the league in 2007.
2006 – Renaldo Balkman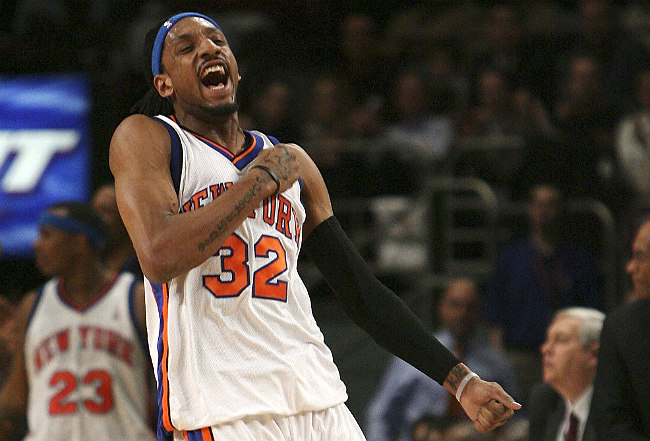 Renaldo Balkman was once a serviceable NBA player, but then it seemed like he began to disappear over time. He played for the Knicks and Denver Nuggets, chipping in some great rebounding efforts and limited scoring, but eventually ended up in the netherworlds of Filipino basketball. Once there, he assaulted two referees and an opposing player in a disagreement.
2009 – Jordan Hill
Jordan Hill is the current center of the Los Angeles Lakers. In the clip above, he celebrates a meaningless win with a struggling Lakers squad which, without Kobe, was aimless all season. His level of elation at this win is almost unfathomable in comparison to the sterling reputation of the purple and gold franchise. He was the eighth overall pick by the Knicks, besting Ty Lawson, Brandon Jennings, Jrue Holiday and Demar Derozan as the players who would go on to accomplish way more than he has.
2010 – Landry Fields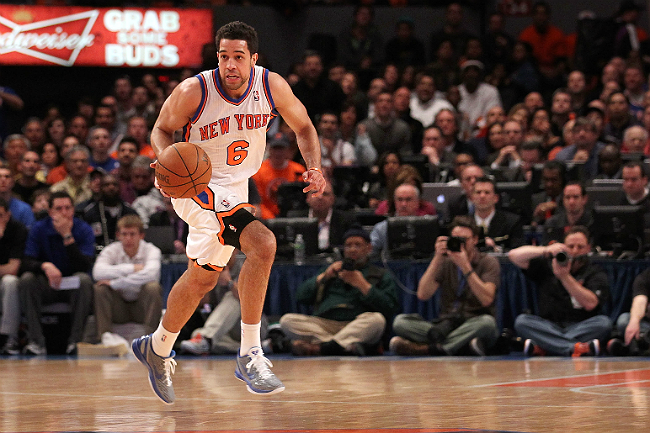 Landry Fields was a member of the NBA All-Rookie First Team in 2010. Since then, his scoring and rebounding averages have decreased each year as a professional player. He's managed to hold on to a job as a journeyman on the Toronto Raptors, but who knows when that journey will end. Our guess is soon.
(H/T to Basketball Reference and Wikipedia.)