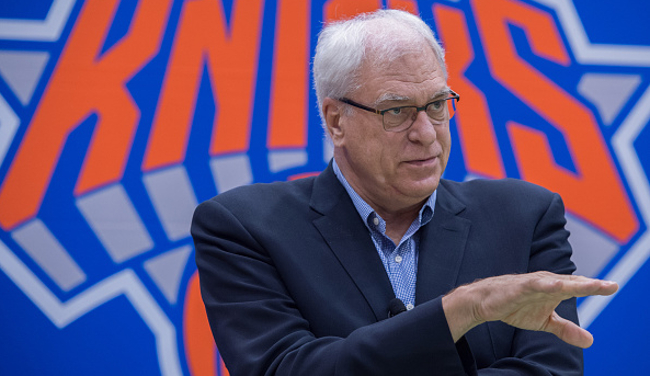 Malik Monk says the New York Knicks are still very committed to the triangle offense. The Kentucky star is poised to go high in the NBA Draft next week, and he says his workout with the Knicks had a very specific offensive pattern.
Monk skipped the Draft Combine in Chicago last month, but he's given private workouts to teams in the run up to the draft in Brooklyn next Thursday. As a projected mid-to-late lottery selection, Monk has held workouts with a number of organizations, and on Thursday he put his skills on display for the Knicks' brass in New York.
New York has the ninth pick in next week's Draft and, according to Monk, whoever the Knicks take better enjoy the triangle offense if he's drafted by Phil Jackson and company, because they're dead set on running it.

Monk has the potential to put up a ton of points in the NBA, and many think he's a great fit for the Knicks, who are in desperate need for perimeter shooting. He's been mock drafted there by some, and most assume he'll be available to the Knicks when they get on the clock. The problem with Monk getting the triangle pounded into him is that, well, it's the triangle.
Much like the American Dream and this nation's vast system of highways, the triangle offense once worked quite well but now seems to be more trouble to maintain than it's worth. But the Knicks are still Phil Jackson's team so until he decides it won't work anymore, which will never happen, or he leaves New York, which won't be for at least two more years, the triangle will live on in Manhattan. Monk might be a great fit for running the triangle, sure, but it's easy to be wary. Jackson has been reticent about making changes to his famed system, and many think the rest of the league has lapped its usefulness on the court.
Given the current state of the Knicks—which is something between controlled chaos and perpetual ruin—it's easy to say the system's heyday has already passed. Drafting Monk to get him wrapped all up in its funk isn't the most exciting option for a lot of people who saw him dominate games with the Wildcats wearing the blue and white. But Jackson is the decision maker in New York, and if he says Monk is the man for the job, he'll be in blue and orange this fall operating in the triangle.