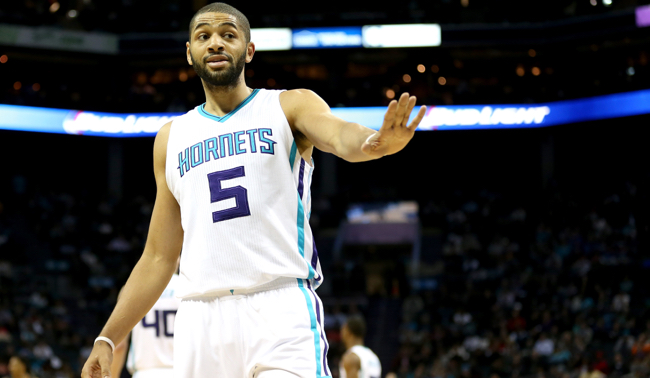 At this time last year, Nicolas Batum was dealt to the Charlotte Hornets from Portland for Noah Vonleh and Gerald Henderson. The Blazers were clearing house after losing LaMarcus Aldridge to the Spurs, and Batum was one of the four starters — joining Aldridge and Batum were Wesley Matthews, Dallas, and Robin Lopez, New York — to leave that summer. Well, one year with the Hornets was all it took for the unselfish French wing to earn a five-year, $120 agreement with them on the first day of free agency, per Shams Charania of The Vertical.
That fifth year will be a player option, Charania included in his Vertical writeup, and now the Hornets can get back to the rest of their squad after locking up their own biggest target this silly summer season.
In his first season in Charlotte, Batum averaged a career high 14.9 points per game, while rebounding from a dreadful final season in Portland. He's the prototypical wing for today's NBA, long and wiry and ready to pull up from downtown, or initiate the offense himself on the pick and roll if Kemba Walker or Jeremy Lin were tied up.
His true shooting percentage and player efficiency rating weren't as high as some of his earlier seasons in Portland, but he was asked to handle a heavier load in Charlotte, and there's a reason they tied him up so quickly once free agency began. We're actually a little surprised he didn't sign for more, but now the Hornets have their wing and point guard situations tied up, and we'll see if they pursue free agents Jeremy Lin and Marvin Williams with the same fervor.