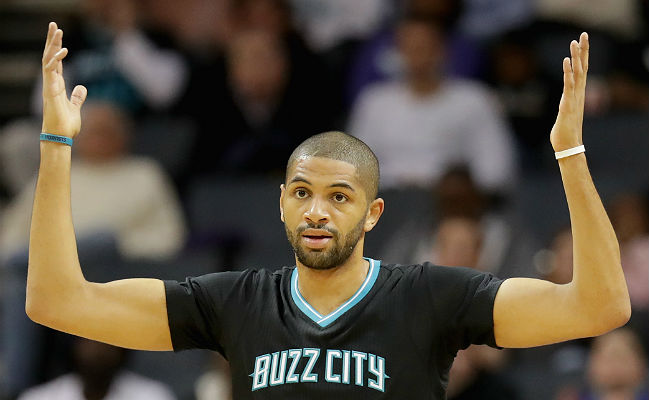 Nic Batum's season with the Charlotte Hornets appears to be shortened significantly after suffering an elbow injury in preseason. The 28-year-old Frenchman left Wednesday night's preseason game against the Detroit Pistons, and it doesn't look like he's returning to the court anytime soon.
Batum was listed with a sprained left elbow by the team after the game. On Thursday afternoon the Hornets announced that Batum would get an MRI on his left elbow.
Initial fears were that Batum tore his UCL, which could effectively end his 2017-18 campaign. But The Vertical's Shams Charania reported Thursday evening that Batum is expected to miss months, not the entire season.

Batum signed a 5-year contract to stay with the Hornets last summer. He averaged 15.1 points and 6.2 rebounds per game in his second season with the Hornets after seven seasons with the Portland Trail Blazers.
The loss — though not nearly as bad as some expected — does leave a huge hole in the rotation for the Hornets team that desperately needs Batum's versatility on the floor. It also seems to put a huge amount of pressure on rookie Malik Monk to step into the rotation and compliment Kemba Walker. Monk was the 11th overall pick in this June's NBA Draft.