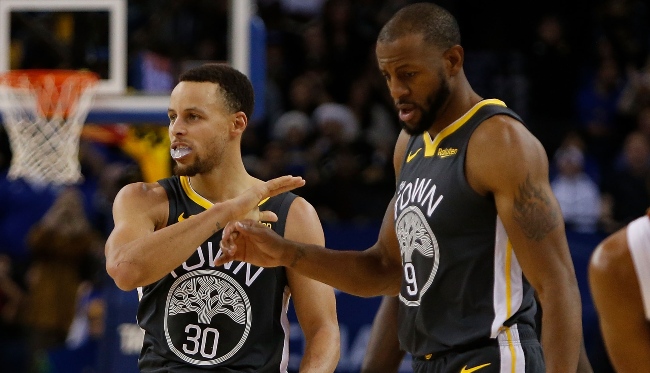 The debate over Steph Curry's legacy and whether him having never won a Finals MVP award should matter has been exhausting for some time, but will never die until he does take home the hardware.
Curry, a two-time league MVP, three-time champion, and the consensus best shooter in league history, will be a first-ballot Hall of Famer no matter what, but the one hole in his trophy case always gets brought up. Some think the 2015 Finals MVP award should've been his, not Andre Iguodala's. Among those is FS1's Nick Wright, who decided to offer up a conspiracy theory on Tuesday morning that the voting was 4-4-3 that year, split between Iguodala, LeBron James, and Curry.

NBA senior vice president of communications Tim Frank swiftly took to Twitter to shoot that down and remind Wright and everyone else that the voting was 7-4, Iguodala over LeBron, and that there is no league mandate a losing player can't win.
Marc Spears and Sam Amick both also shot down Wright's claims, with both being voters that year.

Frank even dug up the release with the voters and their picks.
It's rare to get this many people publicly denying you so swiftly, so kudos to Wright for that, I guess. There are few things NBA folks love more than firing up conspiracy theories, whether about the draft lottery, awards voting, or the league steering players one place or another in free agency. The NBA itself doesn't like this, understandably, and this was a firm denial from the league on Wright's claim, backed up by those that cast the ballots themselves.