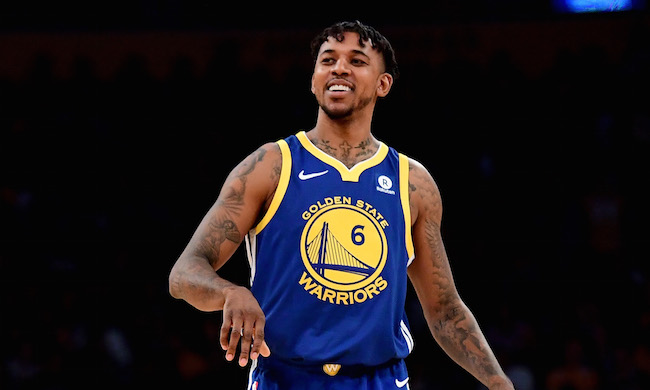 The regular season doesn't matter to the Golden State Warriors. The reigning NBA champs have the ability to throw it in cruise control and still rip off 11-game winning streaks (like the one that just ended on Saturday night in Denver) without their two-time MVP in the lineup.
The Warriors don't need Steph Curry to play a full season make the playoffs as one of the top seeds, just like they didn't need Kevin Durant to do so last year. The rest of the guys can get rest here as they nurse small injuries to ensure that, come playoff time when things really matter, they are at full strength to defend their title.
So, with the regular season not exactly occupying all of the Warriors' attention, their players have a little more opportunity to think about off-court pursuits. Take Nick Young and JaVale McGee, for example. The two Warriors' role players are spending some of their free time in the studio working on music, with Young posting to Instagram that they have an "album on the way."

Draymond Green is not exactly supportive of his teammates' music venture, as the All-Star told reporters he had no plans to listen to Young's music.
"I don't want to listen to Nick rap," Green said. "You got to get a better artist."
Young is doing what any self respecting artist would do when presented with that kind of criticism. He's producing a diss track about Green, per Mark Medina of the Mercury News.
"I heard Draymond [Green] talking a little trash," Young said. "We'll make a diss track."

What will Young say?

"I can't tell you, man," Young said, smiling. "It's going to come out probably New Year's."
What better way to ring in the new year than listening to Swaggy P diss his star teammate on a song? Young better come correct in a diss towards Green, because if there's one thing Draymond knows as well as anyone in the NBA it's how to trash talk.