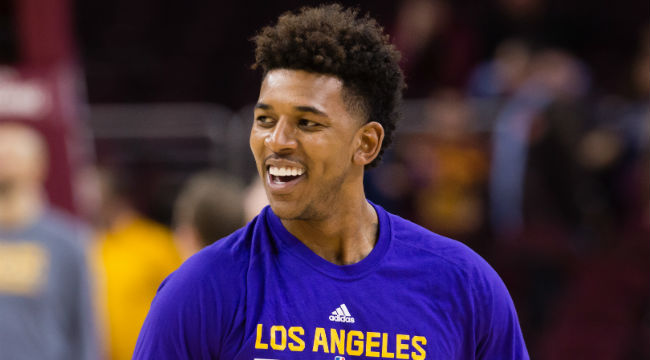 Nick Young's year in Los Angeles has been a frustrating mix of not getting too much playing time and not playing well when he does see the floor. The 30-year-old guard is averaging 7.2 points in 18.8 minutes per game – his worst scoring output ever and the fewest minutes per game since his rookie campaign.
However, as everyone knows, when Young gets hot, he can pour in points — something at least one team could use in the second half of the season. He also plays for a team looking to build toward the future while simultaneously celebrating Kobe's swan song, and his days might be numbered leading into Thursday's trade deadline. Young is cognizant of this, and while he doesn't necessarily want to get traded, he mentioned to the Los Angeles Daily News he's intrigued by the possibility of heading to a playoff team
.
"I'll be lying if I said I'm not hearing anything," Young said. "I don't know if anything's going to happen. But I'm being prepared and hoping for the best."

Young stressed he's "not hoping for anything," whether it involves the Lakers retaining him or trading him. But his eyes perked up at the possibility of a postseason-bound team adding secondary scoring to fuel a deep run.

"I would love to be on a playoff team and not just be sitting and watching," Young said. "I would love to be in a playoff atmosphere and be a part of it."
The L.A. native hasn't made the postseason since 2012, when he was a member of the Clippers. He also doesn't have the most marvelous contract, either, with two guaranteed years left on his deal and a player option worth $5.6 million in 2017-18. But if you're a team in playoff contention that needs a guy who can give your offense a shot in the arm off the bench, Swaggy is probably one of the more intriguing options on the market.
(via Los Angeles Daily News)