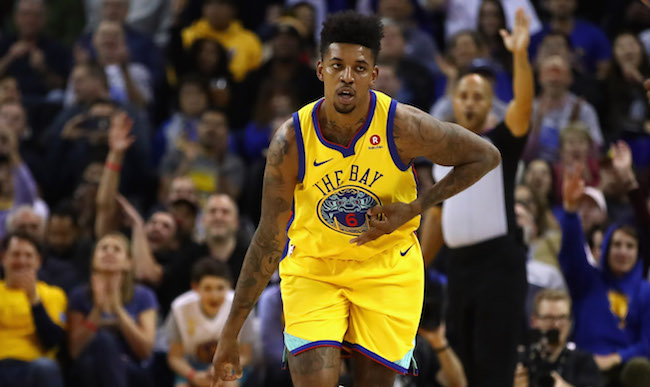 Nick Young achieved the ultimate NBA goal last season when he won a championship with the Warriors, but his contributions to Golden State haven't been enough to land him another roster spot to start the 2018 season. The 13 year NBA guard has been a free agent going into this season and, until now, it didn't look like he had any potential landing spots.
That changed on Monday when the Denver Nuggets, desperate for bodies due to a plethora of injuries, are giving the former Swaggy P a chance to play for the bets team in the Western Conference. Denver tweeted out a picture of Young signing a contract with his new team on Monday morning, and word qujickly spread that he would be joining the team.
Theoretically Young could start playing Monday night. The Nuggets could definitely use him to just to fill rotation minutes.

Despite the Swaggy P persona and goofy nature that Young is known for, he will have a good chance to help this team out. Young's a great shooter with weapons around him and in the Nuggets fast-paced offense he should gain plenty of shooting opportunities. That should be all the Nuggets ask him to do, really — shoot the ball.
Young isn't going to make or break the Nuggets season, but since he didn't have a roster spot until now he'll need to prove to the rest of the NBA that he's not quite done yet as a pro player just yet. He can still contribute to a good team. He just needs to go out and show it in Denver.