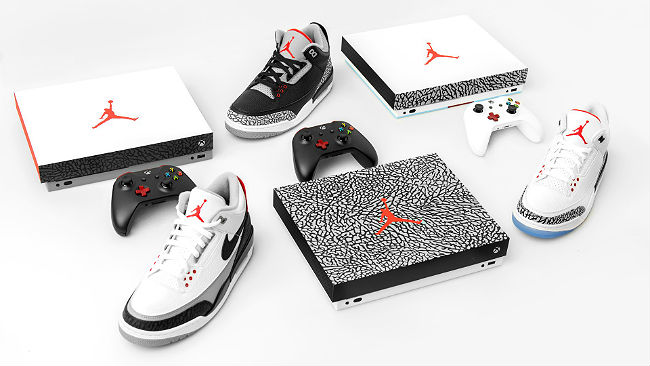 Microsoft and Nike have teamed up for a rare collaboration that will cost you nothing to actually own for yourself, if you're lucky.
Microsoft's Aaron Greenberg announced a special contest to win three one-of-a-kind prize packages featuring a custom Xbox One X console and a pair of Jordans designed to honor the Jordan III.
The consoles are designed after three retro designs that are an homage to one of Michael Jordan's most famous dunks, and a simple retweet on Twitter is apparently all you need to get a custom console and shoe package for yourself.

As Greenberg explains on the blog, the custom Xbox One X consoles are modeled after Air Jordan releases that dropped earlier in the week.
The custom consoles will be based on the Air Jordan III Free Throw Line which dropped February 14, the Air Jordan III Black Cement available February 17 and the Air Jordan III Tinker which will be available on March 24. To learn more about the history of these iconic shoes, visit Jumpman23.com.

The Free Throw Line Xbox One X pays homage to the unforgettable dunk by Michael Jordan in 1988. The Black Cement Xbox One X is inspired by the sneakers with all the same detailing which made these, considered by many, the greatest sneakers of all-time, and the Tinker Xbox One X showcases Tinker Hatfield's original design for what the shoe was going to be.
It's not often that we'd write about a single-day promotion a company is doing, but this seems like a pretty solid exception. The three packages look great, with subtle differences between the three shoes and Xbox designs that all look pretty great.
If you want a chance, you better smash that RT button in a hurry. The promotion is for February 16 only, so you'll have to beat the odds to claim one of the three prizes for yourself. The package doesn't appear to come with any games, but you can always just snag the Shaq Fu sequel once that drops later this spring.