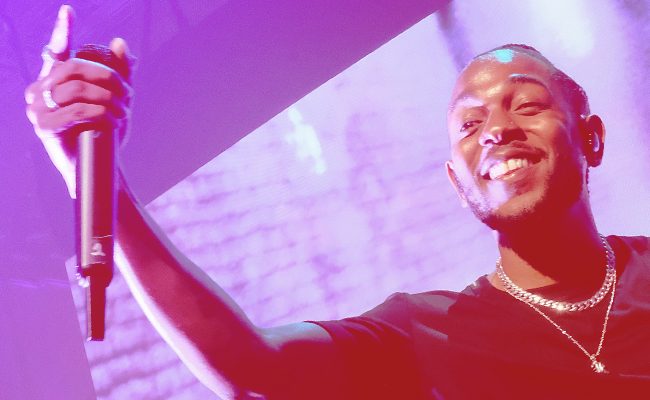 Usually, the only thing that drops at a concert is the beat. Nike changed that last week when a special edition sneaker dropped exclusively for Kendrick Lamar fans attending the TDE Championship Tour at The Forum in Inglewood as part of a push toward interactive show buying.
The shoe hegemon has long been famous for anticipated releases, long lines, and marketing campaigns that turn most other brands green with envy. In conjunction with the SNKRS app, the brand decided to engage with its fans in a way it hadn't before, to tap into this obsessive culture of sneakerheads, fashion blogs, and brand loyalty. Think of it as Pokemon Go, but for the latest LeBrons: an interactive altered reality experience.
"The whole thinking of what we focus on here is the idea of building emotional experience that build energy in a secret community," explains Ron Faris the head of s23NYC Digital Studio, named for its spot on 23rd Street in New York.
Standing on a line waiting for Jordans may be a unique experience, but it's something anyone can do. There's something performative about it, about saying you had it first, but anyone can "have it first" if they know when the shoe drops and where to buy them.
Faris wanted sneakerheads to have a more personal experience, something more interactive that involved work beyond finding the nearest store.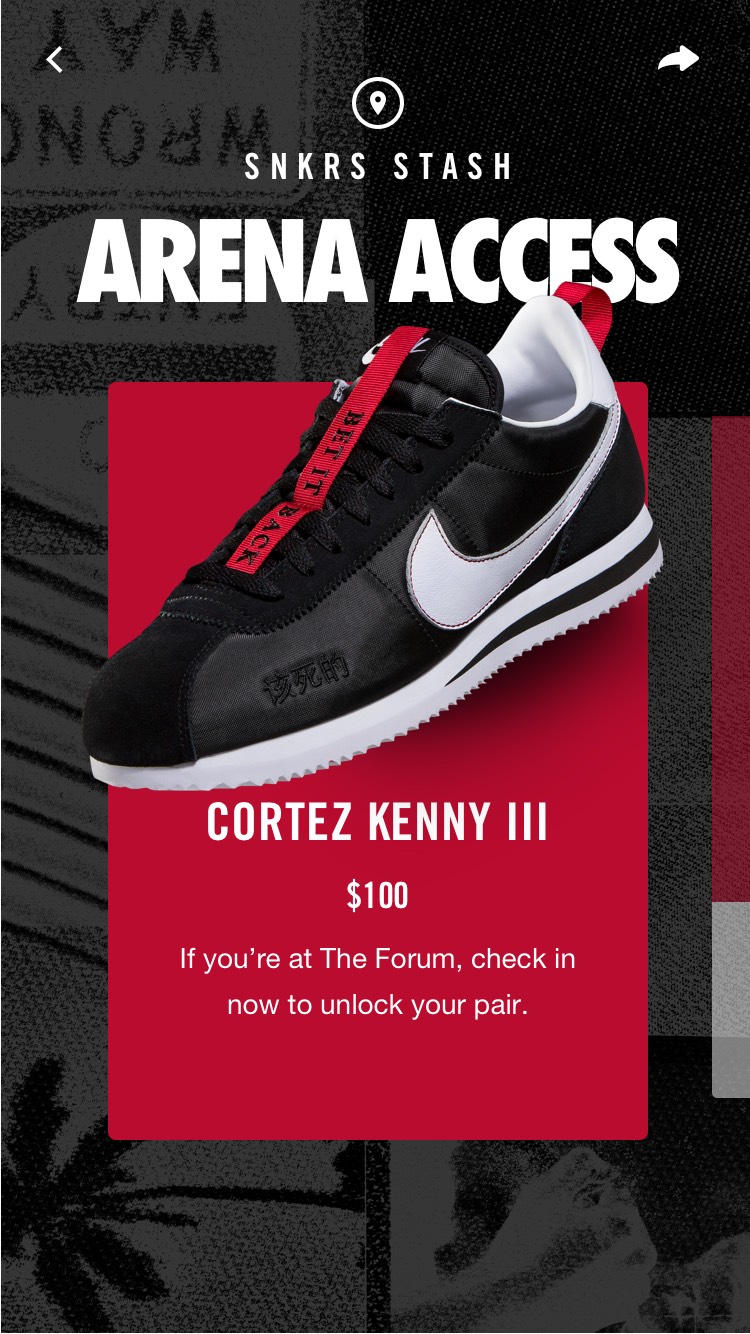 "In our world, it's just as important how you cop the shoe as the shoe itself and that's because when you're on Instagram and have a five-second attention span, there has to be something to break through," Faris explains.
That's where the app comes in. Last year, Nike partnered with famous restaurateur and celebrity chef David Chang for a limited-edition Momofuku shoe only available for purchase through the app when visiting one of Chang's restaurants. Now add on the AR as part of what Nike calls SNKRS Stash. Someone has to know where to go to look for the shoe, use the app to hover the phone over the menu at the restaurant and then be prompted to buy it. It's more like a video game than shopping experience, which is the entire point.
"Any media can turn into a digital pop-up shop," Faris says. "I think that element of surprise is great in the sense that it not only rewards who pay closest attention, but it keeps a lot of bad actors in sneaker culture at bay."
Surprise drops are one thing, but with people starting to understand how this works, Nike doesn't have to turn a drop into an event. Instead, it can turn an event into a drop. That was the case last weekend when Kendrick Lamar concert-goers had the chance to unlock and buy the new Cortez Kenny III on an exclusive basis, something Kendrick fans around the country will have the same opportunity to do later on.
Didn't go the concert? You'll have to wait, something that drives the inertia of the culture, but also drives up the value of partnerships. People who want the shoes have to go to see Kendrick, a potential sweetener for celebrities and other brands to partner with Nike to drive attention.


Before SZA took the stage at the Forum, the video boards at the venue lit up with a prompt to go to the SNKRS app to check out exclusive merch. Once in the app, a geolocator tag appeared above the TDE Championship Tour block while scrolling. Attendees could then click through to an experience where if they wanted the shoe, they had to move their phone around to find a shoe hovering in the air.
If found, you could "grab" it, and go through the buying experience (size, shipping address, payment, etc). Wait too long and inventory was sold out, as the shoes were claimed extremely quickly.
The app experience wasn't perfect for everyone. Some people never even had the opportunity to get through to look at the merch and were stuck with the original TDE splash that showed before the drop went live. Others dealt with the scarcity issue that has plagued other SNKRS drops over the years, or the app crashed on them before they could claim a shoe. But for what essentially amounts to a beta, the potential is clearly there.
Imagine Boston making the Finals and those in the arena, or even those who couldn't get tickets but chose to support their team by staying in the neighborhood, are prompted to grab an exclusive pair of Kyries. If Nike wants to go fully exclusive with this, these colorways could be incentives to have those types of experiences, to be out in the world and leave with a piece of history the same way you could only get the concert shirt at the concert or end up with a commemorative ticket.
As the online experience stifles and suffocates us all societally, simply doing things — even with the aid of the devices that keep us connected at all times — becomes a way to keep ourselves from drowning. If you enhance that experience, rather than withdrawing back into that toxic, overwhelming world, there's a motivator to keep doing things and being places. It sounds elementary, but it manages to go a long way. Obviously the end game to all of this is "buy more shoes," but that's a criticism (and byproduct) of capitalism in general.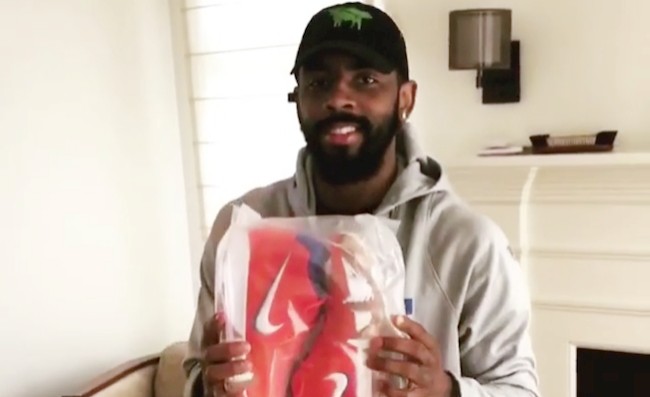 All of this leads to an obvious question: If the "how" is just as important as the "what" when it comes to buying shoes, at what point does Nike start planning the designs and themes of their footwear specifically tailored to these exclusive drops? They rolled out an actual red carpet AR experience for all-red Kyries, and although the shoes weren't designed with that drop in mind, they certainly could have been and could be in the future.
"The way we distribute and sell that footwear doesn't typically inform the design … at least not yet," says Nike spokeswoman Sandra Carreon-John.
"Going forward we're very excited about the way that data," Carreon-John adds, "as well as ongoing engagement from the global sneaker community that we get through the SNKRS app, could play a role in helping to inform product designs — not to mention the methods of distribution — for our high heat drops."
If people were already willing to spend hours waiting on lines to get the latest sneakers, giving them something to engage with — a literal game — should only broaden the appeal for sneakerheads and hypebeasts to play along. Most of us would much rather play a video game to buy Js than to wait on line for hours on a Saturday.
Nike is betting on that, and even though it's not going to make the price of some of these shoes any less jaw-dropping, the people willing to spend the cash to get them under boring circumstances should love the chance to be entertained. Oh, I can only get these shoes by going to see Kendrick? Twist my arm. I have to a David Chang restaurant for the Momofuku's? Easy sell, I love pork buns.
It could be the first app that actually makes people more likely to leave the house and explore the world around them in a way they hadn't previously considered. It's just the prize at the end will cost you more than some extra lives in Fortnite. But copping them first gives you the chance to earn the most precious currency in 2018: The chance to brag about it on social media. And after all, if we can't do that, why bother doing anything?
Dime editorial director Martin Rickman contributed to this piece.