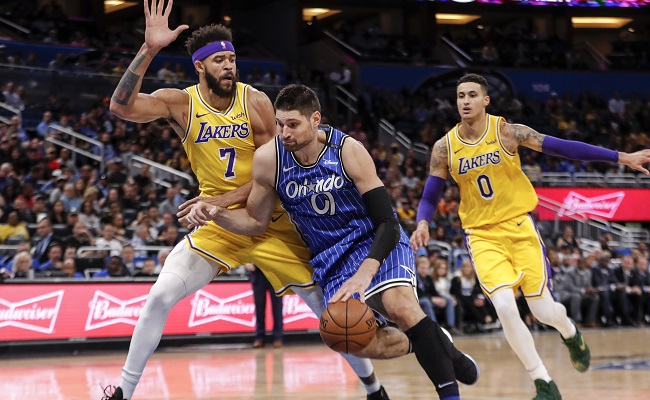 There's something about Magic big men and the Lakers. Between Shaquille O'Neal and Dwight Howard both ending up on the Lakers in their careers after showing Hall of Fame level talent in Orlando, the Magic have a tendency of sending their greatest big men out west to Los Angeles. If that trend continues then the Lakers should be excited about their future time with Nikola Vucevic in the starting lineup, as he just spent an entire Sunday afternoon ripping them to shreds bringing to light the quality of play he's been putting on display all season, leading the Magic to a 10-10 record.
In a close game that went down to the wire, Vucevic was dominant all day long. He had 31 points, 15 rebounds, seven assists, and three blocks, becoming the eighth player in the last 15 years to post that stat line.

The Lakers had no answer for him no matter where he placed himself on the floor. Sometimes he'd float out to the 3-point arc and drag Javale McGee away from the rim, which would then open up Aaron Gordon to run backdoor and get an easy dunk. Other times he'd set up in the high post and use his passing to find an open Jonathan Simmons streaking towards the paint.
Then, of course, he could always use his quick first step to take on McGee or Tyson Chandler. At one point, Chandler got caught on a screen and all Vucevic had to do was use his quick first step to get an easy two points. Another time he posted up McGee and moved so quickly that McGee had no chance to stop him from spinning for another two points. He even got one on LeBron James.

This might seem surprising to those who haven't seen the Magic this season. Which, to be fair, is probably a lot of people. However, Vucevic has been playing like this all season long. It's an All-Star level of play that, if it keeps up through January, is going to start turning heads around the league and likely lead to a spot on someone's team in Charlotte. Vucevic has always been a good player, but at the moment he's on another level. His 19.8 points per game is a career high. He's shooting a scorching 40 percent from 3-point range and he's pulling down 11 rebounds a game.
This season, the Magic go as Vucevic goes and his rising level of play makes them more dangerous than they have been in previous seasons.
Orlando has no bench to speak of this season, so these numbers are a little wonky, but when Vucevic steps off the floor the Magic's net rating falls to a dreadful -10.7. When he's on the floor they have a net rating of 2.0 which leads the team. The point of this is to say that the Magic's most important player this season has been Vuc. One could argue he's even been their most important player the last two seasons as well, but this season has been his peak. Even defensively he's showing a revitalized energy under Steve Clifford. Frank Vogel had certainly improved him on that end, but Clifford's ability to make even the weakest of defenders into contributors is really astounding.
Is Vucevic shutting teams down with his defense? Not even close. The Magic are actually slightly better on that end when he's off the floor, but in years past he was a total non-factor on that end and was someone the Magic couldn't rely on to be consistent and a player teams could exploit. He has improved to passable, which might not seem like much, but when you consider his offensive contributions it becomes huge for him. Being average on defense can make an offensive player even greater.
Unfortunately for the Magic, Vucevic is having his best season at a time when the team is already facing a tough decision regarding his impending free agency. His contract is expiring at the end of the season and Orlando will need to decide if they want to bring back the longest tenured player on the team, or finally move on from him to embrace the youth movement with No. 5 overall pick Mo Bamba.
If he keeps playing this way Orlando might have to consider trading him while his value is at its highest. Vucevic is good enough to help a good team win. He's just not good enough to get the Magic over the hump as their top star. Orlando has a need for very good players, of that there is no doubt, but do they have room in their check book for a 28-year-old Vucevic coming off a career-year? With the team currently in a state of rebuilding that question isn't as easy to answer. It's one they probably don't want to think about right now.