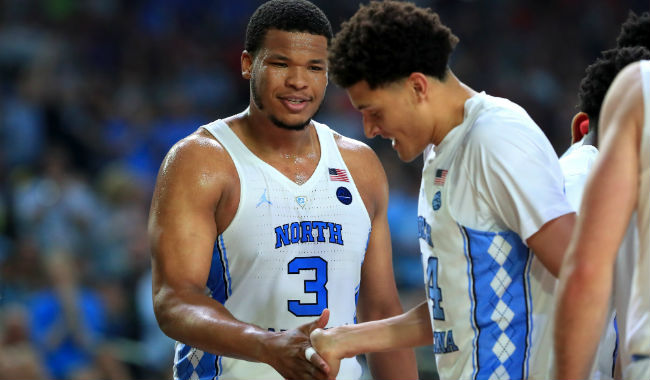 North Carolina is the best offensive rebounding team in the country. That skill came in handy on Saturday night, as two massive rebounds off of missed free throws helped the Tar Heels earn a berth to the national championship game with a 77-76 win over Oregon.
The Tar Heels were sent to the free throw line with about six seconds remaining. Kennedy Meeks stepped up to shoot two, but neither of them went in. Fortunately for North Carolina, Theo Pinson was right there to clean up the mess and tip the ball back to Joel Berry.
From there, the Ducks fouled Berry, who despite being an 80.8 percent free throw shooter, missed both. Somehow, Meeks was right there to make up for his two missed free throws by ripping the ball down and passing it out to Pinson. This let the Tar Heels run out the clock and seal their second championship game berth in a row.

Those two missed free throws were basically the only mistakes Meeks made on the night – the big man went for 25 points and 14 rebounds against Oregon's front line. Potential first-round draft pick Justin Jackson was right behind him, pitching in 22. On the other side, the Ducks were paced by dynamic guard Tyler Dorsey (21 points, four rebounds) and disruptive forward Jordan Bell (13 points, 16 rebounds, four blocks).
North Carolina and Gonzaga, which beat South Carolina earlier this evening, will play for a national championship on Monday. The game is scheduled to tip at 9:20 p.m. on CBS.