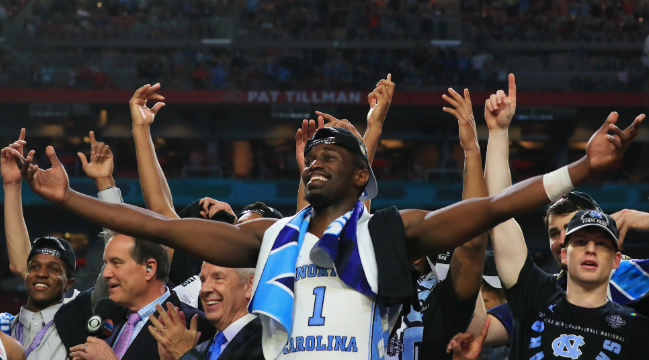 After a heartbreaking loss in last year's national championship game, the North Carolina Tar Heels experienced redemption on Monday night. In a game that was, um, kind of controversial due to some head-scratching officiating, North Carolina took down Gonzaga, 71-65.
The Tar Heels were paced by 22 points from Joel Berry and 16 from Justin Jackson. The team also crashed the glass in a big way – four players had at least seven rebounds, with Kennedy Meeks leading the way with 10.
After the game, plenty of former Carolina players decided to weigh in on their school. Well, former point guard Marcus Paige weighed in last year and called this.
But plenty of other Tar Heels joined in with Paige in celebration.

One North Carolina native who had his big moment on Sunday night also weighed in on the victory.
On the other side, there were plenty of people who got jokes at Gonzaga's expense. This was a fantastic year for the Bulldogs – which won 37 games and made the title game for the first time in school history, but the ending was bittersweet.
Gonzaga also continued a strange historic trend, as they entered the title game with only one loss and failed to win the championship.

There was a bit of controversy aside from the fouls, though. At one point, Meeks was pretty obviously out of bounds, but the official somehow missed it and gave possession to the Tar Heels. This drew the ire of several people on the internet.
Let's end on a more optimistic note. Here is North Carolina guard/forward Theo Pinson giving us a great moment – right when the game ended, he sprinted to his family in the stands.
Sure, this title game will ultimately be remembered for the officiating above everything else, but this is still one hell of a moment.