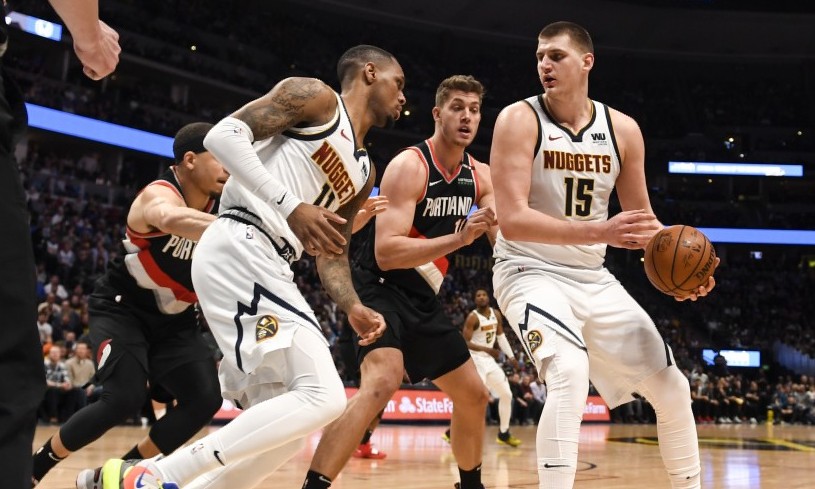 DENVER — After a thrilling seven-game series with the Spurs that ended in a nailbiting win on Saturday, the Nuggets were back in action on Monday with a short turnaround to face a Portland team that rolled through the Thunder in their first round series.
There were moments where you could tell the Nuggets players were a bit tired, but they never let it effect their play as they executed with crispness on the offensive end in Game 1. Early on, it was both teams trading buckets throughout the first half, as Denver held a tenuous 58-55 lead after the first half, with both teams shooting just over 52% from the field at the break.
Damian Lillard led the way with 15 first half points for the Blazers, despite an aggressive approach from the Nuggets on defense to attack him coming off pick and rolls. Enes Kanter, who was a gametime decision with a shoulder injury, also came out hot with 14 first half points, making the Nuggets pay in those moments where they sent help at the Blazers star backcourt.

Paul Millsap was the early answer for the Nuggets, as the lone member of their core that has experience going this deep into the playoffs. Millsap had 17 of his 19 points in the first half, causing problems in the paint for Portland.
The Nuggets were able to extend their lead in the third quarter behind a huge quarter from Jokic, who had 15 points, five rebounds, and three assists in the third, as Denver pulled ahead by nine. Jokic went to work down low, using his crafty footwork and unorthodox rhythm to get to the tin, which is why there are, literally, no single highlights of him scoring in the third, just this rebound of his own miss and pass out for a Torrey Craig three.

The play of the night belonged to Gary Harris, as he finished a ridiculous up and under move to put Denver up nine late in the third, an advantage they'd keep into the fourth.
To start the fourth, with Jokic on the bench, it was Malik Beasley that hit a pair of three-pointers to keep the Blazers at bay, maintaining their 10-point advantage as Mike Malone tried to steal as much rest for his star center as he could after 43 minutes of play on Saturday night. Rodney Hood, of all people, was the spark off the bench for Portland with 17 points off the bench, hitting some big shots in the second half to keep Portland within striking distance.
At the end of the game it was Jamal Murray that put hings away for Denver, en route to a 23 point night (and eight assists).

Ultimately, Denver's size inside proved to be the difference in Game 1 in a 121-113 win (along with 18 turnovers from Portland). Both teams shot over 50% from the field and the Nuggets made one more three on the same number of attempts as Portland from three, but Jokic's physical dominance inside got him efficient looks (11-of-18 shooting) and to the free throw line. On the game, Denver attempted 31 free throws, of which they hit 27 (compared to 20-for-27 from Portland), with Jokic leading the way at 12-for-12.
Lillard did his part to keep Portland's hopes alive with 31 points on the night, but it was a struggle for his running mate C.J. McCollum, who was not his usual efficient self, hitting just 6-of-15 attempts for 14 points on the night. In a series that feels as though it could be as simple as whether the Nuggets frontcourt outplays the Blazers backcourt and vice versa on a nightly basis, Denver won that battle on Monday.
Portland will have to figure out an adjustment on Jokic, who cooked them in the second half on his way to 37 points, nine rebounds, and six assists — although as Terry Stotts noted before the game is easier said than done because of how good and willing a passer he is. For Denver, they'll keep leaning on their All-Star big man, although there will be the lingering question of how long he can go playing 40-plus minutes a night before it takes its toll on him. For now, all is well in Denver where they avoided a Game 7 hangover to assert their will at home to open the second round.