Throughout this season, much of the attention paid to the Toronto Raptors has surrounded their revamped offense. The Raps have been one of the East's best teams over the last several seasons, but the predictability of their style of offense has come back to bite them in the playoffs. They've routinely been unable to generate good shots when it matters most, with their two best players (Kyle Lowry and DeMar DeRozan) experiencing dramatic drop-offs in their production and their role players being unable to mitigate the damage.
Dwane Casey talked a big game about changing not just Toronto's shot distribution this season, but also the team's style of play. The Raps have responded by backing up his talk, as they're moving the ball with far more urgency and precision than in seasons past and getting out in transition to pursue early offense more often. Additionally, their shot distribution has changed to reflect the systemic improvements. All of these tweaks have resulted in the NBA's fifth-best offense.
But the Raptors don't just score points an elite level — they prevent points better than almost anyone, too. They're one of two teams, along with the Golden State Warriors, that rank inside the top-five on both sides of the floor. Things didn't start off that way, though. Through the first 12 games of the season, the Raptors ranked just 16th in defensive efficiency. Since that point, they're third.
What happened after 12 games? Casey inserted rookie forward OG Anunoby into the starting lineup. Correlation obviously does not equal causation, but the team has been 10.1 points better per 100 possessions with Anunoby on the floor than off since he entered the starting lineup, per NBA.com. That's the single best mark on the team.
After about a month of watching Anunoby defend his ass off as a bench player, the notoriously youngster-averse Casey simply felt compelled to make the rookie a starter. It's the earliest in the season Casey has made a rookie a starter since Jonas Valanciunas in 2011. With 28 starts heading after Thursday night's game against the Cavaliers, Anunoby has already started more games for the Raps during his rookie season than Toronto's last four first-round picks (Terrence Ross, Bruno Caboclo, Delon Wright, and Jakob Poeltl) combined. Once he starts three more games, he'll exceed the combined number of rookie-year starts for every first and second-rounder since Valanciunas. (Norman Powell started 24 games as a rookie.)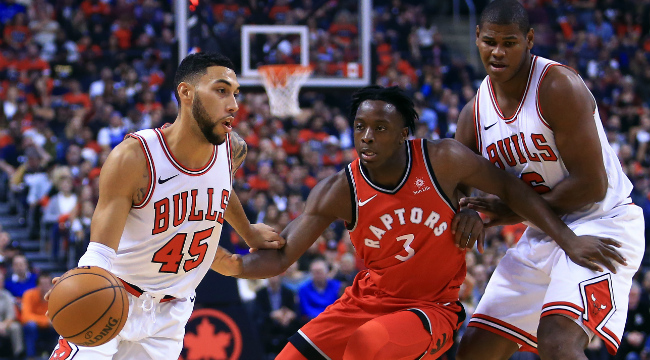 "If guys are helping us win, I don't care if they're 15 [year veterans], 10, one, half a one, whatever it is," Casey says. "They're gonna get an opportunity to play. With OG, he's mature beyond his years. He's smart. He's a quick learner. He may make a mistake but he absorbs things pretty quickly. There's no fear as far as who he's playing against. Whoever it is, he's ready for the task. His maturity level is off the charts for a rookie."
The craziest part of Anunoby's quick ascent to indispensability for the Raptors is that the team itself didn't even expect him to be ready to play until a few weeks ago. Anunoby injured his knee during January of his sophomore season at Indiana and underwent season-ending surgery a few days later. According to Casey, the team didn't expect him to be ready to play at all until at least December. Neither did most other teams in the league, which is a large part of the reason he was still on the board when Toronto came on the clock at pick No. 23.
"He worked his behind off all summer long," Casey says. "He spent most of the summer in Vancouver with Alex McKechnie and just working out every day. I'd get these videos every morning and every day of him working out. He worked his behind off to get ready — to come back quicker."
Rather than simply working out his injured knee to get it back to full health, Anunoby and physical therapist Andy Barr worked on his entire body. That's indicative of Barr's approach in general.
"The type of rehab that I do, it's not just focusing on the joint itself," Barr told Sportsnet back in November. "It's a holistic, whole body movement approach. It's about looking at basketball as the frame of reference and referring to basketball as the point we return to. Building back to understanding the game, understanding the movements and the tasks that are involved in basketball. And understanding what the risk factors are for reoccurrence, and reassuring that we tick all the boxes through that process so he returns stronger than before."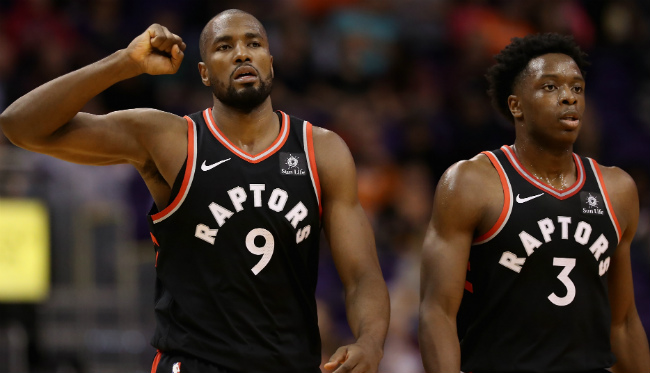 The program helped Anunoby get back on the floor just eight months after tearing his ACL, in time for the Raptors' intra-squad scrimmage during training camp. The Raptors had him on a playing time limit during the early part of the preseason, but by the time the regular season rolled around, he was ready to go full-bore. He's since surely made a whole bunch of the teams that passed on him and allowed him to fall into Toronto's lap in the back half of the first round regret the decision to place so much weight on the severity of his injury. (Anunoby was considered a fringe top-10 prospect at the time of the injury.)
Anunoby's counting numbers don't jump off the stats page (6.2 points, 2.3 rebounds, 0.8 assists, and 0.9 steals per game), but the team has performed significantly better with him on the floor. Advanced numbers like Box Score Plus-Minus and Value Over Replacement Player peg him as a positive-value contributor (a rarity for a rookie, let alone a 20-year old coming off major knee surgery), while ESPN's Real Plus-Minus points to him as the 10th-best small forward in the whole league so far this season.
He's shot far better than anyone could have reasonably expected (46 percent from the field and 39 percent from three, including 44 percent from the corners), but his biggest contributions have come on defense. It's not uncommon to see Anunoby take the toughest defensive assignment among opposing wing players, sparing DeRozan the responsibility of carrying the team on both sides of the floor. And as Casey says, he's not afraid of anybody.
"Since I was a kid I was always playing defense," Anunoby says. "I just know I can compete."
Rookies tend to almost uniformly struggle on defense, but Anunoby has adjusted to the speed and physicality of the highest level of basketball with relative ease. He credits the Raptors for putting him in position to succeed, but he also takes pride in the level of effort he gives on the floor and in the film room.
He studies clips of Kawhi Leonard, Andre Roberson, and Draymond Green, taking note of how each player works to make things as difficult as possible for the man they're guarding — or the man they switch onto. The film gives him the knowledge base necessary to be in the right spot at the right time, "And then it's just reacting."
He's better in one-on-one situations at this point than when he has to be part of a move-on-a-string sequence or navigate the complexities of when to help and when not to, but he's certainly further ahead than he has any right to be this early in his career. The best wing defenders in the league — Leonard, Roberson, Paul George, Andre Iguodala, Trevor Ariza, Tony Allen, etc. — all came out of the box as high-level one-on-one defenders and took steps forward from there.
It's too early to say Anunoby will definitively join that elite group one day, but if the first half of his first season is any indication, he's well on his way. Considering where he was expected to be right now, that's pretty damned impressive.