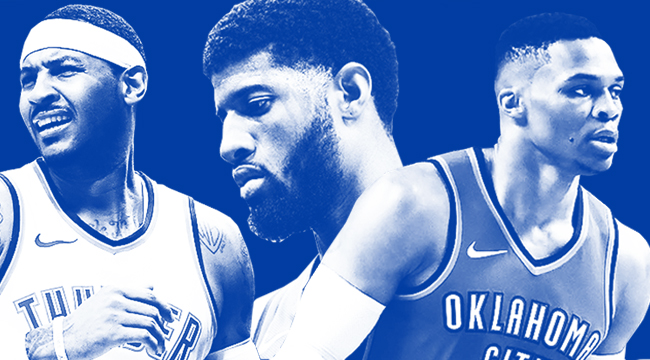 Just when it looked like they were starting to iron out some of their wrinkles, the Oklahoma City Thunder have gone cold. Considered by many to be a contender after acquiring Paul George and Carmelo Anthony in trades, the Thunder can't seem to put together a consistently efficient offense, which has hurt the team in the win-loss column.
The Thunder are currently in fifth place, and just 1.5 games away from being out of the postseason altogether. Based on their performance so far, they have a greater chance of missing the playoffs entirely than they do of winning the title, according to Basketball-Reference.com's probabilities report.
Most expected Oklahoma City to have a few hiccups out of the gate as the three high-usage players melded their games together. Then, it started to look like the squad was getting things figured out before hitting a rough patch, losing three straight and five of their last seven. As of Tuesday, Jan. 16, the Thunder have won back-to-back games against Charlotte and Sacramento and remain a maddeningly inconsistent team.

The chart above shows the Thunder's advanced game log from NBA.com up to the team's loss on Jan. 10 against Minnesota. The solid lines show the offensive rating (orange) and defensive rating (gray) on the left axis, and the net rating (yellow) is measured by the right axis. What's concerning here is the trend, which you can see with the 10-game moving averages represented by the dashed lines.
You'll notice that the offensive rating was trending up, but recently, it's trending back down. Equally concerning is that the defense, which had been keeping them in play, has been gearing down. A large part of that was due to the absence of Andre Roberson, but that also partially contributed to the temporary uptick in the offense. The last two games have been better for the Thunder defensively, but their opponents were the Hornets and Kings, and neither team is especially potent on the offensive end.
Let's try to determine where the team has had success and where it has struggled by looking at the good, the bad, and the ugly of the Thunder's offense.

The Good
It's not all bad for Oklahoma City. There are actual signs of improvement, which has been evident recently, even during their stretches of losses. Chiefly, it does seem that they're figuring out how to use Westbrook, George and Anthony together with mid-December acting as the turning point for their three stars.
According to NBA.com, when the three were on the court up until Dec. 17, they combined to shoot 40 percent from the field, 34.8 percent from deep and had just a 49.8 percent true shooting percentage on their combined attempts. As a result, the Thunder had a meager 104.3 offensive rating with all three on the court.
But since Dec. 18, they've been clicking. The offensive rating with all three playing has soared up to 115.9. Their combined stats when playing together are far more impressive, combining for 46.4 points, 15.3 rebounds, and 10.4 assists in the 25.8 minutes per game they share the court. They're shooting a collective 49.2 percent from the field, 40.6 percent from deep, and their combined true shooting percentage is more than 10 percentage points higher at 58.1 percent.

That growth is evident statistically as it is visually, particularly in the chemistry between George and Westbrook. George has improved, almost daily, in reading what Westbrook does with the ball. This has led to more instances of the star wing putting himself in position to score off of the reigning MVP. George's effective field-goal percentage off of Westbrook's passes is 54.6 percent since they started heating up.
For example, George uses a nice baseline cut to create a bucket that might have otherwise been an ill-advised contested mid-range jumper from Westbrook in this clip:
That improved chemistry has the Thunder with the fourth-best offense in the NBA over the last 14 games, a vast improvement.

The Bad
All of that is hunky dory, but there's a downside to it as well. Part of that is the struggles the team has had defensively, but that's not the only issue. The other part of the problem is that the Thunder's success has primarily come against bad teams or good teams on bad schedules.
Their Simple Rating System (a combination of net rating and strength of schedule tracked by Basketball-Reference.com) has them sixth in the NBA. They are ranked 17th in strength of schedule, a mark that is about average. But there's a kind of veiled inflation to that, as the Thunder lack much in the way of "good wins."
Oklahoma City has only beaten three teams on the road that have winning records: the Milwaukee Bucks, the Los Angeles Clippers and the Indiana Pacers. Their two best wins came at home against the Golden State Warriors and the Houston Rockets, but both of those come with caveats. Golden State was on the end of a long road trip and playing with an injured Kevin Durant, while Houston was dealing with a bevy of injuries.
They beat the Toronto Raptors, but the Raptors were playing on the second end of a back-to-back with both games being on the road. They beat San Antonio while the Spurs were without LaMarcus Aldridge, Manu Ginboli, Tony Parker, or Kahwi Leonard. Additionally, Patty Mills and Danny Green played a combined 26 minutes.
You go through the list of the Thunder's best wins, and you start to notice a pattern. Let's take a look at all of their wins with a net rating about five, which constitutes 19 of the team's 24 victories, with some analysis about each win and why many of them aren't necessarily "good wins":

| | | | | |
| --- | --- | --- | --- | --- |
| MATCH UP | OFFRTG | DEFRTG | NETRTG | NOTE |
| Jan 03, 2018 – OKC @ LAL | 134.4 | 96.4 | 38 | Bottom 10 team |
| Oct 28, 2017 – OKC @ CHI | 106.1 | 72.8 | 33.4 | Bottom 10 team |
| Dec 20, 2017 – OKC vs. UTA | 115.5 | 85.1 | 30.4 | Bottom 10 team |
| Oct 31, 2017 – OKC @ MIL | 113.1 | 93.2 | 20 | Good win |
| Dec 27, 2017 – OKC vs. TOR | 125.9 | 106.5 | 19.3 | Raptors on back-to-back |
| Nov 15, 2017 – OKC vs. CHI | 100.8 | 83.3 | 17.5 | Bottom 10 team |
| Dec 23, 2017 – OKC @ UTA | 117 | 100.2 | 16.8 | Bottom 10 team |
| Oct 19, 2017 – OKC vs. NYK | 98.4 | 81.7 | 16.7 | Knicks first game with new roster |
| Oct 25, 2017 – OKC vs. IND | 109.2 | 92.8 | 16.3 | Pacers on back-to-back |
| Nov 12, 2017 – OKC vs. DAL | 111.4 | 95.3 | 16.2 | Bottom 10 team |
| Nov 22, 2017 – OKC vs. GSW | 102.4 | 88.4 | 14 | Warriors on end of long road trip |
| Jan 13,2018 – OKC @ CHA | 105.4 | 91.8 | 13.6 | Bottom 10 team |
| Nov 10, 2017 – OKC vs. LAC | 124.2 | 110.8 | 13.4 | Clippers with several injuries |
| Jan 04, 2018 – OKC @ LAC | 121.9 | 111.3 | 10.6 | Clippers with several injuries |
| Jan 15, 2018 – OKC vs. SAC | 93.9 | 85.4 | 8.5 | Bottom 10 team |
| Dec 25, 2017 – OKC vs. HOU | 117.7 | 110.7 | 7 | Chris Paul out |
| Dec 22, 2017 – OKC vs. ATL | 120.4 | 114.2 | 6.3 | Bottom 10 team |
| Dec 01, 2017 – OKC vs. MIN | 117.2 | 111.2 | 6.1 | Good win |
| Dec 18, 2017 – OKC vs. DEN | 103.7 | 98.7 | 5.1 | Good win |
Granted, the Thunder have had a couple of "schedule losses" too, but they've been rather lucky this year with regards to avoiding injury issues for the most part and having a rather friendly overall schedule. For instance, Oklahoma City doesn't have more than a three-game road trip this season. The scheduling and timing advantages, one could argue, artificially inflate their net rating.
Regardless, the team's average offensive rating in those 19 games is 112.6. In the rest of their games, it's 99.8. That's a massive drop off, one that illustrates how things can go off the rails for Oklahoma City if their offense isn't clicking.

The Ugly
While Oklahoma City has, on the whole, improved offensively, and the Big Three are working better together, there's not too terribly much behind the team's standout trio. Steven Adams has been solid, but apart from him, the rest of the roster is providing very little scoring.
Westbrook, George, and Anthony account for 58.9 percent of all the points scored by the Thunder this year. That number goes to 70 percent if you include Adams. Their fifth-highest scorer is Jeremi Grant, who has 314 points. Beyond that, only four other players have scored at least 100 points halfway through the season.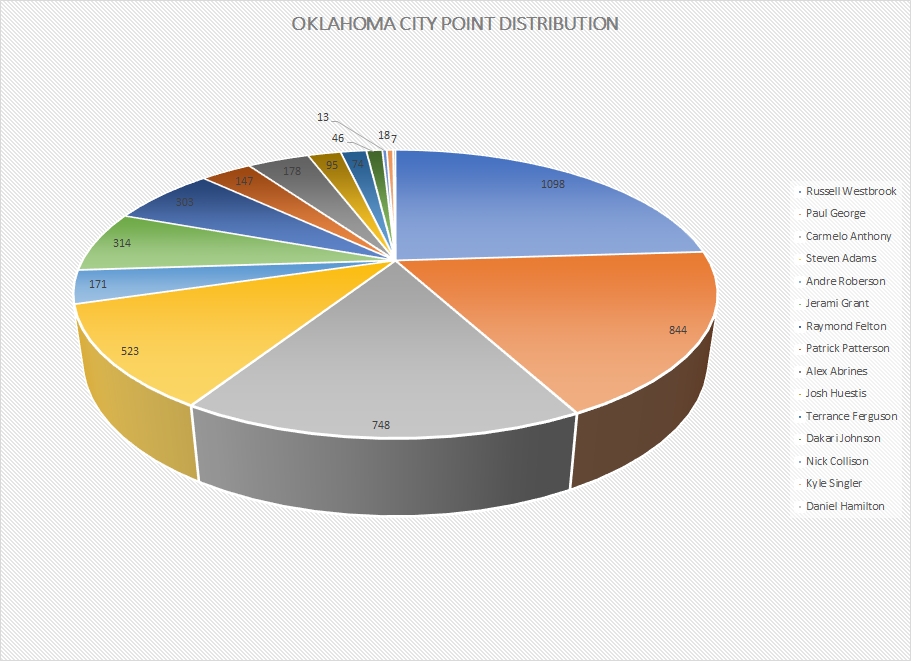 Their bench is averaging 24.2 points per game, which is 28th in the NBA. Ever since the team's Big Three has started to jell, that number has gotten worse — the bench is only averaging 24.1 points since Dec. 18.
In essence, while the Thunder's stars and Adams are getting it together, the rest of the roster still has major deficiencies when it comes to scoring. The more you ask the stars to bolster those deficiencies, the more taxing it is to get through the regular season.
We've already seen what a delicate thread the defense was hanging on when Roberson went down, slipping to 12th-best in the league with a defensive rating of 106.1. Well, what happens if one of the Big Three goes down? The Thunder's already thin roster gives them almost no margin for injury, which was always the danger assumed by the OKC front office when assembling this roster.
The Rockets can take a hit to Chris Paul or James Harden. The Warriors can lose Kevin Durant or Stephen Curry for a spell. We know this because we have seen both teams have to manage injuries to their stars, and they're still the two-best teams in the Western Conference.
But if the Thunder lose Westbrook, George, or Anthony for any length of time, there's a chance they miss the playoffs entirely. You can even throw Adams into that mix, too, considering how important he's been as an interior presence. Oklahoma City just does not have the horses to deal with a piece of their core going down.
There are reasons for optimism when you look at the Thunder's offense, and if the team's stars all get locked in and the rest of the roster fills in whatever gaps exist, Oklahoma City could be fine. But of all the perceived contenders in the West, there may be none that has a thinner margin for error when it comes to injuries than the Thunder.