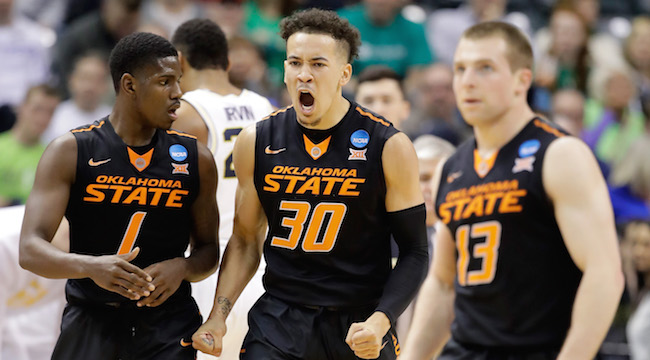 Michigan narrowly escaped its first-round matchup with Oklahoma State in a 92-91 thriller on Friday that is a front-runner for best game of the first-round after a Thursday lacking in excitement. The Wolverines were lights out from three-point range, and were able to ice the game late with free throws despite the Cowboys best efforts at hanging around.
Michigan went up 92-88 with 3.7 seconds left after a pair of D.J. Wilson free throws iced the game. Oklahoma State's Jawun Evans bolted down the floor and drilled a three-pointer at the buzzer that made final margin just one-point. That doesn't matter for those that picked Michigan in their bracket — and won't serve as any consolation to those that had the Pokes — but it certainly made a difference for those invested in the game in Las Vegas.
The game closed with Michigan as a 2.5-point favorite over Oklahoma State, meaning that after Wilson's free throws, the Wolverines were covering. This was good news for the public. Then Evans three hit to swing the outcome against the spread in favor of Oklahoma State, which was a very good thing for sportsbooks.
According to William Hill Sports Books, 68 percent of the money wagered against the spread (as of 11 a.m. ET) had been on Michigan, along with 70 percent of the tickets. This means that the vast majority of people that bet on the game watched their tickets go up in flames with that final buzzer-beater, while sportsbooks saw a losing game flip to a big win. Not only did 68 percent of the money on that game come in on the Wolverines, but of all the games on Friday, the Michigan-Oklahoma State game had received the most action of the morning, with 17 percent of all tournament wagers that had been placed as of 11 a.m. ET being on that game.
The buildings in Las Vegas are tall and shiny for a reason.