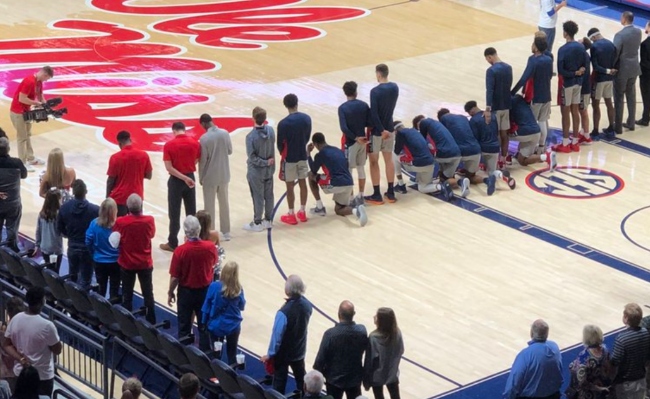 The Ole Miss Rebels are in the midst of a solid season, sitting at 18-8 and 8-5 in SEC play under first-year head coach Kermit Davis. The team's game against the subpar Georgia Bulldogs on Saturday afternoon looked like it was going to be a relatively anonymous affair en route to a win, the latest in their quest to make it to the NCAA Tournament.
Instead, the game took on a much larger significance for something that had nothing to do with a ball going through the rim. Several Ole Miss players took a knee during the national anthem before the tip, according to a tweet posted by Neal McCready of RebelGrove.com.
This was confirmed in a video that showed a few more players kneeling.
The circumstances under which the players knelt have not been verified, but speculation is that it has to do a pro-Confederate group marching in Oxford.
Per WMCAction5News.com:
For days, the group Confederate 901 based in Memphis has been posting about their event they're calling Mississippi Stands.

The group plans to meet Saturday on campus to protest actions by the University of Mississippi that they claim are disrespecting traditions and heritage.

It is not clear which members of the Ole Miss basketball team took knees, and we'll likely get confirmation after the game if their actions were related to a bunch of people coming together to celebrate a group of people that committed treason by breaking away from the United States of America over the issue of slavery. But as the game continued, it seems increasingly likely that the protests and counter-protests were linked according to an ESPN story.
According to the Clarion-Ledger, the groups were protesting "Ole Miss' discontinuation of Colonel Reb as its mascot and other efforts the university has taken to distance itself from Confederate heritage."