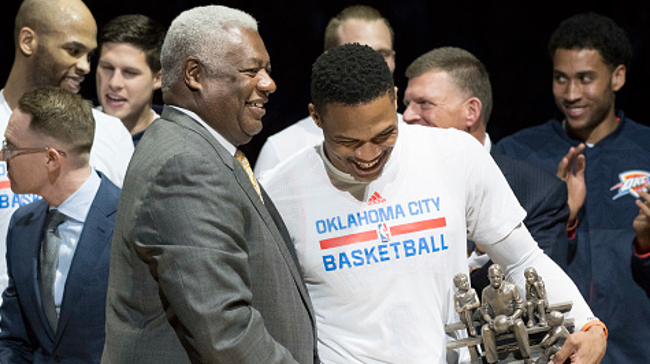 Last weekend, Russell Westbrook did something we thought we might never see again in the NBA. His Thunder lost to the Phoenix Suns on Friday night, but in the process, Westbrook ensured that he would finish the season averaging a triple-double. It's a feat that hasn't been accomplished since Oscar Robertson did it in 1962.
The Big O has earned every right to be at least a little ambivalent about someone matching his once untouchable record, but in true gentlemanly fashion, Robertson has been consistently adamant in his support of Westbrook's statistical pursuit. So before OKC's final regular-season game against the Nuggets on Wednesday night, he met with Westbrook privately to congratulate him and offer words of encouragement.
It was a very cool moment between two NBA legends, but it didn't end there. In a pre-game ceremony honoring Russ, Robertson took center stage to publicly acknowledge his achievement (and cast his vote for league MVP).

The ceremony also included a moving video tribute to Westbrook that hearkened back to some of the most iconic records in the history of professional sports, positioning the Thunder guard among all-time greats like Joe DiMaggio, Emmitt Smith, Cal Ripken Jr., Serena Williams, and more.
With his name already etched in the history books and the Thunder's playoff seed secured, you'd think Westbrook would take the final night of the regular season off, but then again, he wouldn't be where he is today if he wasn't an absolutely maniacal competitor hell-bent on destroying his opponents every night, no matter the circumstances.