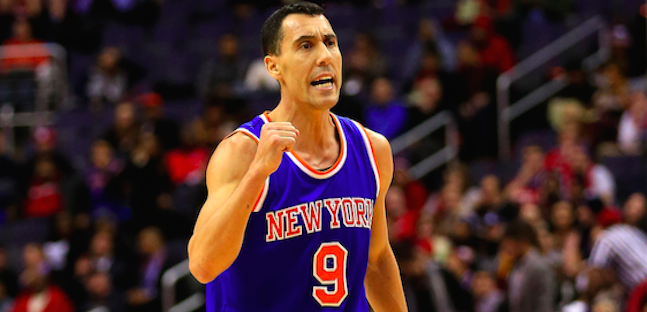 The Houston Rockets not only stole K.J. McDaniels on deadline day, but managed to upgrade their backup point guard spot, too. According to Marc Berman of The New York Post, Kevin McHale's team acquired veteran Pablo Prigioni from the New York Knicks for a pair of late second-rounders and seldom-used reserve Alexey Shved.
Prigioni, 37, is headed to the Rockets. The Knicks were to receive two late-second-round picks in 2017 and 2019 and 26-year-old Russian shooting guard Alexey Shved, who has an expiring $3.3 million contract. The Knicks do not plan on waiving Shved.
Though a pair of picks seems a steep price to pay for the Argentinian, the Rockets are firmly in win-now mode. It's not like GM Daryl Morey hasn't shown an ability to manufacture assets seemingly out of thin air in the past, either.
Prigioni is a good fit for Houston, too. He's a wily veteran that knows his limitations and is capable of hitting open treys. Though his reputation as a dogged defender is a bit overblown, Prigioni's effort on that end is unquestioned. Should Jason Terry prove ineffective on either side of the ball as a de-facto point guard, Prigioni is a very serviceable replacement.
Meanwhile, the Knicks shed salary and add to their nearly empty stable of moveable assets.
Win-win.
FULL COVERAGE OF THE NBA TRADE DEADLINE