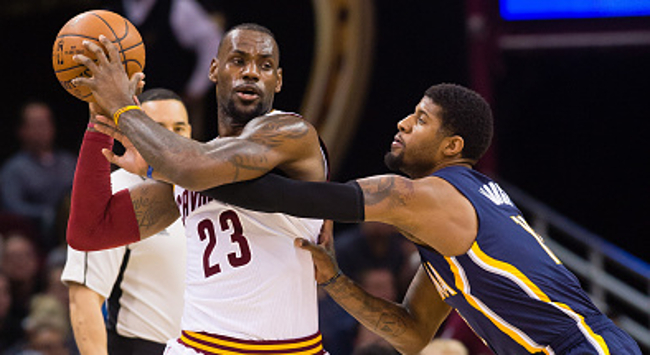 There was no shortage of bombshell announcements around the NBA this weekend, and chief among them was Paul George informing the Pacers that he has no intention of re-signing with the team when he enters free agency next summer. George has made no secret about his desire to join his hometown Lakers, and now his incumbent team is in the unenviable position of trying to make a deal for George with little-to-no negotiating leverage.
Needless to say, new Lakers president Magic Johnson is pretty excited about this development, given that he's also dropped several not-so-subtle hints – nearly to the point of tampering – that he'd like to land PG13 in Los Angeles. But there's another scenario out there that could potentially be even more earth-shattering. Via Adrian Wojnarowski of The Vertical.
In the past 24 hours, [GM Kevin] Pritchard has become more aggressive in pursuing trades for George, league sources told The Vertical. Pritchard has yet to show an inclination to engage the Lakers, but has discussed deals with several teams – including Cleveland – in which the expectation of teams would be that George is a "one-year rental." The Cavaliers are devoid of the kind of young players and future picks that Indiana might want in return for George, and George has never mentioned the Cavaliers as an intriguing destination.
The idea has to be at least little bit seductive for George, doesn't it? As Woj points out, it'll obviously come down to whether the Cavs would be willing or even capable of giving the Pacers what they want in return, not to mention the fact that George could turn around and bolt next summer and leave them empty-handed. As for how the Cavaliers feel about a potential one-year rental of George, according to ESPN's Dave McMenamin, Cleveland is interested even without George being willing to commit beyond next season.
The Cavs are willing to enter into trade talks for George without any assurances he will commit to a long-term deal in Cleveland, a source familiar with the Cavs thinking told ESPN. Cleveland is confident its championship culture and overall atmosphere could sway George to want to stay after playing out the 2017-18 season on the final year of his deal.

A year with the Cavs and a legitimate shot at an NBA title might just be enough to convince him to stick around in the long-term, or maybe even just run out a couple more years along side James on a one or two-year deal. LeBron has proven time and again that he'd be willing to defer on offense, and George is just the type of wing defender that could present a real challenge to Kevin Durant.
As for what they could offer Indiana to pry George away, the Cavaliers will likely have to part ways with something big and the only real assets they have are Kyrie Irving and Kevin Love. Irving would likely be considered untouchable, but Love has been considered at least somewhat available over the last year. McMenamin noted it would be "hard" for the Pacers to get Cleveland to part ways with Love, especially if George won't commit long term.
A crazy NBA offseason is already in the works, but if George goes to the Cavs it will set up a fourth Warriors-Cavs meeting in the Finals and some incredible drama.