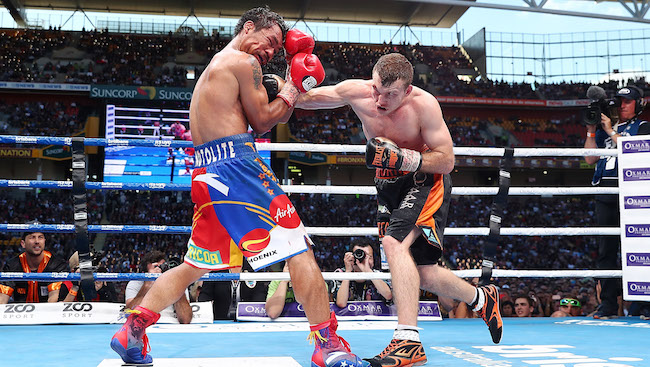 When the referee raised Jeff Horn's hand in the wee hours of Sunday morning on the East Coast after his battle with Manny Pacquiao, the general consensus was that Pacquiao had been robbed by some horrendous boxing judging. The decision left fans, analysts, and Pacquiao's camp baffled as to how the champ could have lost his belt when he out-landed Horn by a significant margin.
The 117-111 card was especially horrendous, but it was hard to understand where any of the judges found seven rounds to give Horn the victory. Boxing's scoring system is tremendously flawed for the kind of controversy it inevitably lends itself to in these kinds of situations, and Sunday morning's reaction around the boxing world was the latest example of people being fed up with boxing judging.

It wasn't just hardcore boxing fans and Stephen A. Smith that felt there was a robbery in Australia. Kobe Bryant was among those that couldn't believe what he had just seen on his television and he took to Twitter to voice his frustration with the result.
Kobe wasn't the only NBA star who didn't understand how Pacquiao lost. Metta World Peace chimed in with his own confusion after he turned the fight off prior to the announcement assuming it was a guarantee that Pac had won.

Plenty of other NBA players had tuned in to see the stunning outcome as well and had plenty of thoughts about the judging.