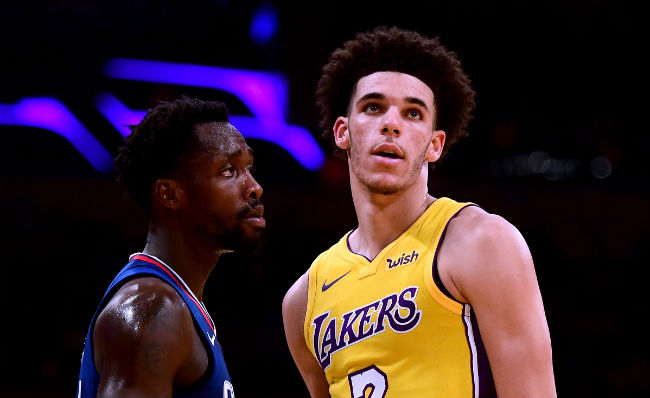 Lonzo Ball got a rude welcome to the NBA from the Los Angeles Clippers and Patrick Beverley, who effectively shut Ball down on Thursday night in a Clippers blowout of the Los Angeles Lakers.
That was the plan all along for Beverley, who said before the game he was going to give the rookie a rude welcome to the NBA. Ball had just three points, nine rebounds and four assists on 1-of-6 shooting in 29 minutes of a 108-92 loss at home to start the season.
The shutdown performance essentially amounted to an early tapout for Ball, who did watch most of the fourth quarter from the bench. And afterward, he had to endure more brutalization from a very excited Patrick Beverley.
Reporters head him calling Ball out in the hallway after the blowout win.
https://twitter.com/ArashMarkazi/status/921241827440672768
He didn't exactly call out Ball by name in the hall, though that was absolutely the theme of the night. And if you take a look at what he tweeted last month about Ball, it's clear he's been waiting for this game a long time.
"But imma guard him the first game and we will see about that!!!" Beverley tweeted, mentioning Ball's father, LaVar, after the Big Baller Brand patriarch said his son could hold his own against Golden State's Steph Curry.
Ball clearly couldn't deal with Beverley on Thursday night, and he wasn't ready for what Bev had to say in postgame, either. In fact, one reporter didn't seem very ready for it, either.
"I just tried to set the tone. I told him after the game due to, you know, all the riff raff his dad brings he's going to get a lot of people coming for him," Beverley said. "He has to be ready for that, and I let him know after the game."
Beverley was still talking when a reporter cut him off to ask another question, and Beverly immediately cut that reporter off to finish his thought.

"I'm not done — welcome his little young ass to the NBA," Beverley said.
From there things got a bit tense, with a reporter asking him if he called Ball out with his vulgar taunt in the hallway and Beverly refusing to answer and ending the press conference.
Ball, for his part, told reporters that the next game will be better.
"I'll be ready," Ball told Yahoo's The Vertical on Thursday night. "I have to show it in my game, because when we win, people won't talk. But if we lose, people will think it affects me. It's wins and losses for me. We know it's a process."
And LaVar also had his say, asking "Who is Patrick Beverley?" in an interview with Stephen A. Smith and just generally being his bombastic self.
"Yeah, you shut the m—–f—– down," LaVar Ball told ESPN after the game. "And your check still ain't going to go no higher than what it is. Yeah, you shut him down. OK … Who is Patrick Beverley? He played all last year and nobody said nothing about him. Now we are looking at your first game. Why? Because Lonzo's name is attached to it.

"So you got to be [all hard]," Ball added as he slapped his fists together. "Let's see what you do the next five games, if you are going to be pumped up towards everybody like that and go back to your 0-for-5 shooting and your two or three rebounds. Nobody is going to care about you. But you put my son's name in it and you put my name in it, now you got some action and you got some people talking."
It's a now-classic retort from Ball: that the attention his son brings is bringing out the best in people. The rising tide raising ships and whatnot. But this is also LaVar Ball's doing. Perhaps Snoop Dogg said it best on Area 21 after the postgame show on TNT.
"His father put him in the lion's den with pork chop drawers on," said Snoop, with what's absolutely the line of the young season.
Snoop's right, and Beverley's comments backed that up: NBA players will be eager to play against — and shut down — Ball all season. This is the reality the rookie will face because of his father's words, good or bad. On Thursday night, Ball simply wasn't ready. But he will see better and worse defenders in his time in the league.
It's safe to say he's not excited about his next meeting with the Clippers, though.