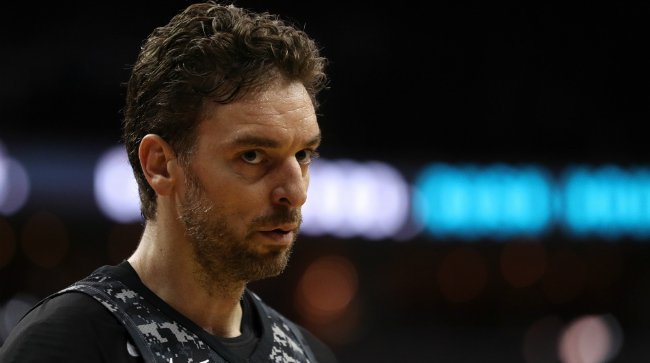 The futures of several players in San Antonio are up in the air this offseason. Between all the drama surrounding Kawhi Leonard's relationship with the organization and the fact that father time is knocking on the door of stalwarts like Manu Ginobili and Tony Parker, it's not hard to imagine a scenario where the Spurs look really different next season.
One thing is for sure: Pau Gasol doesn't plan on going anywhere. The greatest Spanish basketball player of all time told the press after the Spurs' season came to an end at the hands of the Golden State Warriors on Tuesday night that he plans on returning next year, and the year after that, and at least the two years after that.

"I have plenty of gas in the tank," Gasol said. "I feel like I can do a lot of good things on the floor. Hopefully I'll play, in my mind, three, three years … 3-4 years, at least. That's what's on my mind. But knowing that, I'll also take it one year at a time. I'll go step-by-step and try not to look too far into the future. A lot of factors come into play. But I feel like I've had a pretty good season, very efficient for the minutes and the opportunities that I've been given."
Gasol is signed through the 2019-20 season with the Spurs, and is in line to make $16 million in each of the next two seasons despite the final year of his deal being partially guaranteed. He seems to understand that the best laid plans of mice and men often go awry, but until that pops up, Gasol wants to keep playing basketball. This is good, because Pau Gasol is delightful.