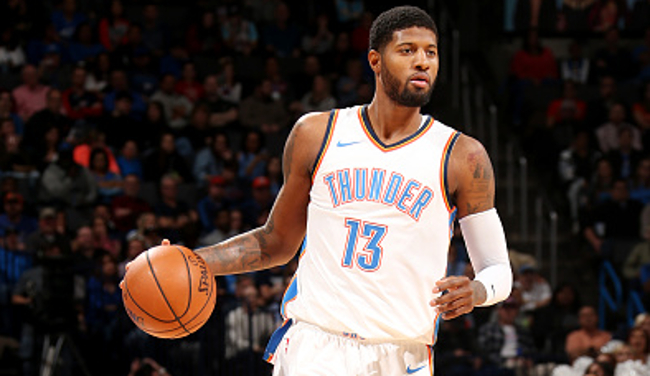 Whenever a superstar player leaves his team to ply his wares elsewhere, whether that be via trade or voluntary departure in free agency, there's often a great deal of lingering animosity on the part of the organization and its fan base, depending of course on the circumstances under which they left.
For Paul George, even though the Pacers opted to trade him last summer, he didn't exactly leave on amicable terms. He'd grown disgruntled with the direction of the franchise and made it clear on multiple occasions that he'd prefer to play for his hometown Lakers, or at the least somewhere that wasn't Indiana.
While it wasn't the best breakup, George did at least provide them a heads up he'd be leaving, allowing the franchise to trade him and recoup some assets for him. So, before his initial return to Indiana on Wednesday night, there was some debate about what type of reception he'd receive. That was quickly answered when he was introduced in the starting lineup (and then every time he touched the ball thereafter).
Some fans also had signs for George's return, and not all of them were particularly well crafted.
Hearing it from the fans was to be expected, but the arena folks decided to take it a step further and omit him from a video montage of all the Pacers legends throughout his history.
It's not terribly surprising. It took more than a decade for the Raptors to mend their soured relationship with Vince Carter, and who knows how long it will be, if ever, before the Thunder warm back up to Kevin Durant. Things are compounded for George given the Thunder's ongoing struggles coupled with the fact that Victor Oladipo has been playing at an All-Star level, so the only way for George to really come out on top here is to play well and come away with a much-needed victory for OKC.