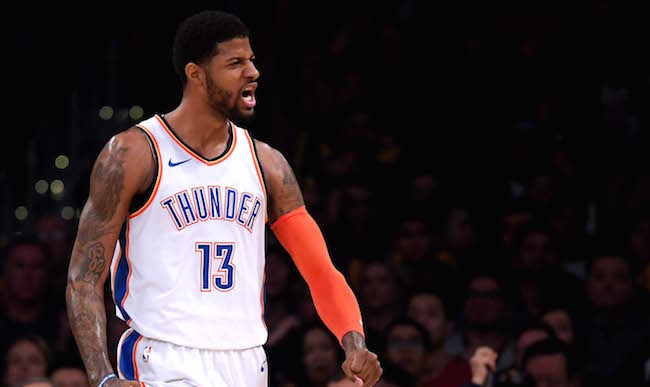 In what is quietly shaping up to be one of the NBA's most compelling rivalries, the Thunder and Jazz met in Oklahoma City on Friday night, and before it was all said and done, they gave us one of the best games of the regular season so far.
It was a contest that took double-overtime to decide and was packed full of hot shooting on both sides, multiple buzzer-beaters at the ends of quarters, and highlights galore.
But it was Paul George who came through for his team in the clutch to sink a running floater in the lane with 0.8 seconds left in the double overtime to seal the 148-147 victory for the Thunder.
George finished with 45 points, nine rebounds, and seven assists on the night to cap one of his best performances of the season and solidify his place in the MVP discussion. PG13 had a number of highlights for the evening, including this windmill on the fast-break during the first overtime period.
Russell Westbrook also somewhat broke out of his shooting slump as he made six three-pointers on the night and just narrowly missed his 12th straight triple-double as he put up 43 points, 15 rebounds, and eight assists, before fouling out with two minutes remaining in the second overtime.
OKC was able to withstand a huge night from Donovan Mitchell, who finished with 38 points, five assists, and four rebounds and posted a few highlights of his own, including this wild buzzer-beater off the glass to end the third quarter.
The Thunder and Jazz currently hold the No. 3 and No. 6 spots in the West, respectively, which if those standings hold, will give us a rematch of last year's postseason matchup when Utah stunned OKC with an opening-round upset.