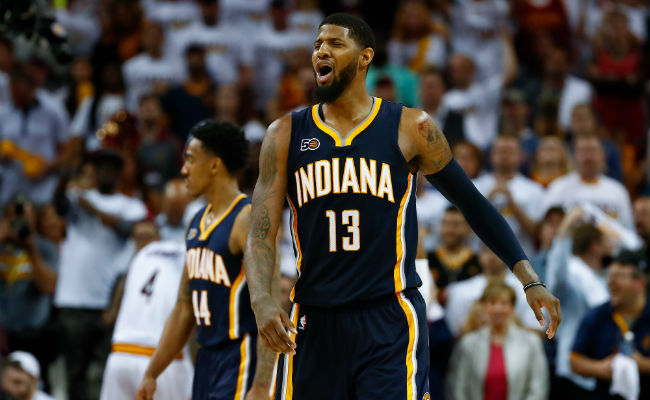 Paul George's exit from Indiana may happen sooner than many expected, but his potential destinations are not very surprising. George himself set in motion the series of events that may lead to his departure from the Pacers, and on Tuesday a much-discussed landing spot for the seven-year NBA veteran emerged: the Los Angeles Lakers.
Two ESPN sources reported on Tuesday that trade talks are underway to move George to the Lakers before Thursday's NBA Draft. The Pacers apparently would like George to be moved by draft day, and the Lakers appear to be willing to oblige them.
It seems unlikely that any move would involve Los Angeles' pick in this draft, as the team desperately needs a Top 5 pick and still seems to favor selecting Lonzo Ball once Markelle Fultz goes to the Philadelphia 76ers. In fact, the Lakers were "adamant" that they keep their second overall pick even if George is available.
The Lakers have been adamant, with one team source going so far as to say there's "zero chance" they'd part with the No. 2 pick or last season's No. 2 overall pick Brandon Ingram in a trade for George, knowing that the Pacers' All-Star hopes to sign with his hometown Lakers as a free agent in July 2018.
George has said in the past that he'd like to play for Los Angeles, his hometown team. Some thought the Clippers would be a better target for a George "rental," considering he has a year left on his deal with the Pacers. And Magic Johnson appeared to be very excited about a potential George signing in free agency next summer. But perhaps if the team can acquire him before Thursday the two sides could work out a long-term deal anyway.