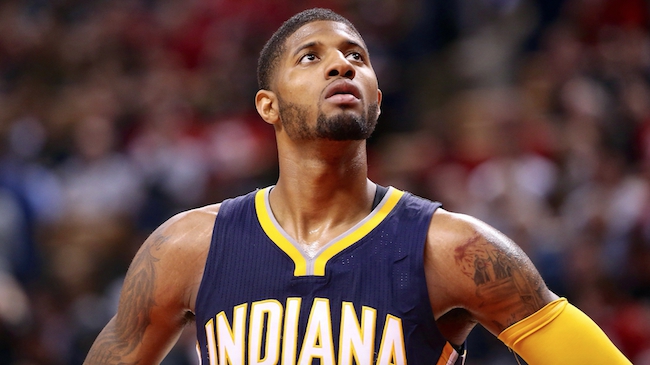 Paul George and other NBA stars were taken by a man claiming to be Adele's agent. But they weren't alone in getting swindled, and now that man is facing a lot of prison time.
The Miami Herald reported Tuesday about a South Florida man, Justin Jackson, who has a long history of posing as an important person and taking advantage of others.
The gambit is almost clever—Jackson would pose as Adele's manager to representatives of NBA stars, asking for shoes in exchange for Adele concert tickets. He would then try to get Adele concert tickets by trying to offer these shoes to Adele's people as a charity item. But the items he offered never went to anyone involved, and he would presumably wear nice basketball shoes to some free concerts.
The racket worked for a while, as Jackson got shoes from Paul George, Victor Oladipo and Richard Hamilton — somewhat ironically George and Oladipo were recently traded for each other. Other stars like Russell Westbrook and Carmelo Anthony were contacted but never responded. Here are more details from the Herald:
Jackson and his wife, Angel Lii, were charged Tuesday with over a dozen new felonies, including counts of identity theft and organized scheme to defraud. They were booked into jail on Tuesday afternoon, and their lawyers could not immediately be reached for comment.

The pair was originally arrested in May for allegedly posing as Adele's manager, Jonathan Dickins. Miami-Dade police said the two tried to get comped tickets to see rapper Kendrick Lamar at Miami's Rolling Loud hip-hop festival on May 6.
That incident wasn't even the first time he's tried this trick, though. In fact, he'd already gone to prison for trying to pass himself off as Madonna's agent.
Jackson served two years in Florida prison after posing as a rep for pop star Madonna, convincing a New York boutique to loan out the $2.4 million jewelry in 2007. He later sold the jewelry to a South Florida pawn shop.

He was put on probation after serving his prison time.

There are lots of other fun tidbits to this story, including that he tried to use Oprah and the Obamas as well. But another interesting sports angle here is that he also wrote up a fake email from Lionel Messi's people as well.
▪ Created a fake e-mail for the manager of soccer superstar Lionel Messi, in an effort to "add a layer of verisimilitude" to his request to get sneakers from NBA stars.

▪ Asked representatives for music stars Chris Brown, Tory Lanez and Katy Pery if the singers would make birthday videos for a "dear friend." The requests didn't work.

▪ Got tickets to attend – and go backstage – at a concert for the rapper Fabolous. He also tried, apparently unsuccessfully, to get tickets to attend shows by Lauryn Hill and Carrie Underwood.
Of course a sting operation by the Miami-Dade police was needed to take Jackson and his wife down. Good work, everyone. Except a few player and artist reps who were too trusting of blind emails.