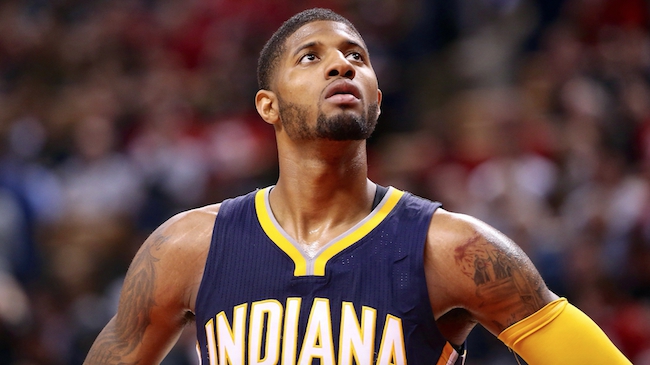 The Indiana Pacers aren't wasting any time trying to make a move to unload superstar Paul George after his agent alerted the team that he would be leaving in free agency next summer. George wanted to give the Pacers time to reset their offseason plans and begin building for the future, rather than spending money on ill-advised contracts in an effort to convince George they can compete so he would stay after next season.
The problem is, George's desire to go to the Lakers next year has dropped his trade value fairly significantly. The Pacers are still asking for a fairly strong return in the form of a starting caliber player and multiple future draft picks, but it's a far cry from turning down a reported offer of four first round picks from the Hawks. It's still a solid return for a team with no chance of retaining George beyond this season, but they know that the price for George will go down the longer they hold onto him as teams will recognize how desperate they are to get something in return.
So, it comes as no surprise that the Pacers are reportedly pushing extremely hard to get a deal done for George sooner rather than later. How soon? By the start of Thursday's NBA Draft.

The Cavs have emerged as a very intriguing candidate to land George, although there's some question about whether they can match Indiana's demands for either draft picks or a quality player right now, but they are among the very few teams that don't care if George won't agree to a deal beyond next season. The Lakers, for their part, seem content to ride this season out and hope that George sticks to his guns and joins them in free agency next year.
The Pacers know the clock is ticking and need to unload George as soon as possible while there's still a frenzy for him — created by Indiana calling and applying pressure on teams to trade for him. Teams that were looking at the draft and free agency suddenly have this opportunity in front of them to land a superstar talent that they might not have been expecting. That creates a bit of urgency on their part to maybe give up more than they would at the deadline when the Pacers are just trying to get any kind of value in return for him.